Nov 5, 2012
Win $300 Worth of PSD to HTML Conversion from PSD2HTML®
PSD2HTML® is a fast and reliable PSD to HTML conversion provider. Founded in 2005, PSD2HTML was the first service of this kind and has established over 55,000 clients to date.
PSD2HTML® provides fast, high quality conversion of web designs into XHTML/CSS and HTML5/CSS3, as well as skins / themes / templates for various engines. Their team of over 370 professionals will make sure every bit of code is valid and runs perfectly in all modern browsers.
Today you have a chance to win one of two amazing prizes valued at $300 and $200!
PSD2HTML® is giving away $300 and $200 worth of services to two lucky Awwwards readers. What are you waiting for?
These prizes can be spent on any conversion services PSD2HTML® offers, such as XHTML/CSS markup, Wordpress, Drupal or Joomla implementation, Email Templates, Mobile Website Templates or any additional options.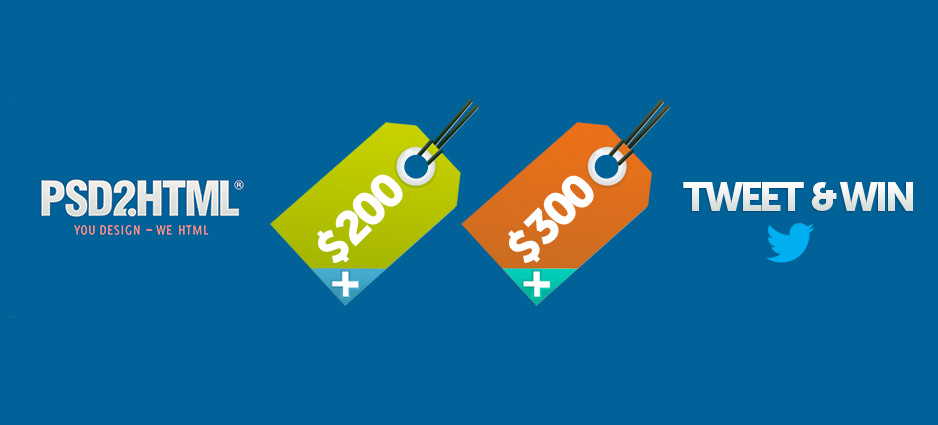 1st prize – $300 deposited to the winner's PSD2HTML® account
2nd prize – $200 deposited to the winner's PSD2HTML® account
You don't need an existing PSD2HTML® account. If you don't have one yet, it will be created for the occasion.
How to participate
It's easy! Just tweet the following message:
Win PSD2HTML® coding from @psd2html and @awwwards http://bit.ly/TsRKl2 #awwwardsgiveaway
The contest will run for one week, until next Monday, October 12.
Good luck!
Update Tuesday, October 13th: The giveaways has winners
The winners of the two prizes offered in the giveaway have been @robert_larsen and @_JakeTaylor. Congratulations to them! Hope you enjoy. To all, thank you for participating: there will be more great promotions and giveaways with gifts soon and it will be waiting for you take them.