Feb 13, 2013
Web Design and Mobile Trends for 2013 eBook: download it for free!
It's finally here! A few months ago we began this rewarding project, the idea of which was to shed a bit of light on this period when everything seems to be born again and it's difficult to predict how it will evolve.
We decided to ask a selection of outstanding professionals in the sector about their vision for the future of web technologies, design for different devices and how it might evolve, as well as the social repercussions and uses of these technologies.
28 notable characters such as Jeffrey Zeldman (A List Apart), Karen McGrane, Aarron Walter and Veerle Peters, and agencies like B-Reel, Unit9, Fi, HinderlingVolkart or Ultranoir have helped us understand the current situation and learn how they approach their projects from this complex multidevice point of view.
The result is an easy-to-read publication, made up of short interviews which can be approached separately, with an informal touch. How to get it? It's easy, just Tweet and download!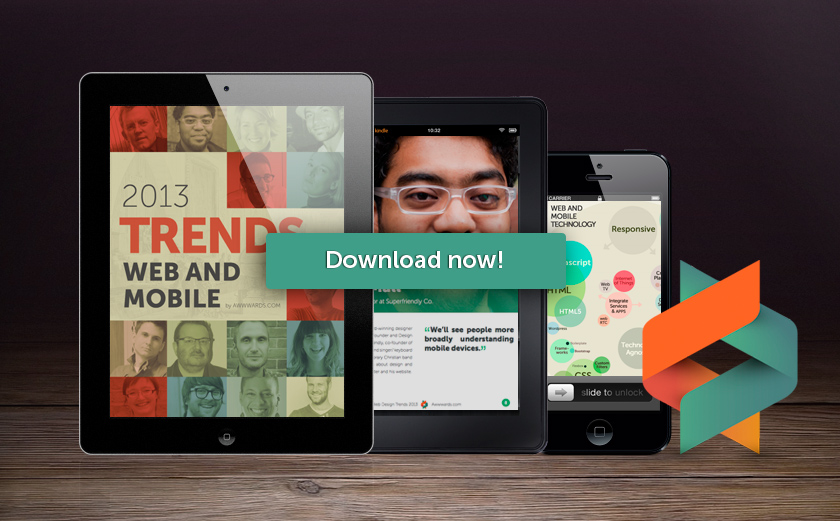 The publication collects many reflections on current topics like responsive images and layouts, preprocessors, influence of mobile devices, performance, content strategy, new ways of interaction and visual trends for web and mobile design for 2013.
.pdf, .epub, .mobi and .azw3 versions are available so you can read it on your iPad, Kindle and a wide range of devices and ereaders. Enjoy it and let us know what you think!