Dec 2, 2019
The next industry leading UX / Web Design conferences you should attend.

Savvy designers and agencies know that digital design conferences are a valuable and very time efficient way for them to advance their career or gain exposure for their company.
You get unique access to network with 100s of potential collaborators, and see informative and inspiring talks about the latest UX, UI technologies and trends from leading industry creatives, all packed into a few days work/play ;) We've selected some of the best web design conferences happening in 2020 in different parts of the world. If you have any other digital events, workshops or conferences to add to the list, let your voice be heard in the comments section.
Here's our round up of the coming events that we think you should try and get to:
Amsterdam, Netherlands ✈ September 14-16, 2022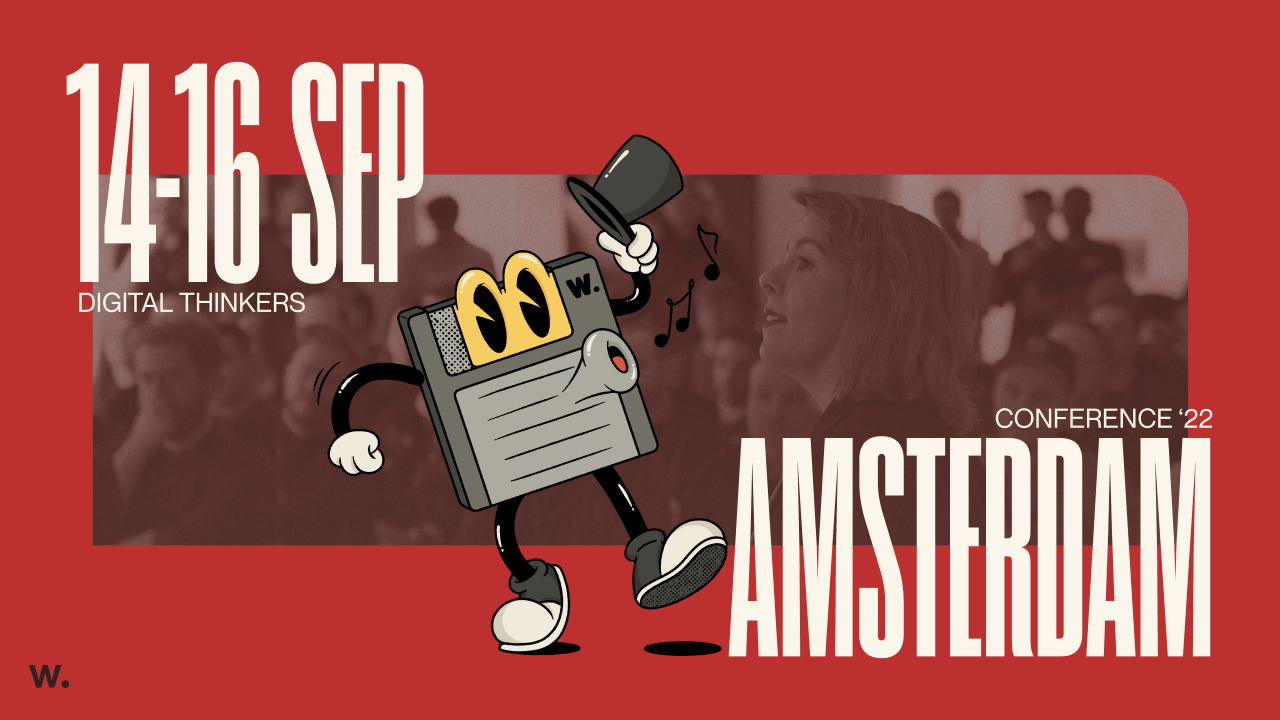 Awwwards Conferences Are Back! Returning with the digital design community stronger than ever, awwwards conferences provide a space for creatives to connect, share knowledge, be inspired, and build important bonds across the industry. This September's event brings speakers like Mother of Social Media Dragons Dot Lung, Louis Paquet, Anton & Irene, and professionals from leading agencies including Resn, Active Theory, and Media Monks.
Toronto, Canada ✈ January 17-26, 2020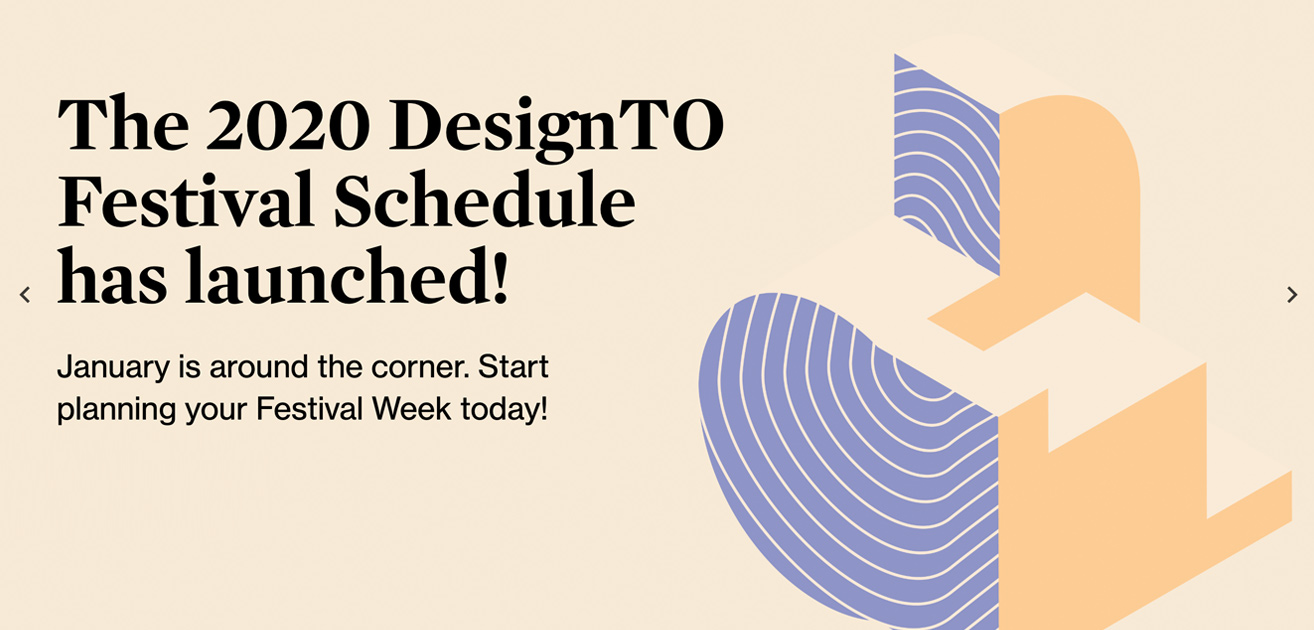 Going into its 10th year, the Festival transforms Toronto into a hub for creativity, taking art and design out of the studio and into the urban sphere. We bring people together to celebrate contemporary culture, provide opportunities for emerging talent, and engage the community with exceptional and accessible public programming.
Washington, United States ✈ January 18, 2020.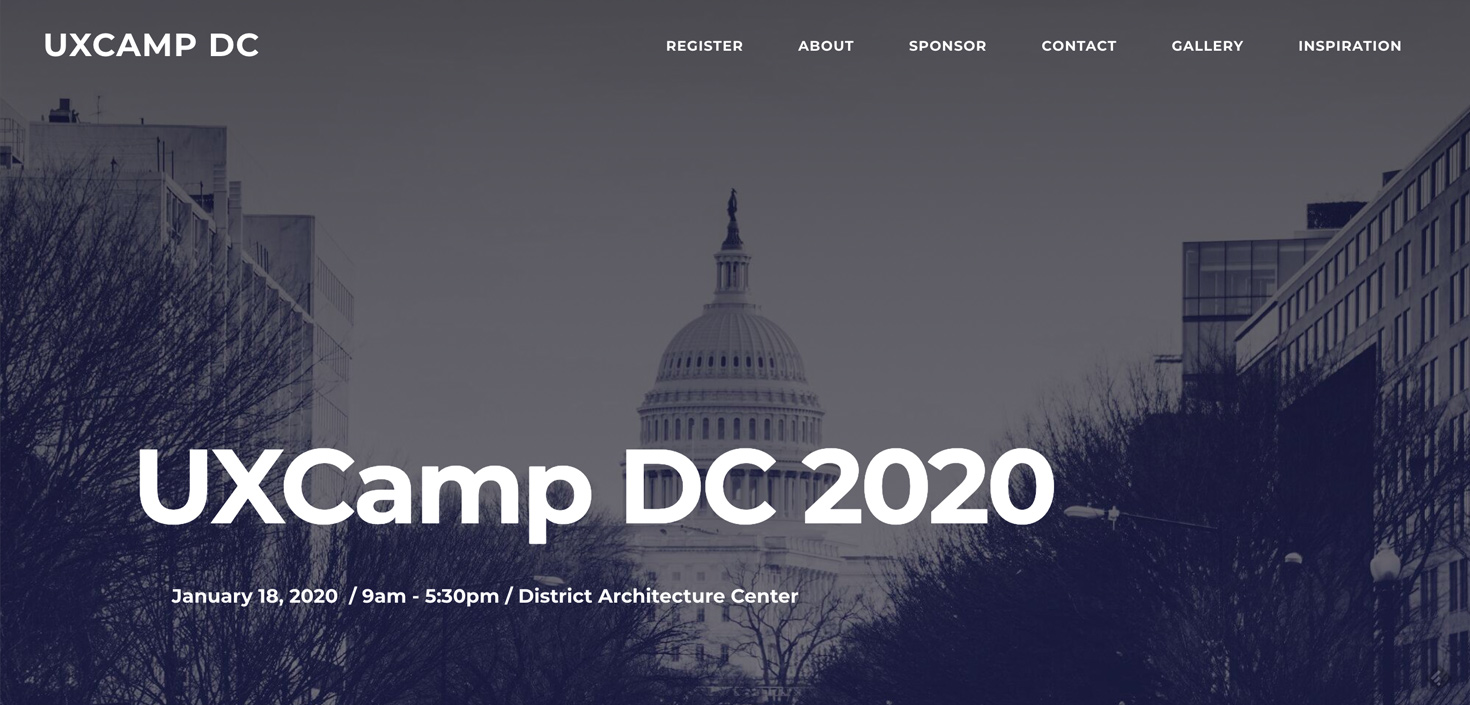 UXCamp DC is an unconference for people who love design. It is an intense day of 24 45-minute sessions and workshops presented by thinkers and doers from all levels of design experience from beginners to seasoned practitioners. It is a day of gathering for people who are passionate about creating great experiences for people.
San Francisco, United States ✈ January 16, 2020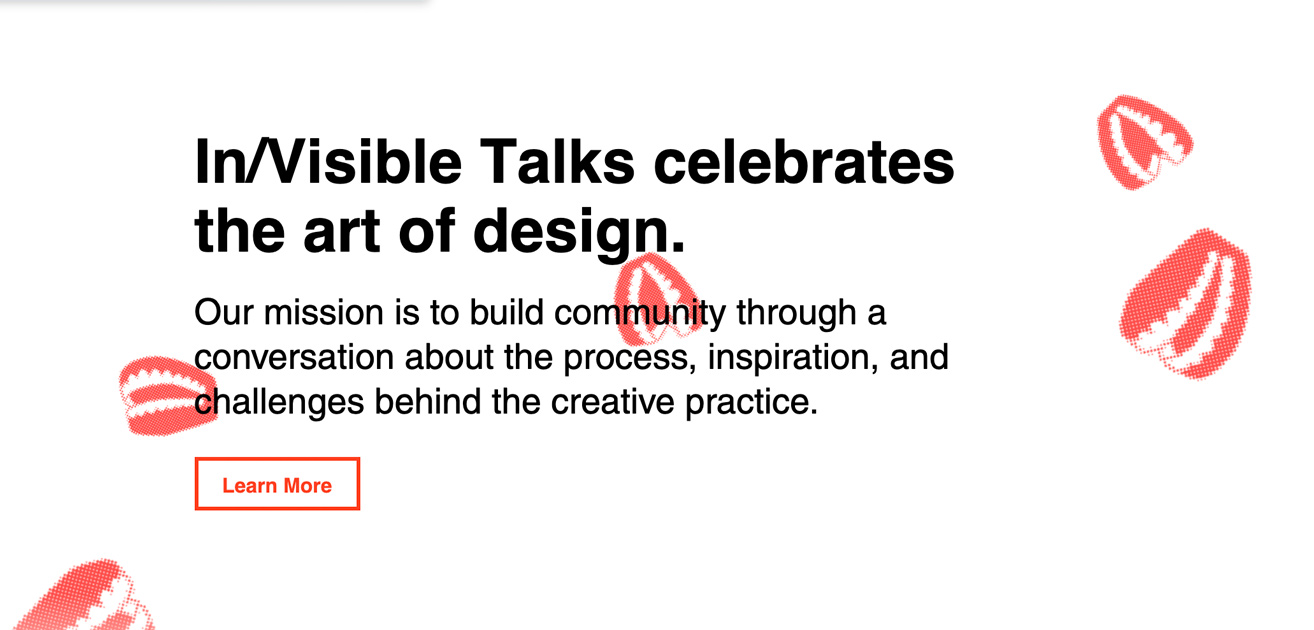 The boundaries of design are constantly evolving. In 20/20, we've asked our speakers to GO BEYOND the expected perspectives, guardrails, materials, and think of the creative practice. Join us on January 16, 2020 for the 3rd annual In/Visible Talks.
Birmingham, UK ✈ January 18, 2020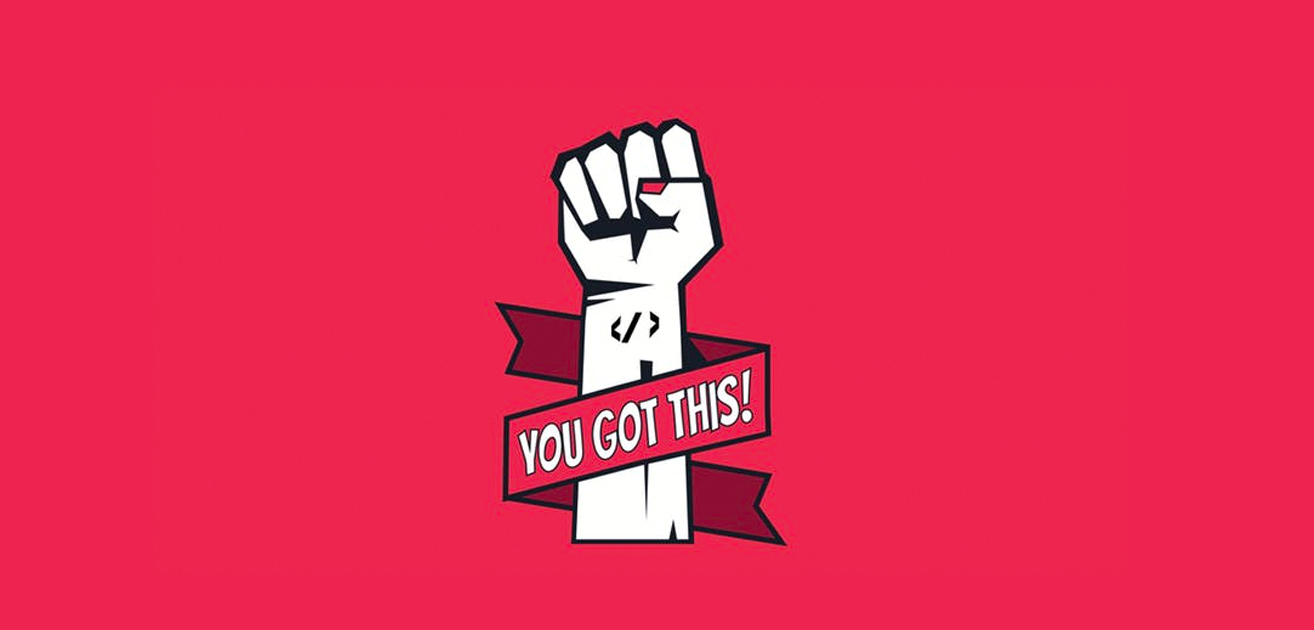 An affordable one-day conference for early-career developers to talk about the non-technical skills needed for a happy, healthy work life.
San Francisco, United States ✈ January 24, 2020.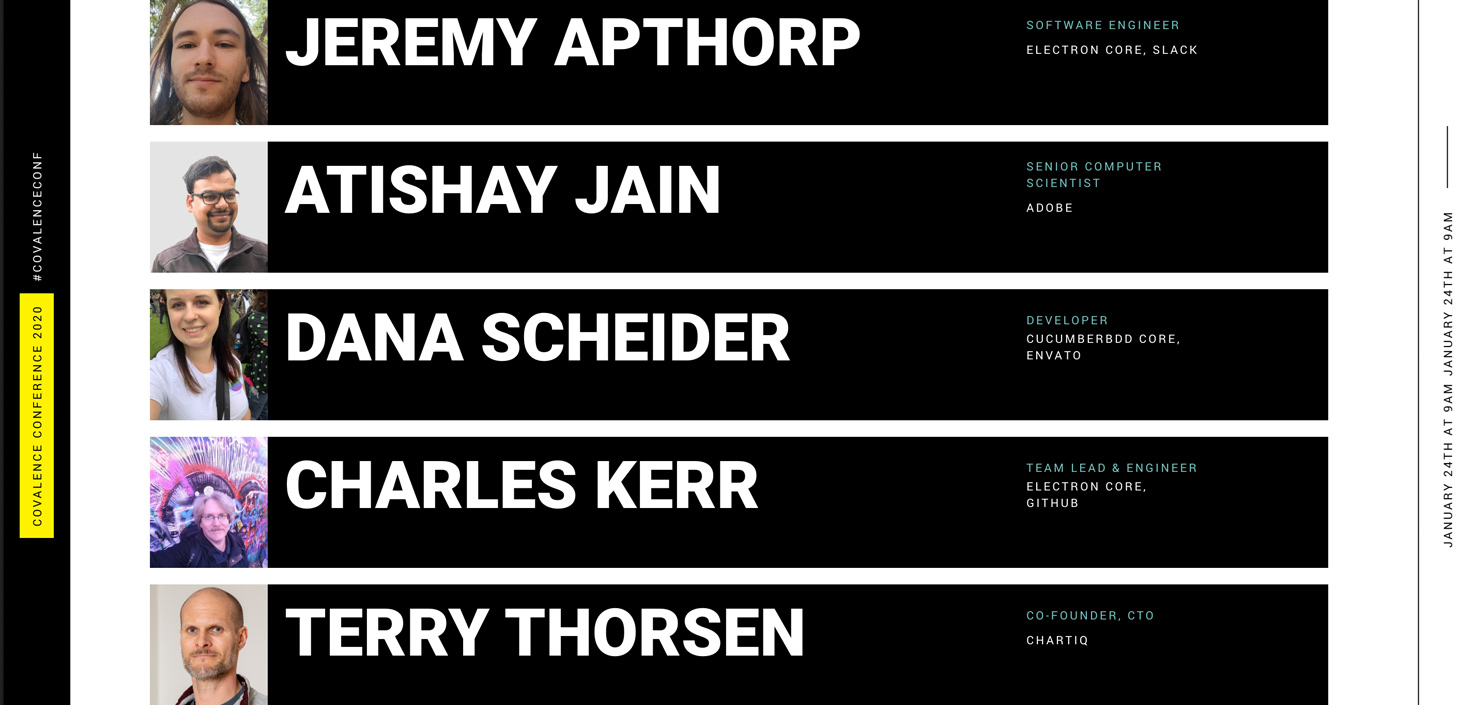 Covalence is a conference about Electron, the framework that enables developers to use web technologies as the foundation for cross-platform desktop apps.
London, UK ✈ 27-31 January 2020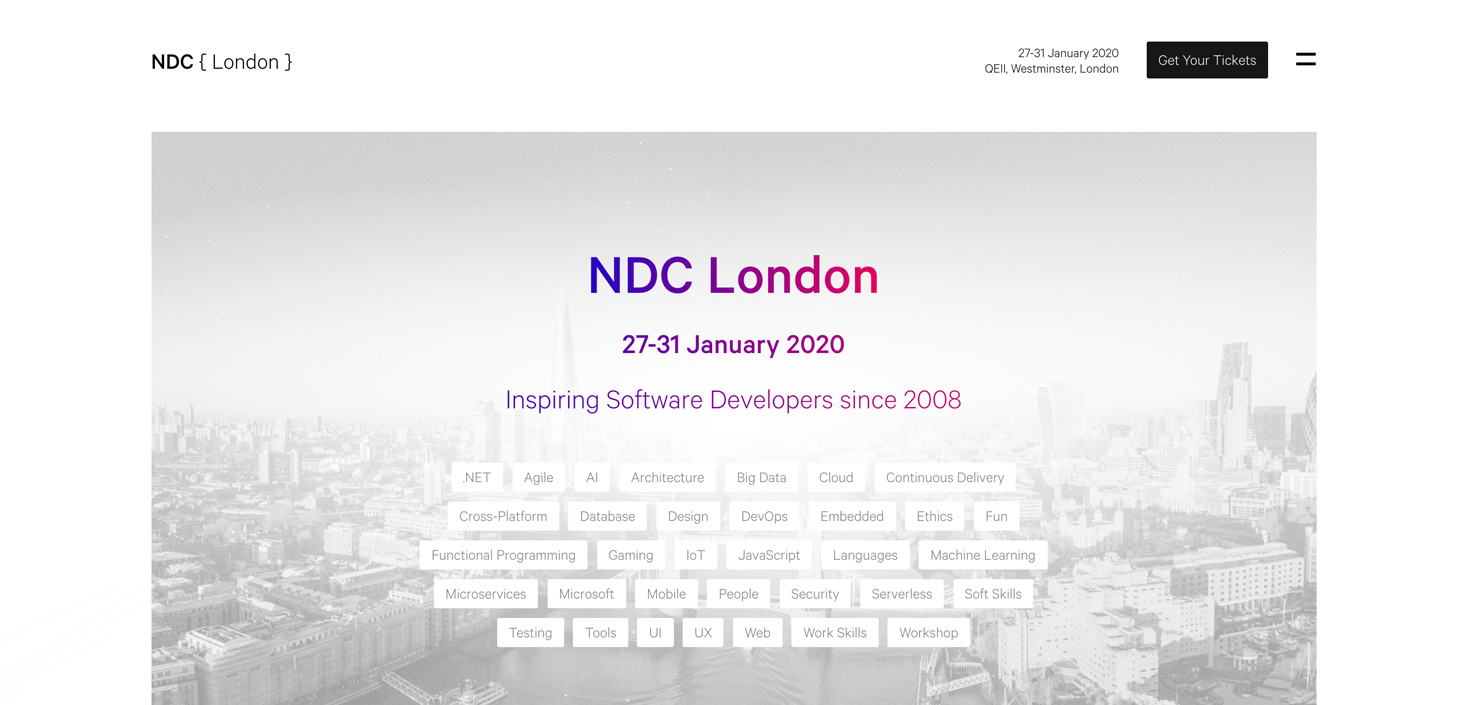 Since its start-up in Oslo 2008, the Norwegian Developers Conference (NDC) quickly became one of Europe's largest conferences for .NET & Agile development. Today NDC Conferences are 5-day events with 2 days of pre-conference workshops and 3 days of conference sessions.
Milan, Italy ✈ February 5-7, 2020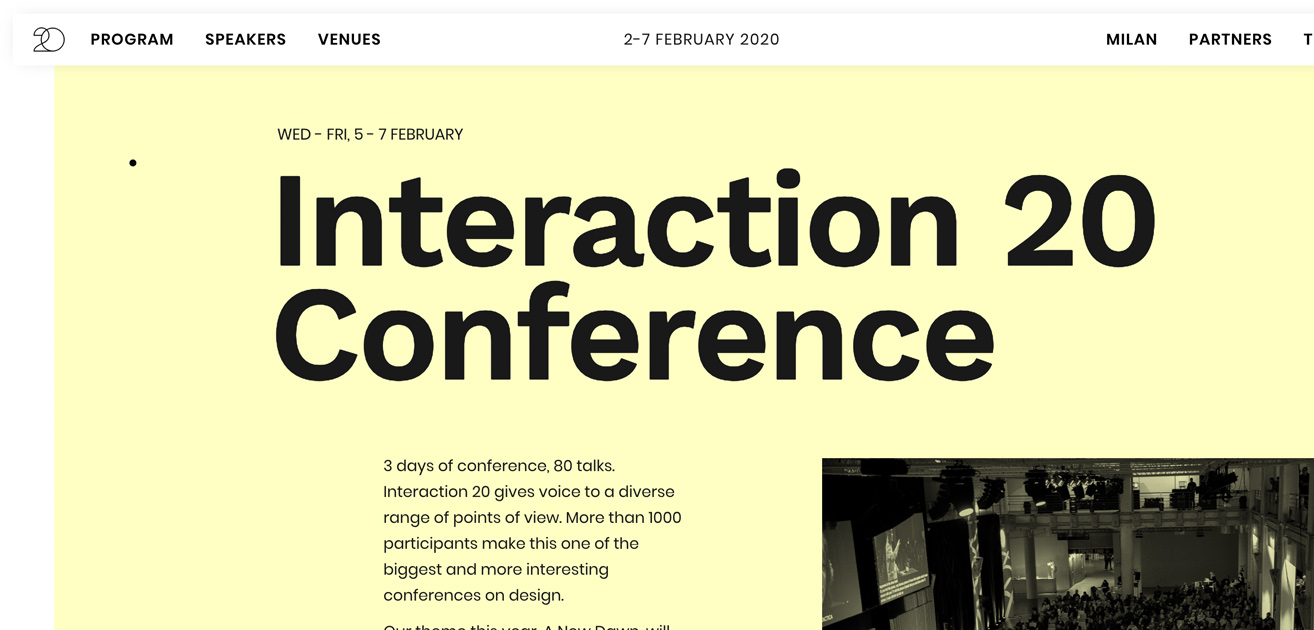 3 days of conference, 80 talks. Interaction 20 gives voice to a diverse range of points of view. More than 1000 participants make this one of the biggest and most interesting conferences on design.
Denver, United States ✈ February 24-26, 2020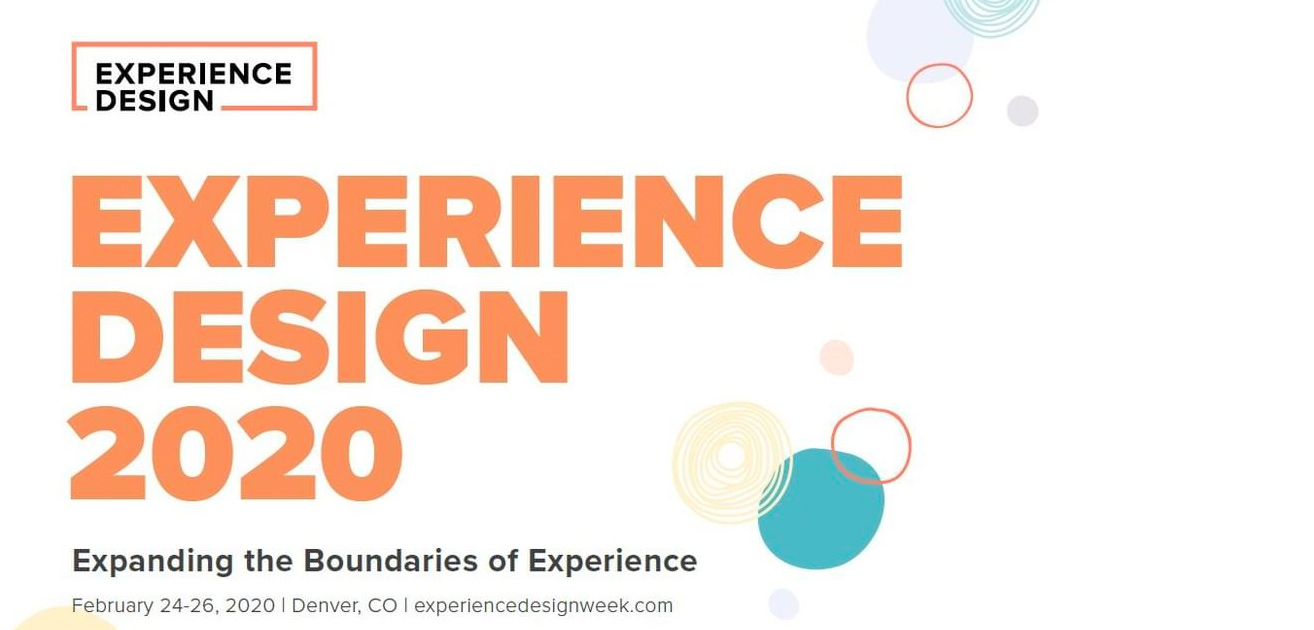 The changing landscape of digital, physical, and data presents a new realm of customer experience and behavior that businesses now can design for. No longer focusing on Experience Design tied solely to UX design, Experience Design 2020 will push to explore the boundaries of what an experience really means and how to use design to impact the end result.
Tel Aviv, Israel ✈ March 10-11, 2020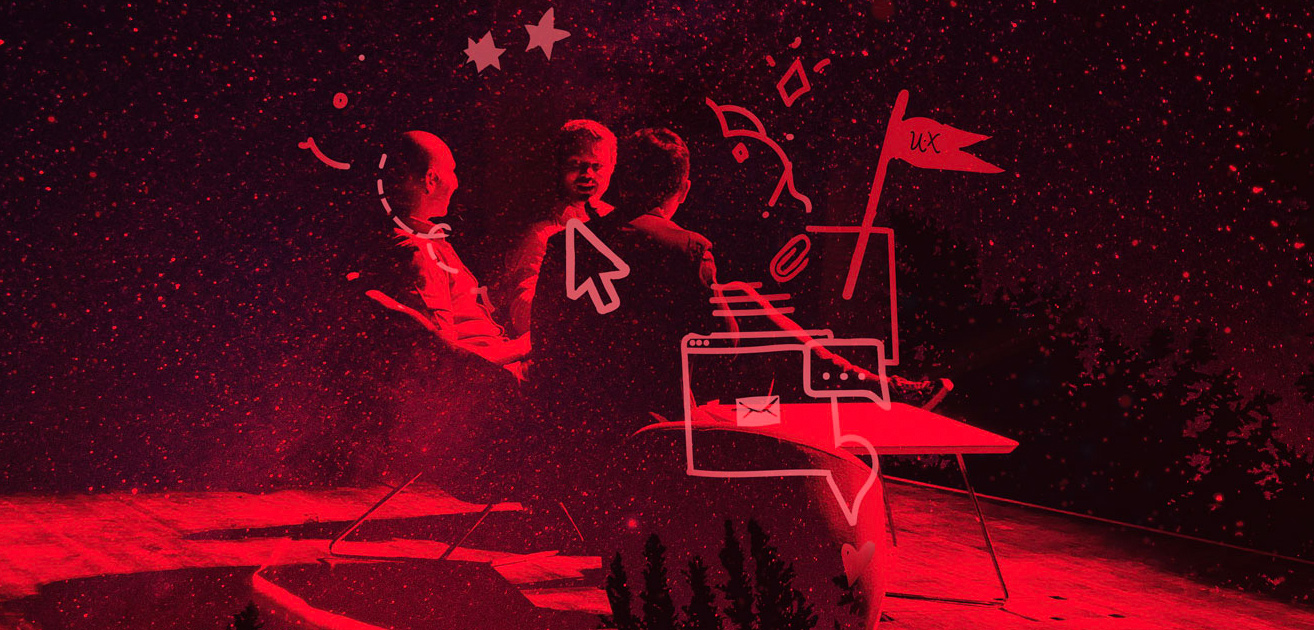 This year our main focus is Designing for Perception, the Senses and our Modes of Understanding. Beyond the tools and techniques, beyond the screen, our aim is to open wider the discussion on digital design to help design professionals become better at what they do.
Melbourne, Australia ✈ March 11-12, 2020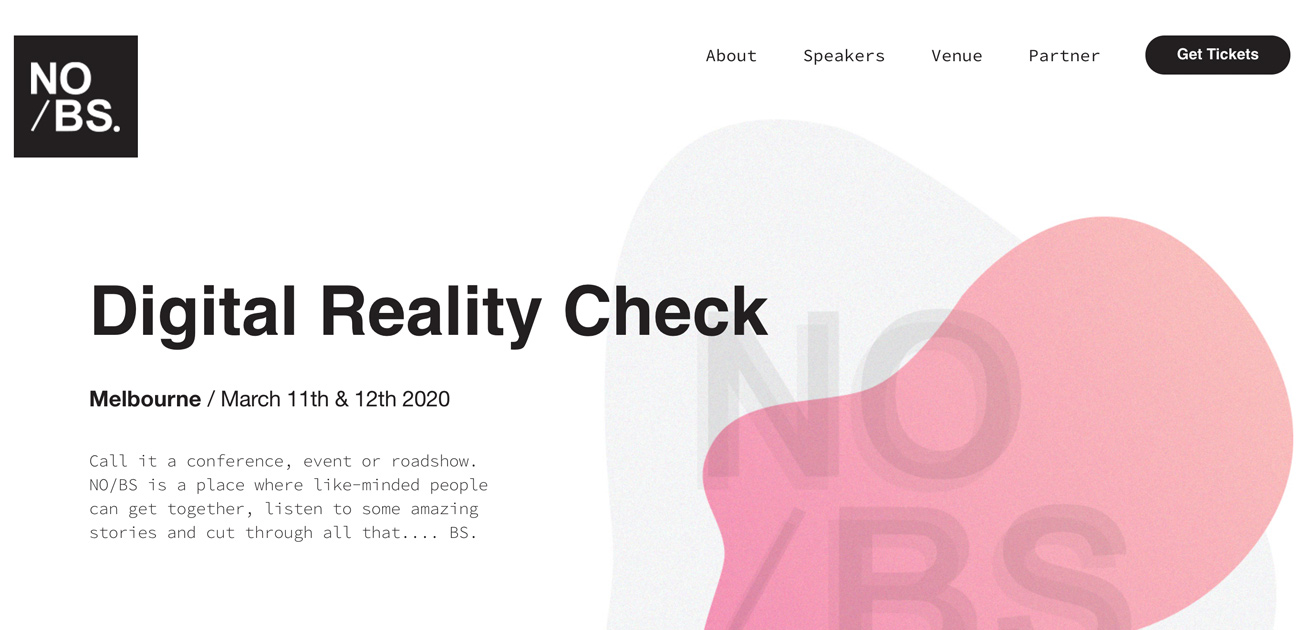 Call it a conference, event or roadshow. NO/BS is a place where like-minded people can get together, listen to some amazing stories and cut through all that.... BS.
We want our guests to be inspired, motivated and most importantly feel validated by knowing that their journey is similar to that of their counterparts and industry heroes.
Austin, Texas ✈ March 13-22, 2020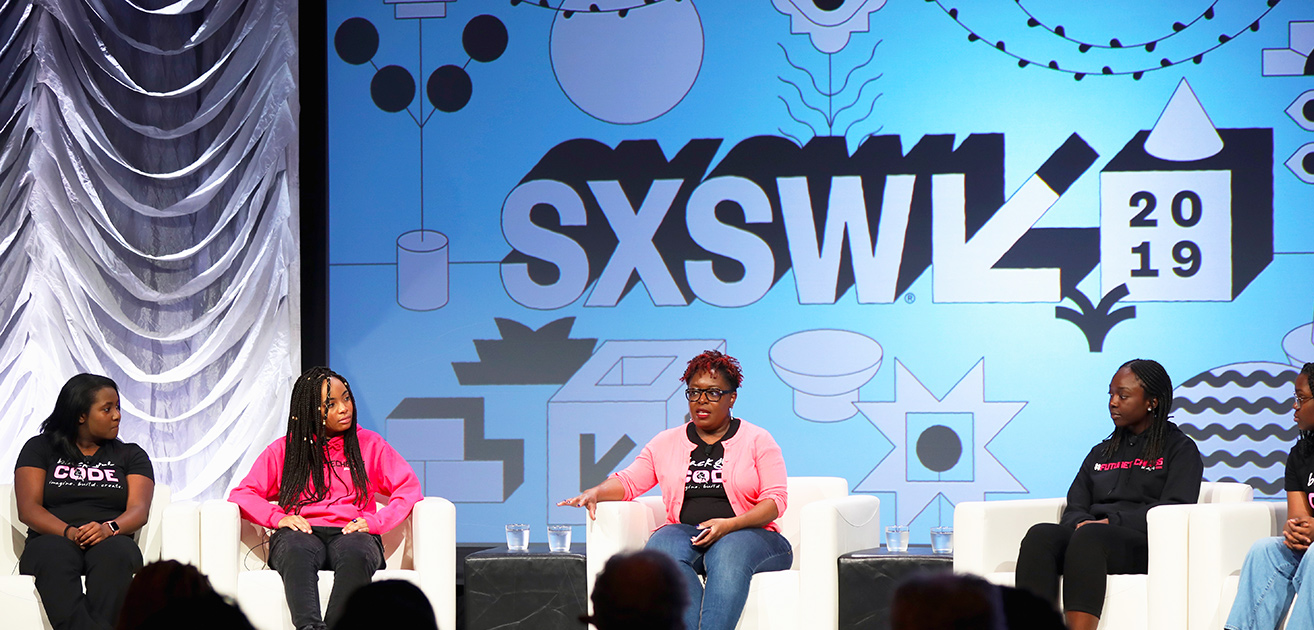 Join artists, innovators and thought leaders from around the world and turn your ideas into reality next March. Experience 10 days of unparalleled discovery, learning, and networking with creatives across interactive, film, and music industries at the 2020 SXSW Conference & Festivals from March 13-22, 2020 in Austin, Texas.
Helsinki, Finland ✈ April 1-2, 2020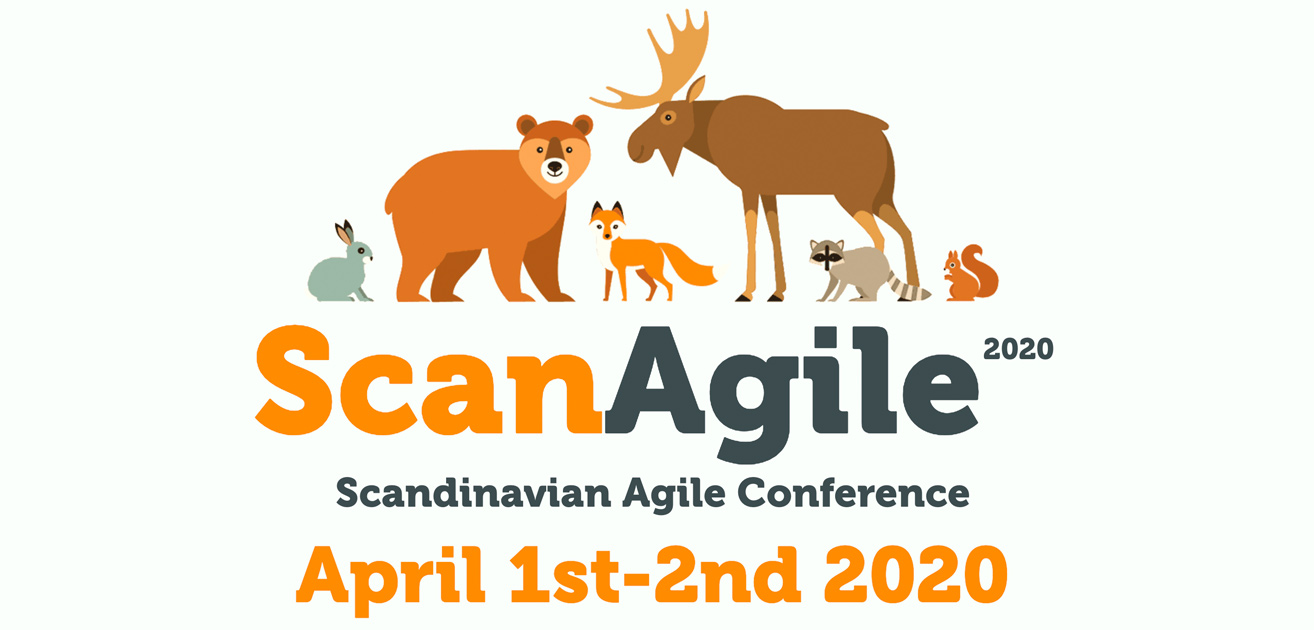 ScanAgile is the most agile conference in Finland. It gathers like-minded Agilists from all over the Nordics in one place. The event has been sold out for two years in a row and ScanAgile 2020 will be bigger than ever. The presentations and workshops are suitable for developers, scrum masters, product owners, team leaders, agile coaches, project and program managers, management consultants as well as executives – from both the private and public sector.
Cape Town, South Africa ✈ May 4-6, 2020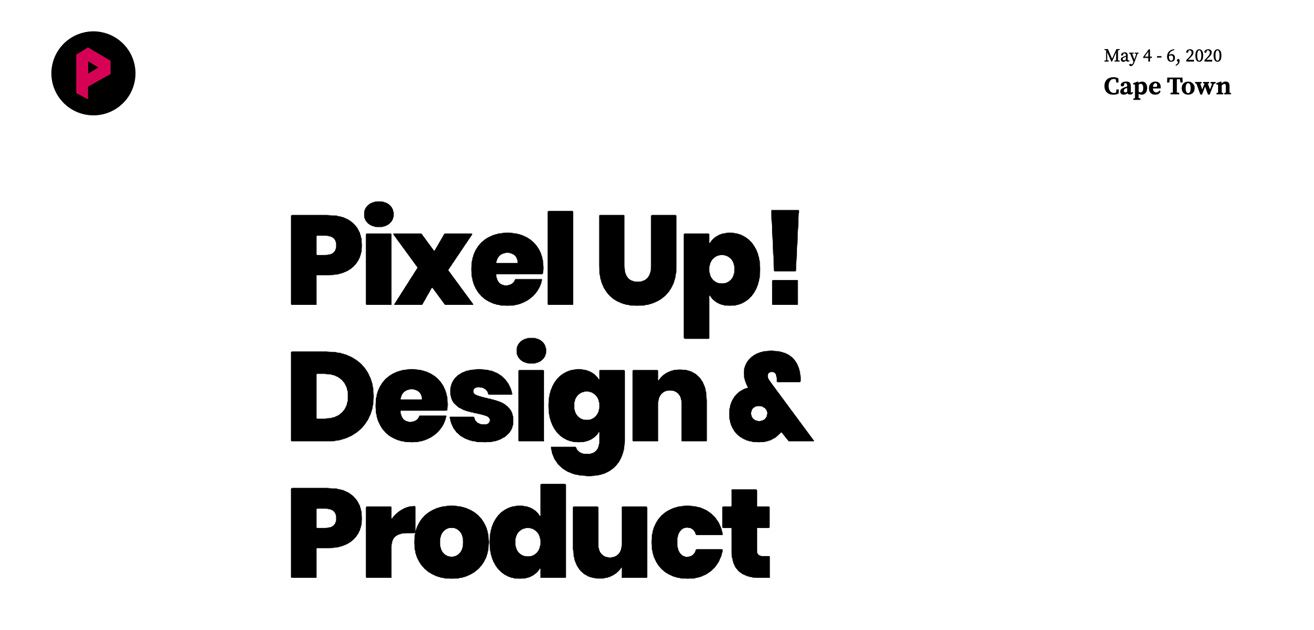 Pixel Up! is by designers for designers. We deliver an inspiring program packed with practical skills you can take back to your desk and apply immediately.
London, UK ✈ May 16-20, 2020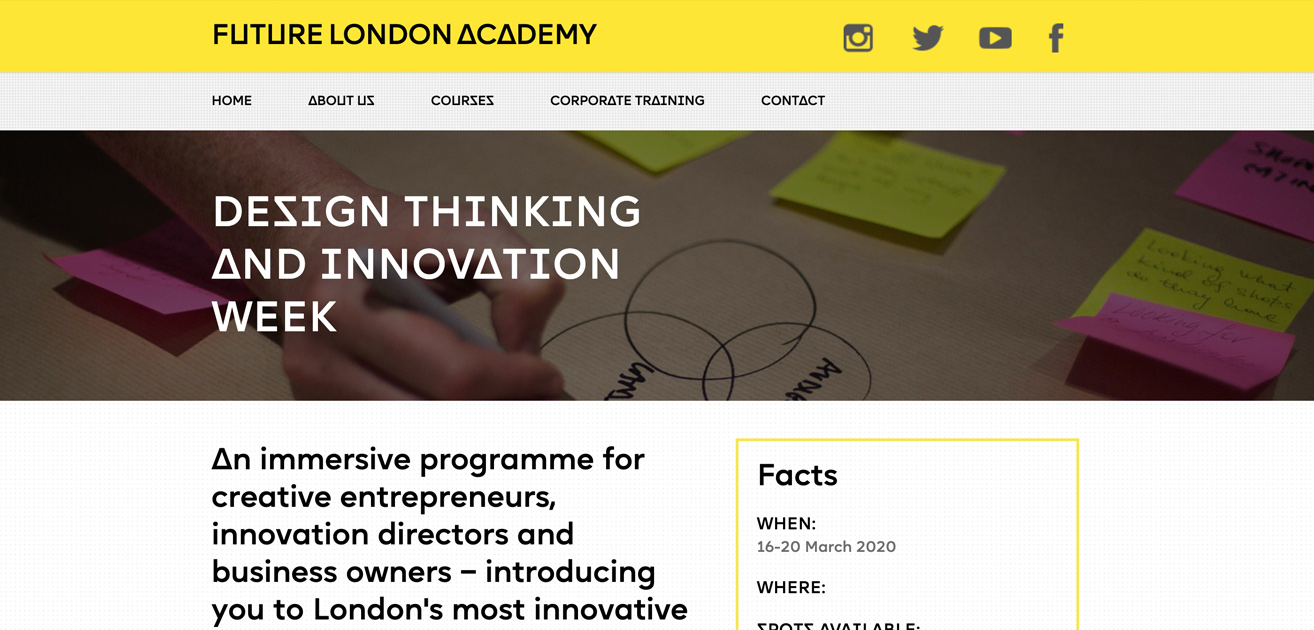 An immersive program for creative entrepreneurs, innovation directors and business owners – introducing you to London's most innovative businesses and uncovering the latest approaches to design thinking and innovation.
Copenhagen, Denmark ✈ May 16-20, 2020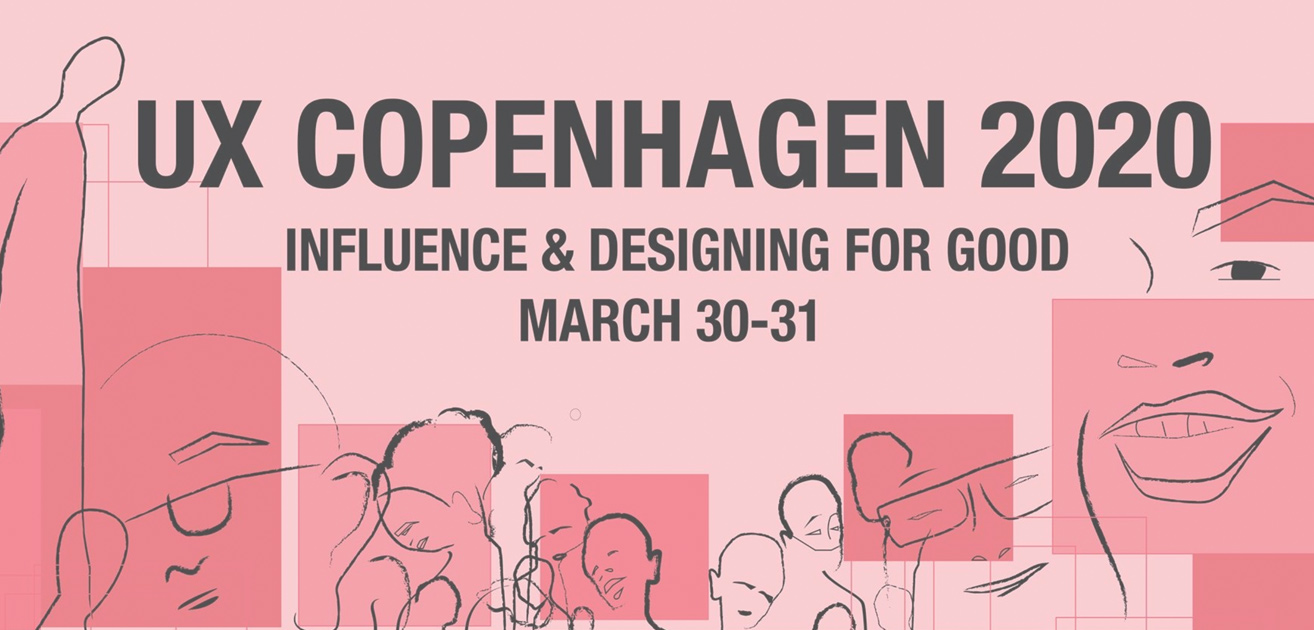 What is influence in UX? This is the subject we have given our speakers for 2020: "Influence & Designing for Good". Some of the subjects you will be hearing about are DesignOps, privilege, tech for social good, futures thinking, ethical OS, designing against domestic violence, and maybe even rocket science!