May 7, 2014
PixelMogul Game: A Case Study by ala
PixelMogul is a pixel-style game for iPhone, iPad and iPod touch by the Swiss studio ala pixel LLC. The objective of the game is to own all buildings in town. This is achieved by keeping apartments in momentum and tenants happy with huggable pets and handy robots.
The game is a mix of simulation and strategy. The player assumes the role of a real estate tycoon. He has to furnish apartments and find matching tenants. The residents are very chatty and they love pets. Most of them would like to have a handy robot but not everyone can afford one. Some like stylish interior and refurbished apartments, others prefer a cheap rent.
PixelMogul is a charming and light-hearted game with appealing pixel graphics and a catchy feel-good soundtrack for anyone who likes to drop into a colourful world with lots of lovely crafted details.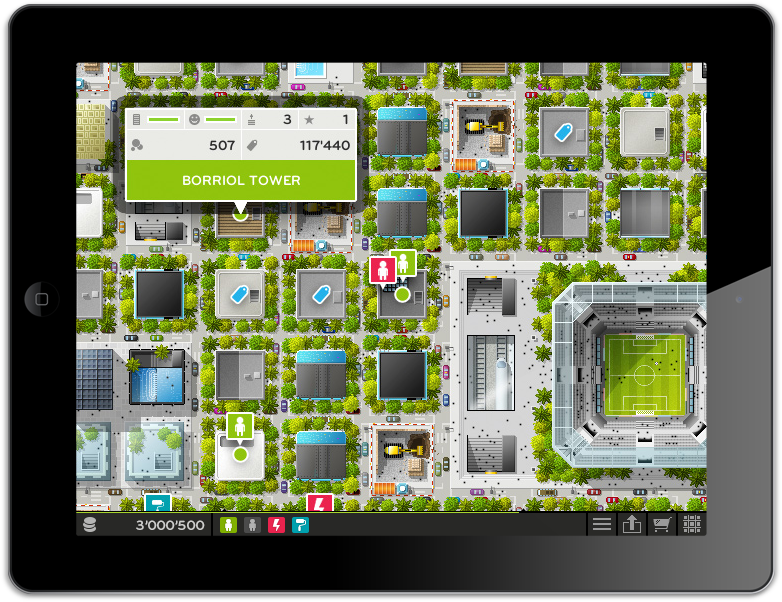 The Makers
ala (short for ala pixel LLC) is the name of our micro-sized studio located in Zurich and founded in 1999. The team members are Ala Ramildi, René Keller and Theo, the dog. We work in the fields of illustration, screen design and code mostly for web projects. In the past we were involved in several game-related projects, but PixelMogul is the first game we created from concept to illustration to design and code in-house (everything except for the soundtrack). And the game is financed through our own resources. PixelMogul is a fantastic experience and a huge adventure for us!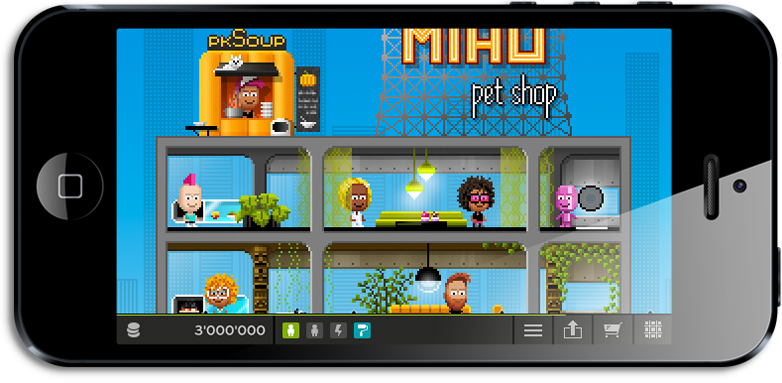 Background
With PixelMogul, we created the game we always wanted to play ourselves: entertaining, packed with good design and a modern user interface. And most importantly: A game one wants to play because of its contagious good mood. Our goal was to create an unobtrusive enjoyment for any moment of leisure. A game one can play on the daily commute. At the same time the game is slightly addictive: You are likely to find yourself checking your tenants' mood between dinner and soccer (or whatever).
Process
When we started we had a strong vision of the game but no detailed concept. Often our process felt more like "sculpting" a game. We like to work that way. It's a luxury we cannot afford in every commercial project.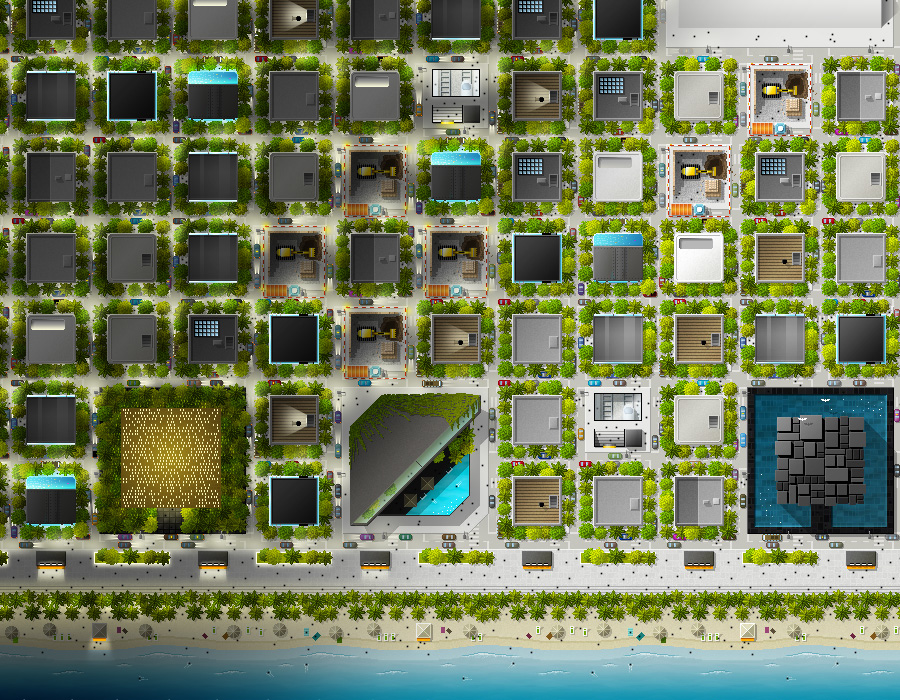 Many parts of the game evolved during the process. For example the map view – a key element in the current game – was initially just a list of buildings, which had more the air of an admin tool than a game.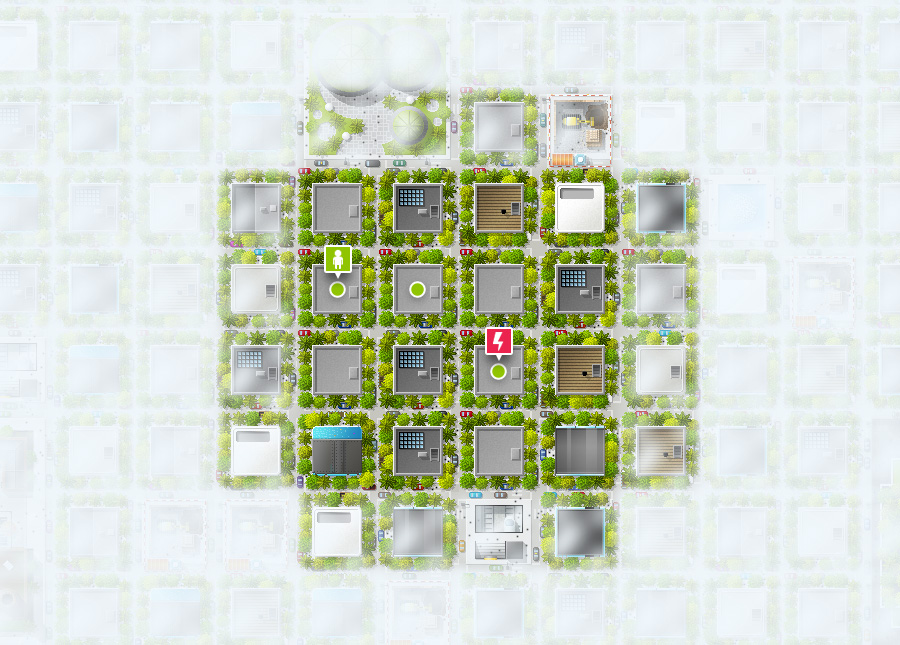 Other elements had to be introduced to improve gameplay. As many test-players felt lost on the map, we implemented the clouds to limit the playable area of the map. This way we force the players to start out with a pretty small area and unlock the map successively.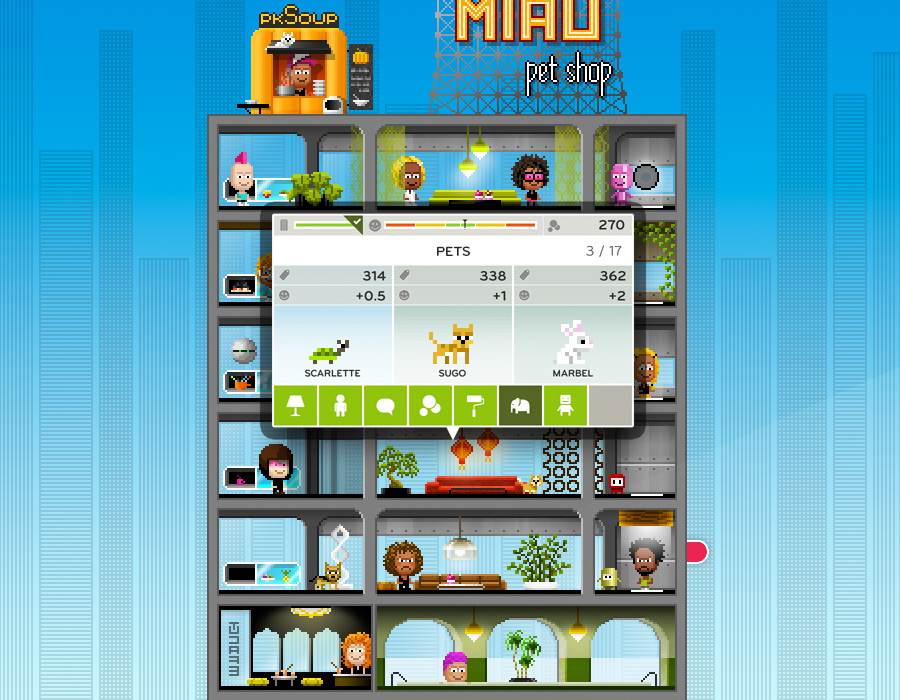 Interface Design
Our emphasis was on the interface from the very beginning of the design process. As we target small touchscreen devices, we tried to avoid unnecessary and cluttering elements whenever possible. So we decided to replace "x" buttons with a swipe-up gesture which is also introduced in the game tutorial for new players.
We're big fans of pixel art, but we quickly realised that the panels are quite complex and pixel-style was not necessarily the best choice. Therefore we only use pixel-style for certain suitable elements in the game. We are very happy with this decision, it gives the game a contemporary touch.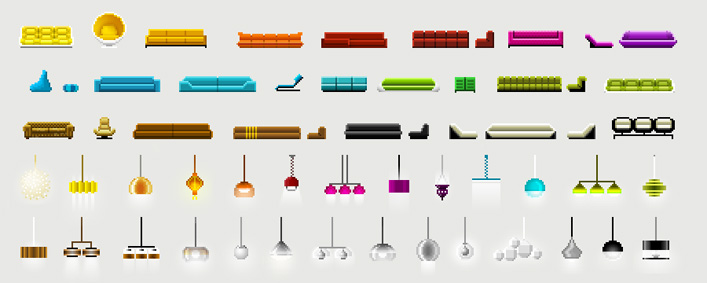 A Contemporary Style
Another important aspect was to create a contemporary look of the characters, interiors and buildings. When drawing the 450 interiors for example, we spent quite some time on Pinterest and on several interior blogs to find inspiration. When playing PixelMogul, you might stumble across pieces you own in real life, from everyday-stuff to designer furniture.
Characters With Character
As mentioned, the tenants are very chatty. Usually they talk about their needs and wishes or they express their opinion about changes in their apartment or in the building. But sometimes they just babble. Thus the player has to decide whether or not to act accordingly.
Creating the text took more effort than expected. We spent days on funny, cheeky, sometimes silly comments. We implemented statements everyone knows or phrases you might have said yourself. The goal of giving the tenants a voice was to help and entertain the player and to give the tenants a profile.
Tech Stuff
The game is built on top of the fabulous Starling framework. We found the framework to match perfectly our needs as ...
it's open source, actively developed and driven by a fast growing community
we have strong skills in ActionScript and Starling is a pure ActionScript Framework
it allows us to publish for iOS, Android and browsers with the same codebase
it performs greatly thanks to direct GPU rendering
If you plan to develop a 2D game for mobile and/or the web, Starling is definitely worth looking at. Especially if you're a small team with ActionScript experience.
Future Plans
With PixelMogul we made our dream come true and it has been an exciting journey so far. We intend to optimise and extend the game in the future.
PixelMogul Factsheet
Title: PixelMogul
Genre: Simulation, City Manager
Visual Style: 2D, Pixelart
Release Date: March 26, 2014
Platform: iPhone, iPad, iPod Touch
Price: Free Download, offers In-App Purchases
Distribution: iTunes App Store (Apple), available worldwide
Language: English, German
Developer: ala pixel LLC, Zurich, Switzerland, www.ala.ch
Design and Development: Ala Ramildi, René Keller
Music: Martin Straka, www.martinstraka.de
App Store: itunes.apple.com/app/id711358248
Website: pixelmogul.ala.ch
Twitter: twitter.com/pixelmogul
Facebook: facebook.com/pixelmogul
Pinterest: pinterest.com/alapixel/pixelmogul/