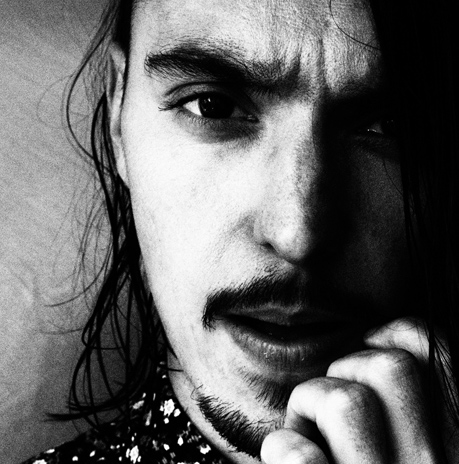 Marek Suchanek
Currently 27-year old Designer and Art Director also known as Creative Knight. Co-founder of atelier Creative Nights, when rationality meets visual aesthetics and perfection.
I have always loved visual perceptions, beauty and aesthetics - best when combined with an idea and reason. My mission is to build a visual-experience system which can work on every platform. I love to combine rational and abstract approaches in order to create something unique, of which I am open to trying new techniques and experimenting.
10 questions for Marek Suchanek:
What did you do before becoming a designer?

Once upon a time…when I was a kid I was learning traditional art disciplines in art school so I was drawing, painting and even sculpting. After I turned 14 or so I started to play with graphic programs and digital photography.

Where do you turn for inspiration?

Online: FFFFOUND, Niice, HTTPSTER, Design Inspiration, TUMBLR, Pinterest, AWWWARDS, Behance…

Offline: magazines, ZINes, books, icons, heroes and cities.

Which are your favorite studios, designers or agencies?

Online: Hello Monday, North Kingdom, AQuest, Immersive Garden, Watson/DG, Tool, Resn, Rally Interactive…

Offline: Snask, Hort, Ineo DesignLab, NeuBau Berlin, Blow, Bleed, Studio Muti... Many solo designers.

Generally I appreciate anyone who is trying to constantly push things forward and look for "out of the box" solutions.

Is your city a good place for designers?

It is! Cheap rent, charming atmosphere, lots of cultural events, and the heart of Europe. Call us for a coffee in our studio!

Which technologies are you excited about in 2015?

I am afraid of new technologies but same time excited. I will let myself be surprised.

Do you listen to music while you work? Describe your playlist.

At work I prefer listen to 80s, disco, pop, funk and electronic music. It should have positive vibes.

Tell us your funniest anecdote related to your work.

Some customer demands are really funny like "Unify the colors in print and web, they have to be same".

What are you cultural influences? (Music, books, films, ideologies, etc.)

What formed me besides education: martial arts movies (Jet Li, Van Damme, Seagal, Bolo Yeung…), American and European cinema, video games (Mortal Kombat, Rollercoaster Tycoon, Diablo, Planescape Tourment, TH Pro Skater…), music (pop, hip hop, electronic music). From literature I love poète maudit poets (Rimbaud, Baudelaire…) and of course art and design icons (Malevich, Kandinskij, Miró, El Lissitzky, Moholy-Nagy, Dalí, Warhol, Basquiat, Vignelli, Glaser, Lubalin, Bass, Rand, Teige, Sagmeister...)

Have you got an academic background or are you self taught?

I studied Graphic Design in University of Tomas Bata in Zlin, Czech Republic.

What do you do in your free time?

I think, I eat, I draw, I take photos, I watch screens and play sports. I am a pretty lazy person.

Where do you see the industry in 5 years?

More ways and possibilities for how to be creative. Definitely more interactive environments turning user experience into something closer to the virtual reality, more personalized. I love this industry for the reason it constantly evolves.

Are you working on any personal projects?

Right now we are launching a financial App.

If you could give one piece of advice to newbie designers, what would it be?

Be patient and work hard. If you don't love it, leave it.