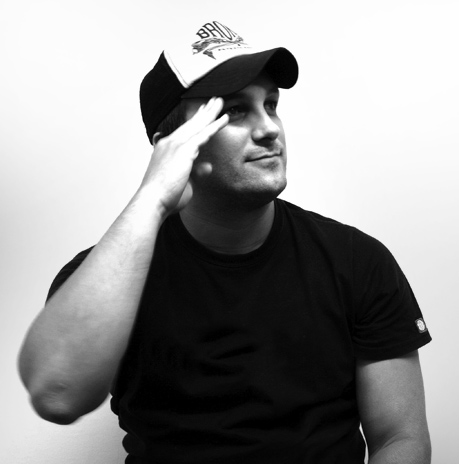 Isaac Leon
I'm currently working as a Freelance Art Director. I usually work for agencies throughout the world.
I chose to work remotely in order to be closer to my children; agency timetables and long commutes are incompatible with the way I look at life and how to live it.
I love that even on a Monday, I get to hang out with my kids. I'm addicted to that freedom.
Questions for Isaac Leon:
What did you do before becoming a designer?

Before becoming a designer I was working as a Java programmer.
I came across the work of Yugo Nakamura and I got hooked on the wonderful world of flash (Flash 4.0).
That was the turning point in my professional career. In that moment, I became an official designer and programmer of projects with flash.

Where do you turn for inspiration?

There is no specific place for that. Inspiration is everywhere. We have to train our senses to truly value every little detail that surrounds us. Everything is inspiring.
For me, one of the best inspirational tools is travel - whenever I come back from an adventure my head is full of new ideas. If I could, I'd travel every day of every year, there's nothing as stimulating and enriching as travel.

Which are your favorite studios, designers or agencies?

North Kingdom, Jam3, Fantasy Interactive... There are so many that I admire, it's too difficult to mention them all.

Is your city a good place for designers?

Barcelona is an amazing city and, thankfully, it's a city which not only respects design, but values and promotes it. In my case, the city you work in is irrelevant when you work remotely. I currently live in a village called Cardedeu, 35km from Barcelona, away from the urban hustle and bustle. It's an ideal location for me to work and educate my children.

Which technologies are you excited about in 2015?

People are creating incredible things right now, but if I have to mention something, then I'm fascinated by the possibility of being able to print a spare part for my motorbike from my home printer. I know it's very early days, but I'm excited about where this evolution will take us.

Do you listen to music while you work? Describe your playlist.

Of course! I can't imagine our profession without music. I usually listen to a bit of everything depending on the project at hand, the emotions I'm feeling in that moment…
I always look at other users' playlists to discover new groups, there's so much talent to listen to…

Here are a few from my very eclectic collection:
Pearl Jam, Olafur Arnalds, The Walkmen, Thrice, The Smiths, Bon Iver, The Killers, Metallica, Kiss, Bauhaus, Bob Marley, Louis Armstrong, kavinsky, Alpha Blondy, Eddie Vedder, Janis Joplin, Apparat, Great Lake Swimmers, Iron Maiden, Band of Horses, Pennywise…

What are you cultural influences? (Music, books, films, ideologies, etc.)

I'm addicted to Taschen publishers, I usually buy a lot of books about design, art, photography… things like that have a great effect on me.

Two of my more recent discoveries have been these two magazines: Kinkfolk and Cereal. They are visual delights, I love their philosophy; enjoying the tiny details, the small moments and sharing them with the people who are important to you. Right now, I just need to work a little less and really put that philosophy in practice to see where it might lead. XD

Have you got an academic background or are you self taught?

Self taught.

What do you do in your free time?

I've got very little free time but I really try to dedicate as much time as possible to my children. I love playing with them.
Something else I love to spend time on are my personal projects and learning lots of new things that I'm into at any given moment.

Where do you see the industry in 5 years?

Lots can happen in 5 years. I'll settle for a genuine and fair industry.

Are you working on any personal projects?

I am! This year especially. I hope that a couple of specific things I'm working on see the light of day and form a new turning point in my career.

If you could give one piece of advice to newbie designers, what would it be?

Many paths lead to the one destination. Choose the one which looks the most fun, despite the fact it might not be the most popular.
In fact, throw out your GPS and get lost as much as you possibly can. There's no better way to evolve than putting yourself to the test time after time.