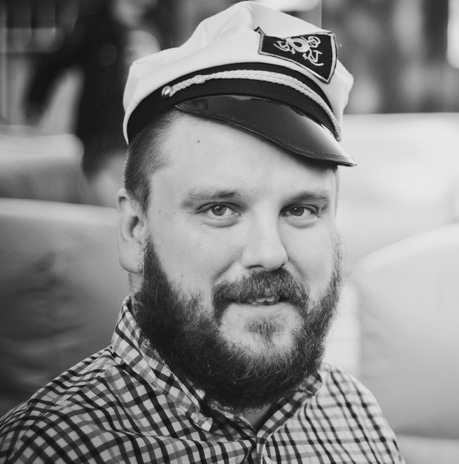 Haraldur Thorleifsson
My name is Haraldur Thorleifsson. But you can call me Halli. I am a Creative Director and designer of things that appear on screens.
Haraldur is the ECD at Ueno, a full service digital agency. There he oversees all aspects of the creative process, including branding, visual and interactive design, motion and code. He has worked on projects for companies like Google, Square, Fitbit, YouTube, TiVo, Microsoft and Reuters. His work has been featured in .Net Magazine, CNN, Mashable, CNet, The Next Web and Communication Arts. He has received numerous international awards in his field including Webbys, FWA's, Awwwards and Communication Arts awards.
10 questions for Haraldur Thorleifsson:
What did you do before becoming a designer/developer?

I fell into design by accident when I was 21. I was studying finance at the local university and took a IT class. As a small part of the class we had to build a simple HTML page and I got hooked. I kept studying though, eventually completing a B.A. in philosophy and a B.S. in finance. Through my studies I supported myself with design but I always saw it more as a hobby. It wasn't until midway through my M.S. degree in Economics that I finally decided maybe this design thing was what I should be doing.

Where do you turn for inspiration?

All over. The typical spots like Dribbble, Awwwards, FWA etc. I also travel extensively and I think cities are mans greatest accomplishment - there is endless inspiration to be had from a new city.

Which are your favorite studios, designers or agencies?

Studios would be places like Hello Monday, Big Spaceship, Instrument, Rally Interactive, F-i and my good friends at Upperquad. The list of good designers is endless but if I had to name a few designers it would be people like Anton Repponen, Claudio Guglieri, Tobias Van Schneider and Trent Walton.

Who do you side with: Team Mac or Team PC?

I used to be all PC but had to switch to Mac when I moved to NY to work for Cuban Council about 7 years ago. I haven't looked back since.

Is your city a good place for designers?

Me and my family are currently exploring the world so we move cities/countries every few months. We try and pick inspirational cities and we've mostly been successful so far.

Which technologies are you excited about?

Most of my projects are for a big audience. That means we need to think about old browsers and old devices. So I'm actually most excited about seeing people move away from IE 8/9 or upgrading their old phones. It's a slow process though so I don't know if excited is the best word!

How many hours do you work each week?

Usually way too many. Last year I'd say 70-90 hours a week. But I'm going to slow down a little this year and spend more time with my family.

Do you listen to music while you work? Describe your playlist.

I'm almost always listening to something while I work. I'm however not very active when it comes to finding new music. On my iPod right now are things like Ane Brun, Passion Pit, The Blow, Chvrches and Everything Everything. I've also been listening a lot to A Tribe Called Quest recently.

What is your favorite book?

I don't believe in singular favorites anymore. Life is too complex.

What is your favorite sport?

I've tried many times to get into sports. Mostly for the social aspect. But I've never been able to make an emotional connection.