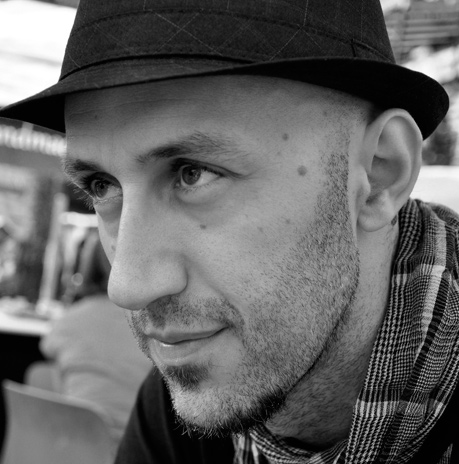 David Navarro
I'm a Digital creative & design director and supervillain born and raised in the sunny Mediterranean coast of Spain, based now in the cloudy and rainy Amsterdam helping brands and agencies worldwide to fight some digital battles.
After finishing the University I started my own digital shop in my hometown Valencia, Pixelinglife, and I there learnt to love digital design. 11 years after I decided to face new adventures and after a short period freelancing I moved to Amsterdam to join Tribal DDB as Design Director.
Currently I'm freelancing again and enjoying life with my wife and my newborn Saul. I hope to keep having fun designing and creating interactive experiences. In the future (hopefully soon) I'd like to start again my own creative studio recruiting some other digital supervillains. We'll see...
10 questions for David Navarro:
What did you do before becoming a designer/developer?

Prior to become a designer I just wanted to be a film director and rockstar playing guitar in my old band. It didn't work, and it was easy to make a living putting pixels in place...

Where do you turn for inspiration?

I try to get inspired from many sources, not only design but cinema, music, art or just going for a walk or having conversations with friends. Being a designer is like being always alert, it's a 24/7 work.

Which are your favorite studios, designers or agencies?

I have my personal heroes like Saul Bass. But when it comes to digital design there are several studios I always admired… North Kingdom, Tha.jp, Firstborn, Hello Monday, Stink Digital…

Who do you side with: Team Mac or Team PC?

Team Mac, but just because I got used to it and because I find Windows quite annoying...

Is your city a good place for designers?

I have two cities Valencia (Spain) and Amsterdam (Netherlands). Valencia is a very talented city but it's hard to show all this talent in a pretty depressive industry. Amsterdam, on the other hand, is a great place for designers, tons of good opportunities and a city that takes care of talent.

Which technologies are you excited about?

Technology is becoming more and more relevant nowadays. There are so many interesting new technologies that is hard to choose, but ok, if I have to choose I'd go for all kind of smart objects and interactive experiences in stores, improving user experience.

How many hours do you work each week?

It depends, one week could be 40, other 30, other 70. Depends on the workload, if I'm busy with commercial and personal projects.

Do you listen to music while you work? Describe your playlist.

Of course, music is an important part of my life and I need it to let my ideas flow. It depends on the moment of the day and the intensity of the work I'm doing I could go from relaxing classical music of Joe Hisaishi to extreme hard rock like Pantera or Machine Head… and in between, good rock music with guitars kicking some asses.

What is your favorite book?

I have to admit I read less than I used to. I'm more into cinema and watch tons of movies of every period. I'm a visual guy...

What is your favorite sport?

I played for almost 15 years beach volleyball until my back said… stop it. It's a great and fun sport... sun and beach, what else?