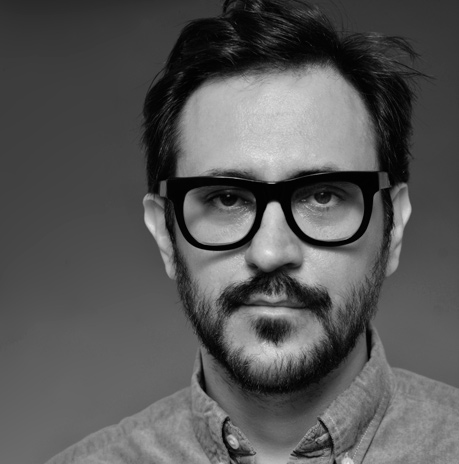 Francesco Bertelli
Francesco is a Design Director living in NYC, and currently working for Huge Inc. Brooklyn
My name is Francesco Bertelli, I'm a Product Design Director at Huge Inc., Brooklyn. Originally from Italy, I ran my own studio in Milan from 1999 to 2007, working with several Italian brands, including Tod's, Rizzoli and digital newspapers Corriere della Sera. Before joining Huge, I worked at The New York Times and was earlier an Interactive Director at Mucca Design.
10 questions for Francesco Bertelli:
What did you do before becoming a designer/developer?

My very first job was as a photography assistant in Milan because I was sure I wanted to be photographer on the path of Ralph Gibson.So I started working with many photographers which, by chance, ultimately needed a website more than me to loading their Mamiya and that's how I started learning to design and build website.

Where do you turn for inspiration?

I talk to people. I use a lot of apps and wesbites and I definitely don't rely on long hikes or old italian movies for an answer.

Which are your favorite studios, designers or agencies?

Bret Victor (MIT), Jason Fried (37signals), David Kelley (Ideo)

Who do you side with: Team Mac or Team PC?

I team with whoever provides the best experience. Today's Apple. Tomorrow who knows.

Is your city a good place for designers?

NYC it is the best city for a designer.Constant friction generates energy.Which fuels the daydream.

Which technologies are you excited about?

I'm actually truly fascinated by the DNA of technology: algorithms.

How many hours do you work each week?

I rarely work. I constantly play with my skills. Weekends included.

Do you listen to music while you work? Describe your playlist.

I don't. I used to play in a band for many years since I was 19. When we disbanded I stopped listening music. Don't ask me why because I don't know. I'm a fanatic for what I do now so I have no space for any other entertainment than my ideas. It's called post-traumatic Reverse Stockholm Syndro-fenia.

What is your favorite book?

I love books of books. One of my favorite is The Photobook by Martin Parr.If the question was about novels, anything by Michel Houellebecq.

What is your favorite sport?

I love design bicycles, not necessarily cycling. Is that a sport?

Tell us your funniest anecdote related to your work

One time, I presented for an hour to a client on Skype, without realizing, that on the whiteboard behind by back there was a drawing of a Dr. Slump's character called Poop. Apparently the client had great knowledge about mangas; and sense of humor.