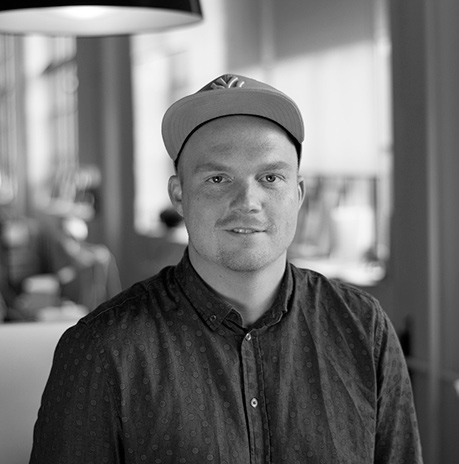 Bjarne Christensen
I'm Creative Director and partner at Stupid Studio. I'm ambitious and critical by nature.
I'm an experienced creative with my strengths in digital design and online concepts. With more than nine years of professional experience in both design and technical development, as well as creative team management and leadership since 2010, I'm the guarantor of lasting solutions with high relevance.
I'm a team-player by heart and is always hard-working to reach my goals. My focus is based on adding value and results to brands with design and creative digital solutions across different platforms and technologies.
10 questions for Bjarne Christensen:
What did you do before becoming a designer/developer?

I worked as a bartender and waiter for several years when I was still studying.

Where do you turn for inspiration?

It's very different from time to another. I see myself as a 'thinker'. Often inspiration just comes by after a while with a certain project in my mind. So I think the short answer is; from life itself and the stuff and people that surrounds us. But if time is short, I use the more traditional online platforms such as Pinterest, Behance, FWA, Awwwards, and other web galleries and creative blogs, or discussing the project with colleagues.

Which are your favorite studios, designers or agencies?

Fi, North Kingdom, Buck, Snask, Emil Kozak, B-Reel

Who do you side with: Team Mac or Team PC?

Team Mac

Is your city a good place for designers?

Yes it is. Copenhagen is really a city that is doing a lot for the creative business and culture.

Which technologies are you excited about?

I know it's not really a technology in the traditional way of thinking, but I expect a lot from video, animation and story telling in the merge with the web. Video and animation are both already becoming more and more common in web sites. 2014 will be the year where websites really comes alive again. After Flash, one is tempted to say! We will experience websites based on storytelling and interactive video experiences that involves the user in new engaging ways.

How many hours do you work each week?

It depends on a lot of things. As every creative knows, there are not a lot of weeks that are close to similar. Some weeks it's almost "normal" according to Danish standards; 40-45 hours, and for other weeks I'm working 70 hours. I think an average is around 50 hours. But we are very much aware of the importance of work-life-balance in Stupid Studio. No one is performing at their best if they are working too much..

Do you listen to music while you work? Describe your playlist.

Yes I do! A lot... And the genres are very varied. At the moment I'm very much into slow electronic music at least when I'm working. Something I'm listening to right now is Late Noght Tales by Bonobo. It's great 'working-music' if you ask me.

What is your favorite book?

Oh, I'm not reading that many books. And when I do, it's work-related. The latest books I read, last summer, was Designing for Emotion, Mobile First, Responsive Web Design, The Elements of Content Strategy, CSS3 for Web Designers, HTML5 for Web Designers, all from A Book Apart. I love these books!

What is your favorite sport?

I really love sport. I'm not very good at doing nothing. You know, just to lie down and stare into the sky. Being active helps me focus on my daily work. At the moment I'm very much into mountain-biking and running.