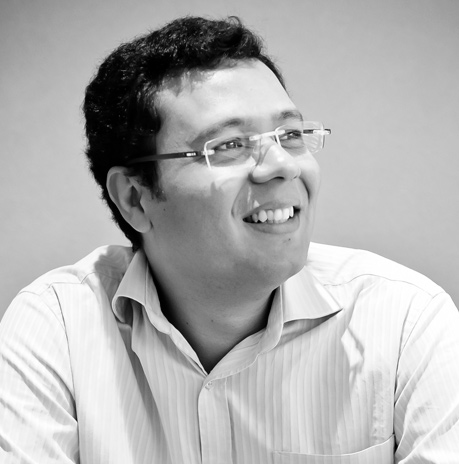 Izaias Cavalcanti
Izaias is currently an Executive Producer IUQO, an independent production studio based in Brazil
Izaias joined the interactive industry in 2002, and through the years he has had the chance to work with the most talented people, on truly great projects, for some of the best companies in the world. With both advertising and technology degrees, he is currently focused on business and creative strategy, getting deep into the business of building meaningful digital products.
10 questions for Izaias Cavalcanti:
What did you do before becoming a designer/developer?

I started playing with these things very early in life. My first computer was a IBM XT. Besides that, I always wanted to work, so the very first "work" I remember doing in my life was to make kites and sell them to my friends. I was probably 8 years old at the time.

Where do you turn for inspiration?

I believe inspiration comes from everywhere. I really enjoy having random ideas and writing them down. Sometimes one of those ideas, connected to another one I had months or even years ago, starts to make sense.

Which are your favorite studios, designers or agencies?

I love the work of UNIT9, and I have been lucky enough to collaborate with. Besides that, I'm a big fan of Hello Monday, Cartelle and Kokokaka.

Who do you side with: Team Mac or Team PC?

I've been with Team PC for years, I'm giving a chance to Team Mac now :)

Is your city a good place for designers?

Definitely yes!

Which technologies are you excited about?

Artificial intelligence has always attracted me. I think good algorithms combined with computer vision, machine learning and data mining can make a revolution in every industry, and in our lives too.

How many hours do you work each week?

As a typical workaholic, I have always worked for over 12 hours a day, including the weekends. But I'm trying to change that. Ideally I want to work from 8 to 10 hours a day.

Do you listen to music while you work? Describe your playlist.

Sometimes. If the task at hand does not require my full attention, I allow myself to listen to artists like John Mayer, Jack Johnson, Jamiroquai and the not as popular but great The Katinas.

What is your favorite book?

I really enjoyed reading "Think and Grow Rich", from Napoleon Hill. Apart from its catchy title, the book is an excellent guide on principles that, if well applied, will definitely help making your life a lot easier and less messy.

What is your favorite sport?

Road biking, for sure.

Tell us your funniest anecdote related to your work

It's not quite related to work but it happened at the office. Anderson, my partner, walked into the office so excited, telling me that his favorite soccer team, which he calls THE ALMIGHTY had won a match the day before. Totally out of curiosity I asked who the other team was, as I'm not really into local soccer. He got so embarrassed because the other team was quite unknown. We both started laughing so much and couldn't stop for several minutes. That was fun!