May 17, 2023
Engine Station by MONOGRID: A 3D Experiential E-Commerce Destination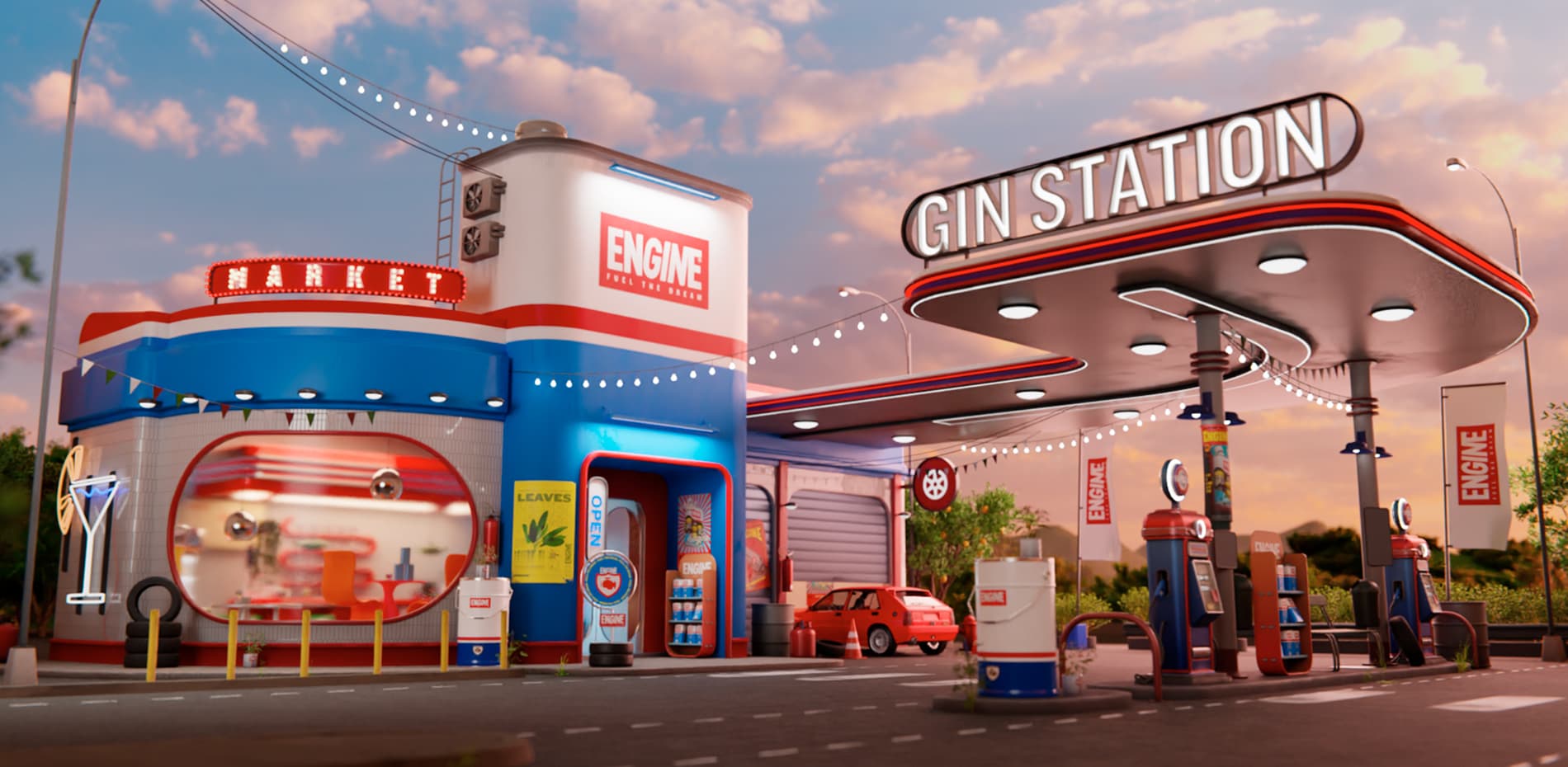 When Engine, the organic Italian gin with an 80s motorsports-inspired aesthetic, approached us at MONOGRID looking to create a disruptive and fun online experience for their e-shop and website, we knew we had to deliver something truly groundbreaking.
And that's how the Engine Station came to be, an immersive 3D platform that offers a unique shopping and discovery experience for the Engine line.
Concept
"The Engine Station is the first experiential online destination of its kind in the spirits industry. It is an example of experiential e-commerce, a new consumer-centric approach to online shopping that prioritizes experience and is becoming increasingly popular," said Francesco Bernabei, co-founder of MONOGRID. "Engine's platform looks more like an interactive video than a traditional website, telling the brand's story, products, values, and culture. Through this multi-sensory, multi-faceted interaction, we've created a branded experience that goes beyond just buying online.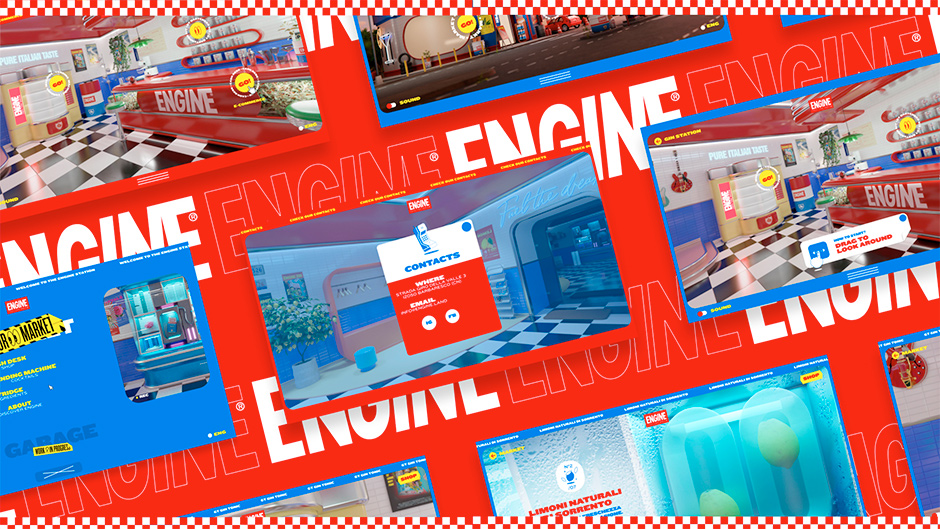 Technical Specs
We built the Engine Station using the Vue3 framework with Tailwind, Threejs for the 360 engine part, and GSAP for the animation. Lottie was also integrated to include SVG animations. We pulled all the stops to create a feast for the senses! In order to make maintenance and upgrade easy the website is powered by our in-house MONOGRID Headless CMS System that makes updating the text, images, video, content and new 360 environment a pain free process. The whole infrastructure is based on AWS cloud serverless services to deliver a secure and great performance worldwide and at the same time also connects with ENGINE's existing Shopify system to ensure updating the e-commerce part is straightforward as well. It's about providing a technically seamless experience, too!
Enter the Engine Station
The Engine Station homepage is styled after the outside of a gas station and is divided into two immersive interior environments: the MARKET and the GARAGE.
In the MARKET, you'll be transported to a diner setting where you can explore Engine's products and services. With 16 different hotspots to interact with, there's plenty to discover. Check out the Bar Counter to explore Engine's e-shop and discover their range of products, while the Clothes Rack displays the brand's ready-to-wear line. Or head over to the Fridge, where custom animations showcase the ingredients used in Engine's gin. And if you're a cocktail enthusiast, the Vending Machine is an interactive dispenser of delicious recipes you can try at home. Each hotspot offers a unique experience, so it's worth checking them all out! The activity counter that pops up on the screen can help with that. And if you're a fan of the 80s, you'll love the MARKET's jukebox playing music from that era.
If electronic music is more your thing, don't forget to turn on your speakers while visiting the GARAGE – connected to the MARKET through a shutter. This editorial section of the platform immerses you in Engine's creative collaborations. Click on interactive polaroids, magnets, and notes displayed on the Board to learn more. In this underground 3D garage, you can even make the engine of an iconic 80s Lancia Delta Integrale roar if you wish. And keep an eye out for the brand's events calendar, represented by the Cinema hotspot and introduced by an animation on a projector screen with a special flickering effect.
The Engine Station's ultra-realistic retro-designed décor, custom illustrations, and dynamic animations perfectly reflect the brand's style, unmistakable color palette, and great passion for motorsports.
From researching 80s furniture to creating realistic 3D renderings, seamless animations, and custom illustrations, we carefully crafted every detail to capture Engine's brand identity and culture. With a user interface that's both fun and engaging, the Engine Station is an experiential e-commerce platform we hope you won't forget.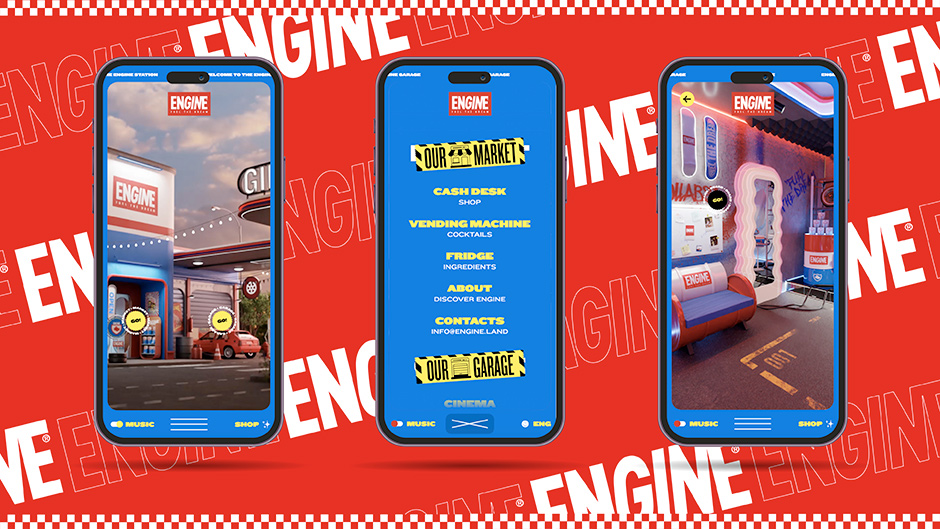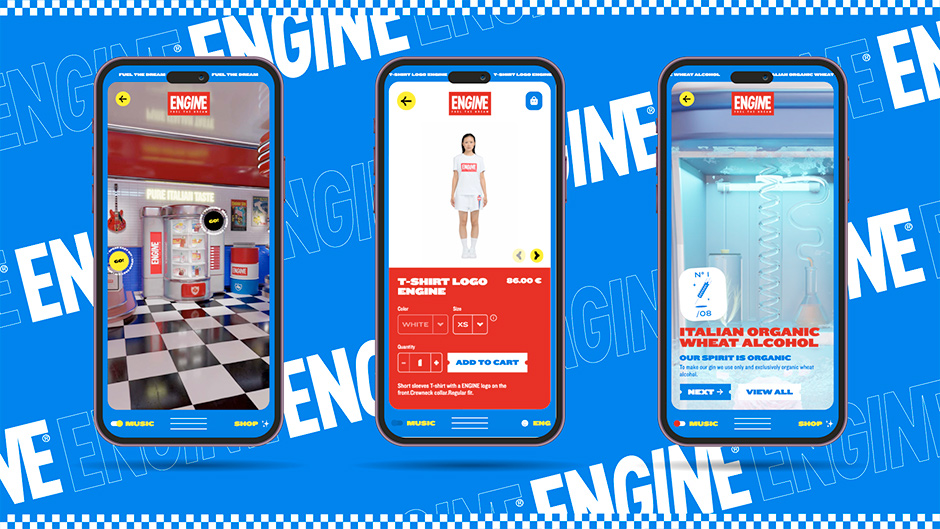 Company Info
MONOGRID is a creative production company specializing in interactive digital outputs. With a team of over 50 talented individuals, they help luxury and fashion brands push beyond the limits of physical reality by crafting immersive environments, engaging installations, and innovative content that leverage technology in new and exciting ways. MONOGRID's expertise spans digital, phygital, and live events, as well as augmented and virtual reality, 3D, the metaverse, and NFTs. Their roster of clients includes some of the most renowned international names, such as Alexander McQueen, Dolce & Gabbana, Maserati, Prada, and Vogue Italia.