Oct 23, 2020
Ecommerce Development Trends: The 2021 Edition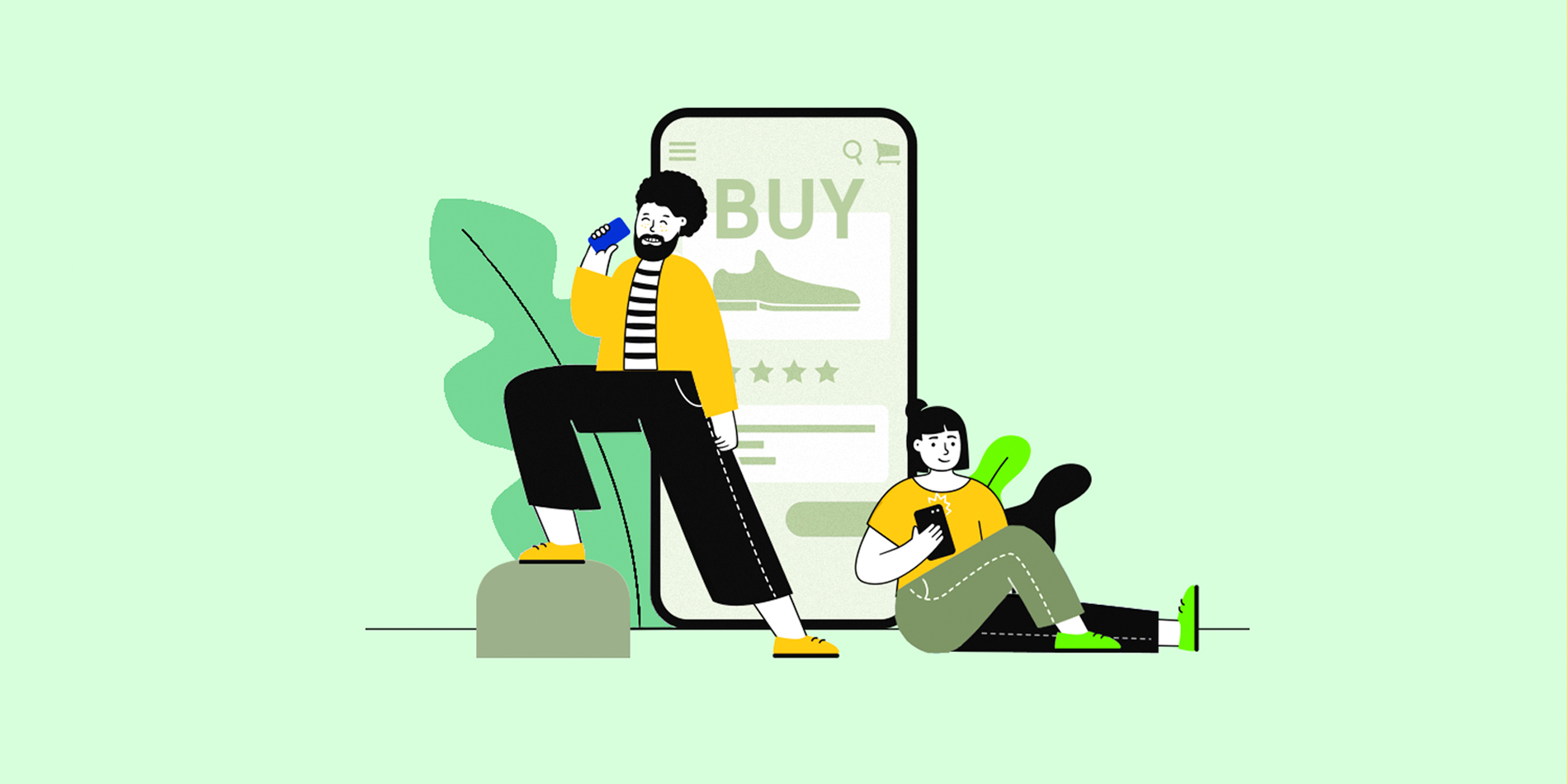 We have stepped into the digital age where everything we want is only a click/tap away and is delivered to our doorstep at our earliest convenience. The year 2019 was great for the ecommerce industry as its worldwide revenue amounted to more than 3.53 trillion USD, and is now predicted to hit up to 6.54 trillion by the end of 2023. In terms of the growth of ecommerce; these numbers say it all, there's no doubt that e-commerce is here to stay, and is developing every minute of every day!
However, what many people don't understand is that simply creating a website to sell multiple stocked up products isn't how you ace the game. Being a part of such a dynamic industry calls for one to keep up with the minute-to-minute updates on the latest trends.
If you don't know where to start, or are just curious about what the future holds for ecommerce; we've got you covered! Here are a few trends you need to keep your eyes peeled for in 2020:
Ecommerce after COVID-19
COVID-19 has made its way to the top spot, undeniably making one of the biggest impacts on ecommerce. We experienced lockdowns and our favorite stores being shut down by the government; but what kept us going was our easy access to them amidst the crisis, and we all resorted more and more online shopping.
Experts have predicted that the impact of coronavirus will not be a short-term boost to ecommerce sales, but will stay even after COVID-19 is over. People have grown more comfortable with the idea of online purchasing - as it has been deemed convenient and offers the benefit of contactless payments.
Headless Commerce becomes the New Normal
Any ecommerce platform that does not require a pre-designed storefront is known as headless commerce. In simple terms, a traditional e-commerce model will always require constant updates to both front and back-end systems which jumbles everything up into a giant mess and you're left with nothing but a headache! An architecture of this nature offers brands freedom of expression to build in whatever way they want, however they want. As an added bonus, it enables brands to focus more on enriching the customer experienceinstead of wasting their time and effort in back-end data.
This is without a doubt one of the most preferred and finest techniques out there that allows you to take your online store a step further, while you keep up with consumer technology.
Voice Search
Ever since stepping into a world filled with elements like Google Assistant, Alexa, and Siri, our lives have become very different and in many ways easier than they used to be. These devices are out there making a significant difference to our lives as they assist us in making a subtle transition from "typing in" to "speaking out". This happens to be one of the most discussed trends in the great world of e-commerce. It will surely change the game as we know it, as it will not only ensure the best customer experience but will also stand as the future of SEO.
Marketing Automation
In order to reach revenue and growth goals you have set, marketing automation tends to be a vital tool to help online businesses. It allows you to manage marketing processes and automatically runs campaigns across multiple channels. Once you combine ecommerce with marketing automation you end up with the perfect recipe that offers top quality shopping experience with an added ability to create marketing campaigns specifically tailored to cater to your audience effectively.
It is also important to understand that marketing automation goes way beyond just scheduling social media posts and automating email marketing; it has taken the next step towards providing easy-to-access shopping carts and customized landing pages that ensure a comfortable and satisfactory customer experience.
Artificial Intelligence (AI)
AI is bringing a revolution to the world of business altogether. As expected, more and more organizations say they either already have an AI strategy set in motion or will bring this technology on board to further develop and bring change to many of their functions.
Many companies are already depending on AI to carry out their tasks and identify market patterns based on their browser history and have witnessed a significant boost in their sales revenue after implementation.
Augmented Reality (AR)
Whether you choose to hop on the bandwagon or not - it is certainly time to believe in online shopping, as it officially established itself as a thing of our time.
Everyone you know, see, or hear; is all about their online experience and its success! However, there are still a massive chunk of consumers that opt for the full experience before they make their purchase. Augmented Reality enables you to do that easily by providing your customers with a view of the product brought into their lives.
For instance, the most common example to this is buying furniture. It isn't easy to buy furniture if you aren't sure it will fit in with your setting in real life. AR allows you to place a certain object into your room to give you an exact idea of how it will look like in reality after you have it.
This option is still relatively new and most e-commerce websites haven't offered it yet. So this may be a great option to implement to bring to the top of such a competitive market!
Subscription-Based Models
This trend seems to have been gaining a decent growth rate over the past few years, appearing to be rising steadily in the business world, taking into account the addition of multiple subscription based companies in 2020.
Along with the massive success rate comes a few downsides that need constant attention. With subscription-based models, one of the most challenging areas for companies that send out monthly packages would be to create a sense of value and variety. Once created, the challenge is to sustain that to avoid a drop or loss of subscriptions. This can only be achieved by generating strong ideas that are backed up by a stronger understanding of the market you wish to target.
Enhanced Shipping Options
Since 2013, the year when the idea of same-day delivery became a mainstream option for all; there have been no major improvements other than small add-ons to the shipping section for the online retail industry. Ever since, it picked up its pace towards the new-age and we have seen quite the additions come along.
For example, how Amazon has tested drone deliveries in the USA while being integrated with Google Maps for them to be able to hop on to the shortest route to their destination. It's only a matter of time until this becomes a major hit and is taken on by many retail businesses!
Social Payments
Life has never been as easy - or so it seems with the passing of each day! With online shopping experiences taking a leap to the top, it was much needed for retail businesses to make payment options a lot more seamless to enhance their consumer's experience. Social payment acts are the perfect option for users to pay for their purchases using any social media platform of their choice. Today, most of the major social media platforms have integrated their own versions.
For example, Apple Pay, WhatsApp Pay, Google Pay, Facebook Payments, and Twitter Buy. Think of these as your very own digital bank account in the palm of your hand 24/7! With this option, users now have easy access to make a purchase on any of these platforms or from online retailers that offer social media payment methods.
Chat-bots for the Win!
Chat-bots have been a part of the game for a few years now, and they've been quite the help for both retailers and consumers. They have become somewhat of a personal assistant to guide you through every step of the way.
Although they once weren't as accurate as they could have been, the addition of AI-powered chatbots will bring along everything that was missing, as they provide more accurate and relevant responses to ensure a great consumer experience.
It is predicted that their growth will reach at least $1.25 billion by 2025. For now, we will get to see chat-bots become cheaper, smarter, and more widespread.
With our world changing rapidly, we need to embrace the change that suits our needs best.
The Ecommerce industry is ever-evolving and it is essential for retailers of this industry to take extra care to keep up with the latest trends, as it can either make or break their brand for good. Better to adapt to these trends now and in the upcoming year to ensure you're always ahead of the game!
△ △ △ △ △
Author Bio
Asad Ali is a professional SEO expert with 7 years' experience. He is currently working with Addify.co.