Sep 14, 2023
ATEN7 by Immersive Garden wins SOTM July 2023
Massive congratulations to IMMERSIVE GARDEN for winning Site of the Month July with ATEN7
When Sylvan Dieckmann, a visionary VFX supervisor, who has worked on Interstellar and Gravity, reached out to us to collaborate, we embarked on an exciting creative journey. Sylvan's grand vision and his upcoming game in progress "Aten7" were presented to us. Its whole concept revolves around an AI, called EVA, that would reign the world in a not-so-distant future.
We were entrusted with a unique mission: to craft a fascinating website that would unveil the essence of the game concept while deliberately concealing any direct game-related elements —a captivating spinoff venture. From the ground up, we meticulously conceptualized and curated the artistic direction, transforming mere ideas into a dynamic digital canvas.
Concept creation
After an initial phase of brainstorming various ideas, we swiftly honed in on the captivating concept that would become the Toom Archives.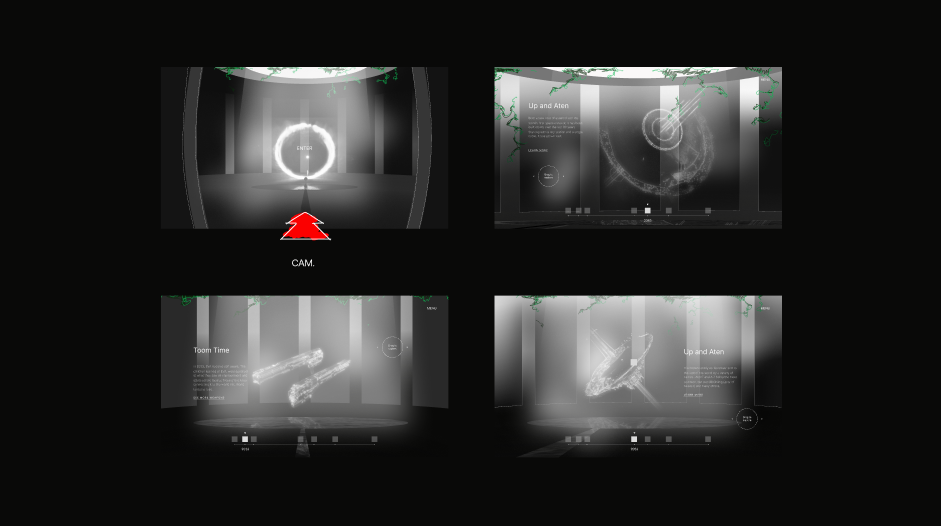 Set against a not-so-distant future backdrop, where the all-encompassing AI, EVA, reigned supreme, aspiring for global betterment. Having a storyline materialized by a mystic panorama representing the passage of time. At its heart lay the concept of a metamorphic temple, mirroring the tale's dynamism. This interactive journey is further enriched by archivists narrating the game's chronicles, punctuated by significant dates.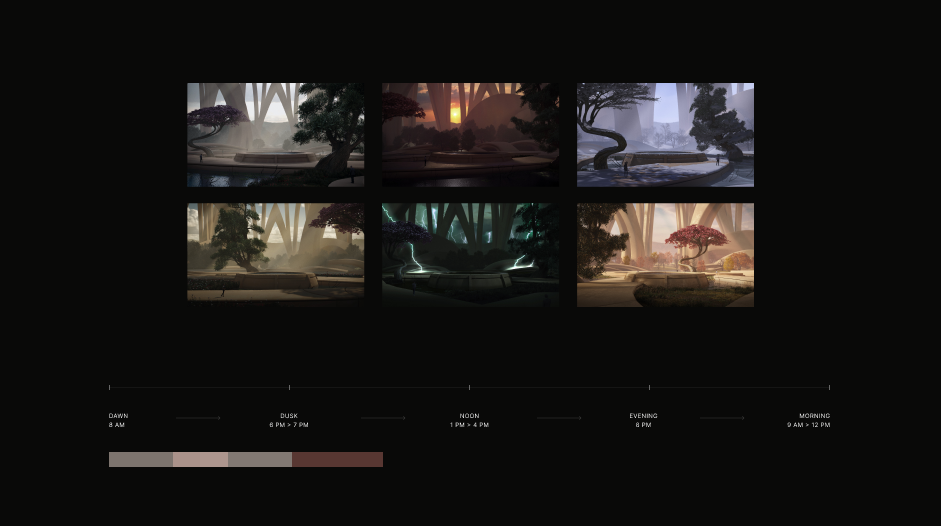 Embodied within the website, a simple drag-and-release mechanism propels visitors through seasons and years, of the game's most emblematic and defining moments.
Forging Innovation Amid Challenges
The journey towards the realization of this award-winning website was not without its share of challenges, providing us an expansive playground for innovation. Developing the integration of real-time 3D elements that evolve in sync with the passage of time was a pioneering feat, a rarity within today's WebGL landscape.
The immersive UI we conjured pushed the boundaries, straddling the fine line between gamification and futurism, offering an experience both captivating and groundbreaking. Central to our success was the unwavering trust of Sylvan, who granted us the autonomy to traverse uncharted creative territories.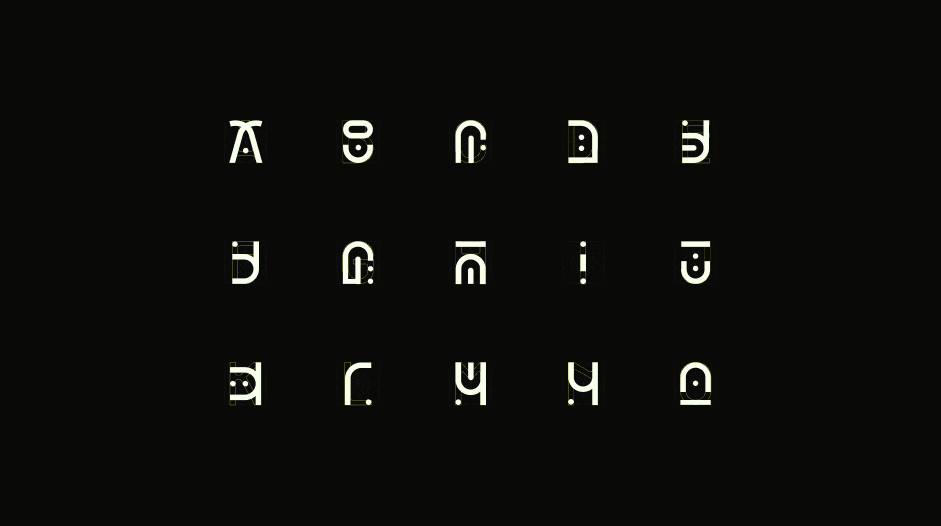 Amid these challenges, a beacon of innovation emerged—crafting an entirely new alphabet exclusively for ATEN7. Our journey began with the assembly of elemental symbols, coalescing into a screen that birthed the concept of a unique coded alphabet, affording archivists sole access to enter data within the archives.
The allure of this notion resonated strongly, an excitement promptly validated by Sylvan's enthusiastic approval.
Sound design
Our journey was enriched further by a harmonious partnership with music composer Ben Lukas Boysen. Tasked with crafting a sound that seamlessly melded with the immersive experience to create the special effects and distinct melodies, each thoughtfully tailored to accompany the transitions between the website's four seasons. This meticulous attention to detail brought to life the very essence of the evolving Toom Archives.
Technologies
Frontend Framework: Vue.js/Nuxt.js
Styles: Sass preprocessor + BEM naming convention
WebGL: Three.js
3D Assets: Blender
Motion: GSAP
Scroll manager: Lenis
CMS: Dato CMS
Audio: Pizzicato
Deployment and analytics: Vercel
Company Info
Nestled in Paris, Immersive Garden is a digital production studio with a tight-knit crew of designers, developers, and producers who share a genuine passion for crafting meaningful digital experiences. Our studio isn't just about work; it's about the vibe. You'll find us huddled together, brainstorming ideas, and laughing over coffee. Our projects, whether websites, installations, or apps, bear the mark of this good cohesion, reflecting our meticulous attention to detail. We pride ourselves on merging ingenious design with tech to give brands a digital edge with a remembering life experience.