And the Awwward for
"Agency of the Year 2011"
goes to...
Ultranoir
!
The Awwwards Jury, by a majority vote, decided to grant the "Agency of The Year" Awwward to the Paris-based French agency,
Ultranoir
. Additionally, the Awwwards Jury, also by a majority vote, has granted the "Site of The Year" Awwward to 
360° Langstrasse Zürich
, created by Swiss agency 
Hinderling Volkart AG.
We'd like to congratulate
Ultranoir
on this very special occasion! This has really been their year, having carried out sublime projects like
Breaking Bad, Starck, Mcdonald's, Société Générale
, experimental works like
Nouvelle Vague
, and let's not forget their own website, an excellent portfolio made entirely in Html5 that perfectly combines photography and video.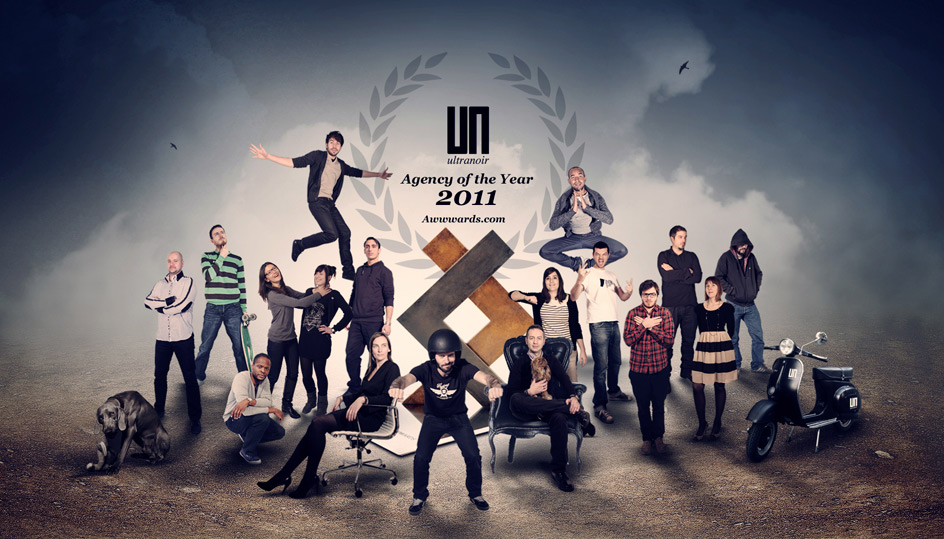 Ultranoir is at the top of the lists of the most awarded agencies and designers with the highest number of prizes on Awwwards, a total of 6 Sites of The Day, 2 Sites of the Month and now, the very well deserved "Agency of The Year".
Interview
But let's find out a little more about Ultranoir in the words of its Co-founder and Creative director, Jean Bernard Grasset. Awwwards Team: Please tell us a little bit about yourself: who are you, where do you come from and where are you going? JB Grasset: I'm co-founder and creative director of Ultranoir, french web agency based in Paris. I started designing pixels a long time ago on an old computer called Amiga. I was part of a group in the 'demo scene' as a graphic designer. I designed my first website in 1996 and I always think the next one I will design will be better. AwT: Tell us about the project, how did you come up with the idea to create Ultranoir? JbG: We are three co-founders and we met 6 years ago and decided to create Ultranoir. We share the will to produce websites with the same level of detail and attention that you can find in Architecture (as it's a common passion). We tried to find the right balance between esthetics, function and an easy to use approach. We really grew up little by little, hiring 2 or 3 persons per year and never overwhelming ourselves with projects. Ultranoir is a human sized studio driven by passion, in Paris and Marseille. AwT: Which profiles did you take into account to form the Ultranoir Team? JbG: In the early years, we were only 5 people covering several tasks. Now we have very specific and highly skilled profiles such as Art directors, HTML integrators, Developers, project managers. We also have one motion designer and one person for communication / social. AwT: Which technologies and software are mostly used for project development at Ultranoir? JbG: We have our own CMS - Black Office - as we wanted to offer the most simple and elegant tool to manage the websites we create. We are also working on HTML, CSS, JS technologies for 4 years now. We are trying to explore new possibilities like WEBGL, CSS3 3D for example... AwT: What did you do before becoming a designer / developer? JbG: It was my first job! AwT: In your opinion, which is the future of the Web? (HTML5, Responsive Design, Flash, Mobile...) JbG: In the short term, definitely Responsive Design, very hard to conceive for big and complex websites but it makes the web more user-oriented. I'm afraid that the decline of Flash means also the end of big experience websites, which I personally regret. AwT: Where do you turn for inspiration? JbG: It's a mix between old imagery from the French History and  contemporary creations. And of course, nature. AwT: Which are your favorite studios, designers and/or agencies? JbG: Robert Lindström from North Kingdom, McBess, Ian Coyle, Area 17, Si Scott... AwT: Tell us about a particular situation or funny anecdote related to your work. JbG: 3 years ago, we were contacted by an American company to confirm that we have an agency in NewYork. They had some doubts... We discovered that a guy made an exact copy of our website with of course a different contact form leading to him. He was starting to develop his own business under our name and portfolio. This is not funny at all but I think unique! AwT: Which city do you live in? Is it a good place for designers? JbG: In one of the oldest area of Paris: Bastille where the French Revolution started! Of course, a city like Paris is a great inspiration but there are not many specific events or structure for webdesigners (online there's a lot!) except the great work of an association called Designers Interactifs. We had a little conference in Brussels and we were amazed that a good part of web agencies had strong relationships and met almost every week to exchange ideas, collaborate or just have fun. AwT: Which technologies are you excited about? JbG: WEBGL. 3D on Internet has never been really exploited and I hope this will become a standard to develop clients' projects. AwT: Tell us about your latest project. Our lastest project is McDonald.fr. It's the first time we worked with a big communication agency like DDB. We did only art direction on this project and it was a great experience. It also shows how we switch from big Flash websites to more efficient productions. But the best is to come in 2012!