Feb 17, 2015
21 Tools To Build Your Web Design Empire
The higher we are placed, the more humbly we should walk.

-Marcus Tullius Cicero
If you've never heard of Cicero, rest assured the man knew a thing or two about imperial power. Being the foremost statesman at the onset of the Roman Empire pretty much necessitates at least a passing familiarity. History aside, Cicero was on to something with the above quote. Building a web design empire, placing yourself highly among your peers, requires feet firmly grounded in reality.
You need the ability to recognize what you can and can't do. What's more, you need the ability to use the tools available in order to accomplish the things you might not be so great at. Sometimes this requires collaboration, and other times it means selecting the proper contrivance to accomplish a given assignment
Today, you'll learn about a disparate set of tools that have been compiled to give you the most expedient solution to every major problem you'll run into on your long road to domination of the web design world. In short, everything you need to achieve supreme executive authority over your industry--is contained within this article.
Use it wisely. Word on the street is absolute power has a corrupting influence of some sort.
Planning & Prototyping
Building momentum, motivation, and a client's enthusiasm can be quite a chore for any web design pro. You've got to get a basic architectural outline of your website going before you ever get to the nitty gritty of coding, testing, and so on. Moreover, you've got to provide your clients with an opportunity for input and explanation of the overall concept they're going for. Here are three extremely helpful applications to help you get off to a great start.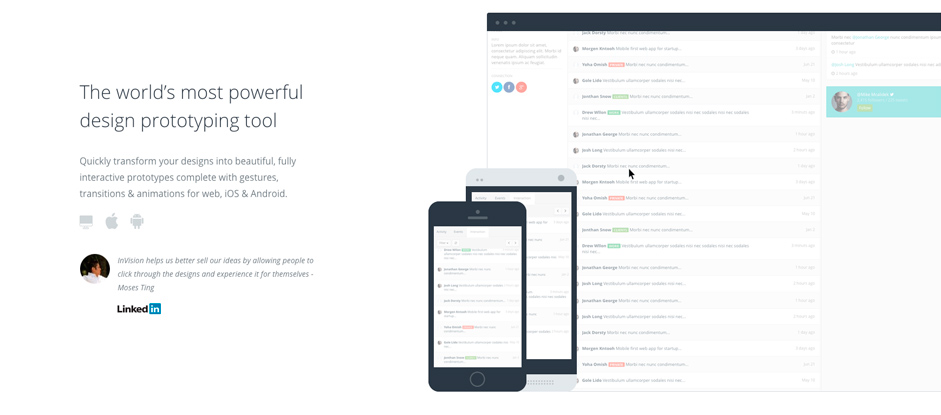 Invision is a design prototyping collaboration tool that helps you quickly and easily produce conceptual mockups for your clients. Even better, the prototypes you create are shareable and interactive. Anyone on your team can see them on any device as well as edit, leave comments, and create actionable to-do lists to forge your raw design concept into hardened steel.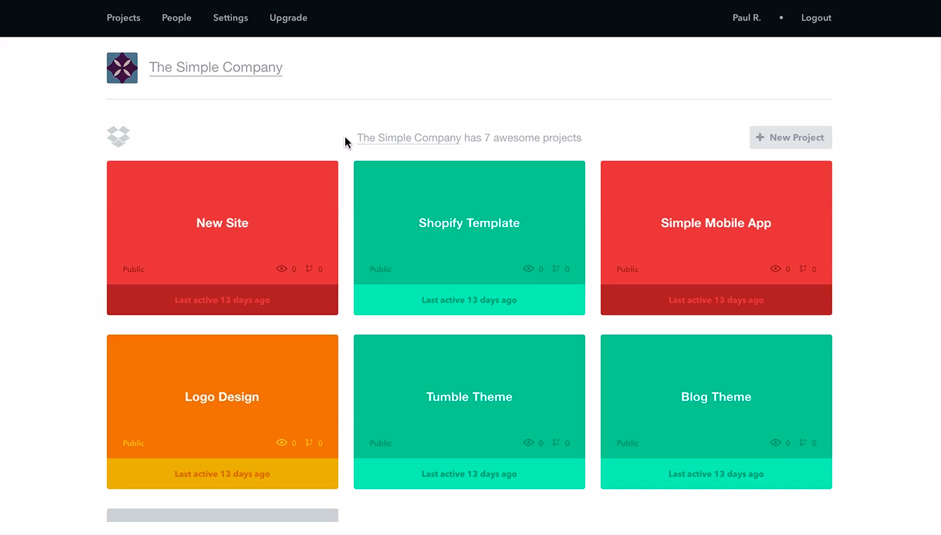 One thing no designer can afford is deleted files with no backups. Enter Layervault. This handy application automatically syncs your work on local devices to storage on the cloud, every time you save. Furthermore, it packages your saves into zip files, and organizes your work into layered revisions. Essentially, it allows you to revisit your work at every step in the process, to review, reiterate, and recalculate your approach any time you see fit.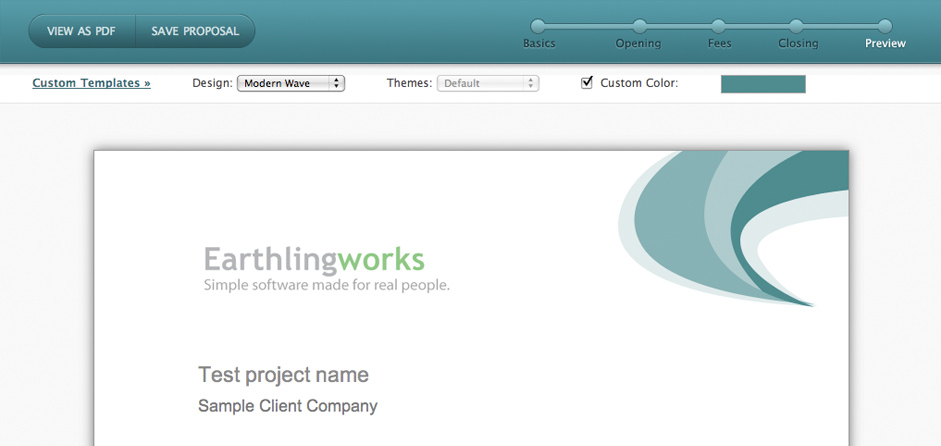 Bidsketch is a proposal creation app built to save designers time by streamlining the process into a few simple steps. First, you select a template which matches the type of project you're trying to start, i.e. design/development proposal, consulting estimate, etc. Then you edit in the language, prices, milestones, and so on for a completely customized proposal.
As if that weren't enough, Bidsketch is also compatible with many commonly used freelancer tools. It fully integrates with all of the following:
Basecamp

Rightsignature

Freshbooks

Harvest

Highrise

and Salesforce
It even has handy analytics tools so you can see how clients are interacting with your proposals.
Section Tip:
The first step is always the hardest to take, so be meticulous in your planning phase. Remember too, that your ideas have to be flexible and open to client collaboration. It's a fine balance to strike. If you give just enough detail, you can answer many of your client's questions before they even ask. On the other hand, if you're overly anal-retentive, you'll stifle creativity and interest.
Building
Once you've got a plan, you're ready to start construction. Now you've got to deal with all of the fun stuff: coding, curating content, collecting subscriber info, and on and on. Or do you? When it comes to actually building and managing your clients' websites and filling them with content, there are plenty of tools to help you on your way, some that will save you an obscene amount of time.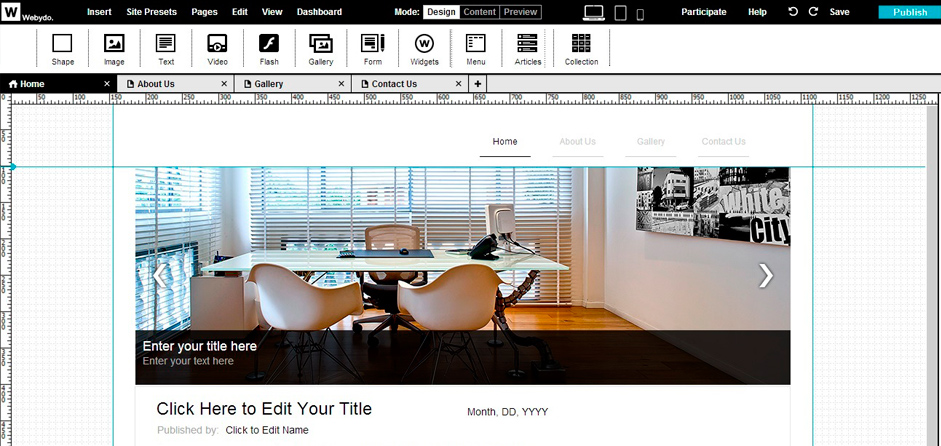 Webydo is a uniquely colorful web design canvas, built specifically with designers in mind. This professional web design platform empowers both graphic and web designers to create and manage websites that are pixel-perfect, responsive, and completely code-free.
Webydo helps professionals concentrate on what's most important - the creative element of web building. With features like a built-in CMS, a full white label solution and personal support, designers can truly build their web design empire from the ground up. It's intuitive drag and drop interface allows you to fully express your ideas in high definition, down to the individual pixel. Best of all Webydo has a powerfully usable interface that corresponds to other graphic design tools with which you're already familiar, such as PhotoShop.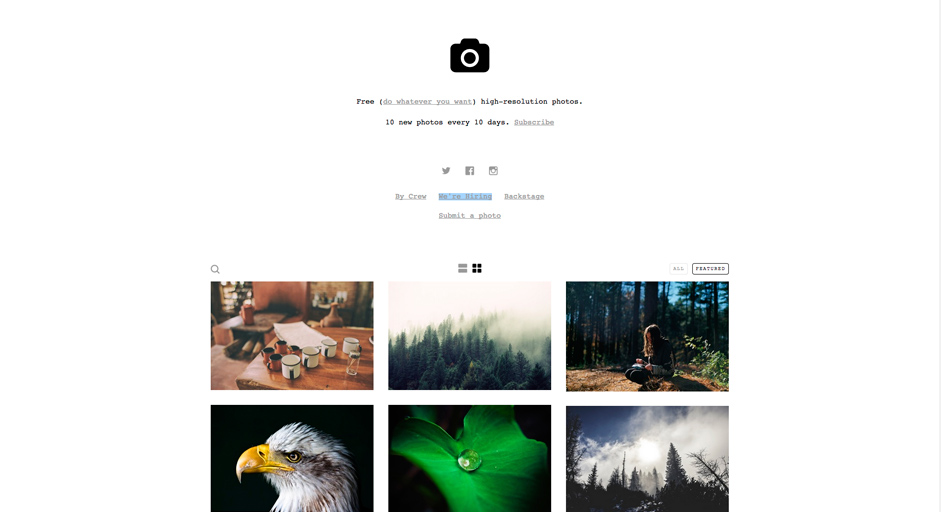 Even if you've got a beautifully structured site, you still need to fill it with high quality images to attract and engage user attention. Unsplash.com is a fantastic avenue for finding unique, and gorgeous imagery without having to pay a dime.
The site uploads 10 high-res photos every ten days, these images are 100% free to use, and licensed under creative commons zero, which means that you can copy, reproduce, or modify any image for commercial uses, with impunity. In the constant quest for non-stale stock imagery, Unsplash is a refreshingly helpful resource.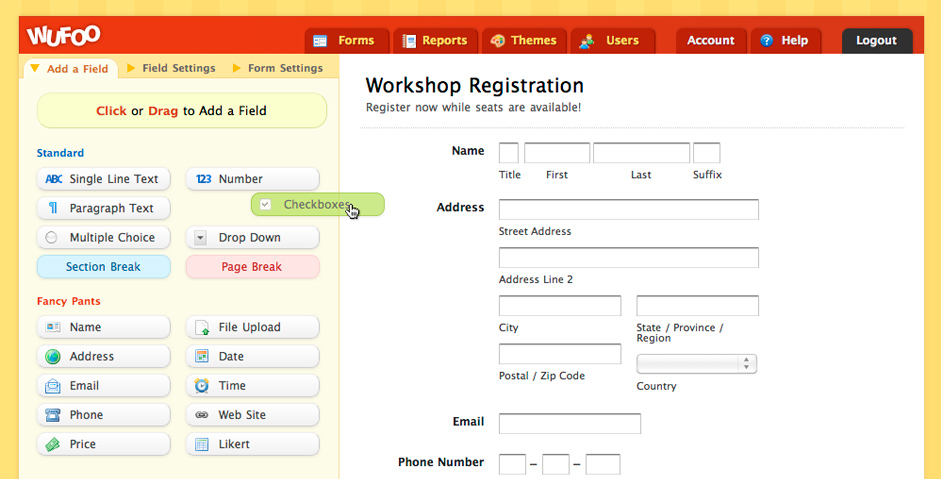 Building online forms is boring, difficult, and tedious. Any application that can speed up the process is bound to be a welcome addition to your toolbox. Wufoo's online form builder is invaluable in this regard.
It's drag and drop functionality makes for an intuitive UX while you're putting your forms together. You create the form and Wufoo automatically builds the backend architecture and database to actually run it. Additionally, it comes with analytics to monitor the forms results and make actionable reports from the collected data.
Section Tip:
It's never too early to start thinking about your website's marketing plan, so keep in mind you'll need to have an SEO friendly architecture as you're building your website's structure. That means silo'd pages that interlink with one another, parent and child pages, and plenty of room dedicated to publishing fresh content.
Doing your best to anticipate your client's needs in this phase can save you a lot of trouble down the line. Get feedback from them early and often. Become familiar with their organization and the most common challenges they deal with. All of this will help you create a usable and performant structure the first time, and save you a big headache later.
Communicating
Perhaps you thought building a web design empire started and stopped at the designing process. At some point, you must have learned that you need to be a jack of many trades to grow your business. Among the most important skills you can maintain is becoming a master communicator. Keeping in contact with clients, collaborators, and outside contractors is a demanding task. Luckily, some of the most recognizable names in the business have been developing solutions for quite some time.
This should be a no-brainer, but the biggest search engine and frontrunner for the corporation most likely to start a new world order, Google, has developed a suite of applications to reduce the stress and difficulty involved with staying connected to those most important to you. From a designer's perspective that means your clients and colleagues.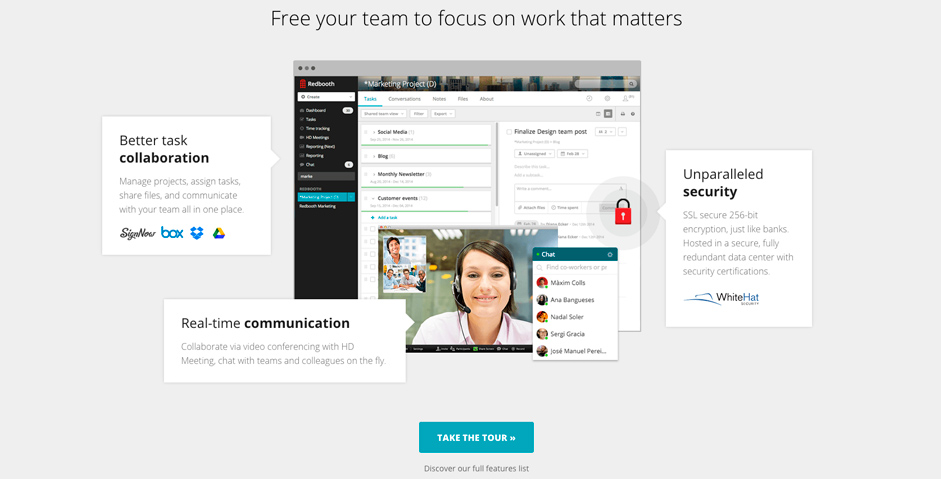 Though Google Apps are great for organizing communications in general, sometimes you need something a bit more specific to the project at hand. That's where collaboration platforms like Redbooth come in. Redbooth provides a platform for you to share, edit, and discuss your work with any number of collaborators or clients. It's got one up on the hangouts for implementing HD video conferencing. It also has a more intuitive interface for creating workflows from task lists, which can be attached to specific files.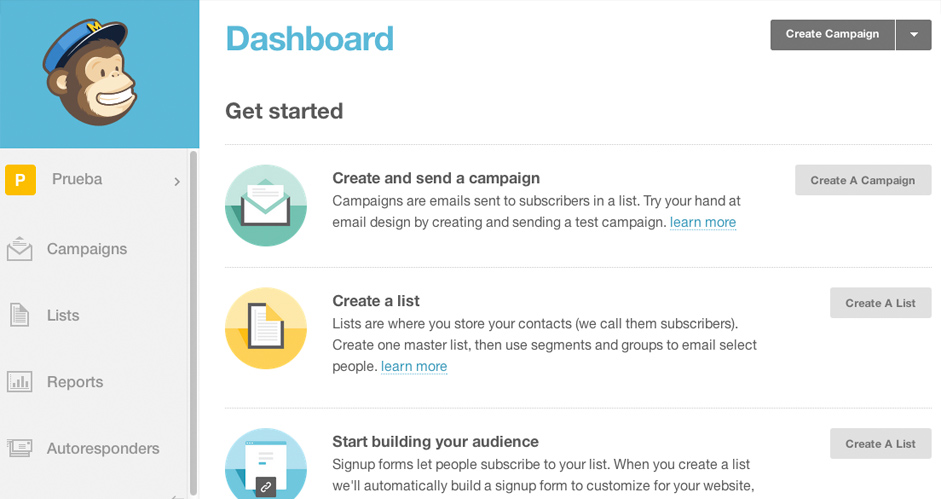 Keeping customers informed about your activities couldn't be easier when you use MailChimp. You can automate and personalize all of your correspondences, even schedule them for delivery based on the times they're most likely to be opened. The analytic capabilities of MailChimp allow you to see exactly how and when your recipients are interacting with all of your email messages.
Section Tip:
This isn't exactly original advice, but it's important enough to repeat beyond the point of acceptable redundancy: build a list. Seriously, keep a tight grip on every name and email address you come across, and keep in contact as much as you can without alienating your targets.
Collaboration/ Project Management
Communicating is only one facet in the larger realm of project management. Harnessing the talents of a team to build something greater than the sum of its parts is nigh impossible these days unless everyone is on the same page. As the future emperor, your job is to rally the troops and to do that you'll need all the help you can get.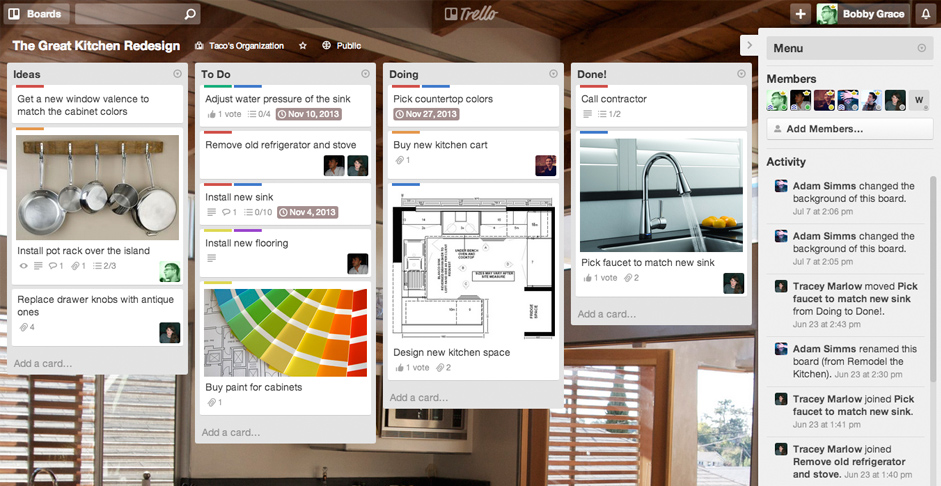 Trello is an all-in-one collaborative platform that allows you to organize team members and their different tasks. Trello uses "cards" to list your activities, ideas, events, and whatever else you need on a single easy to read board. Here you can discuss different initiatives, comment on workflows, add attachments, create checklists, and search through all of the above.
Best of all it's completely free to use.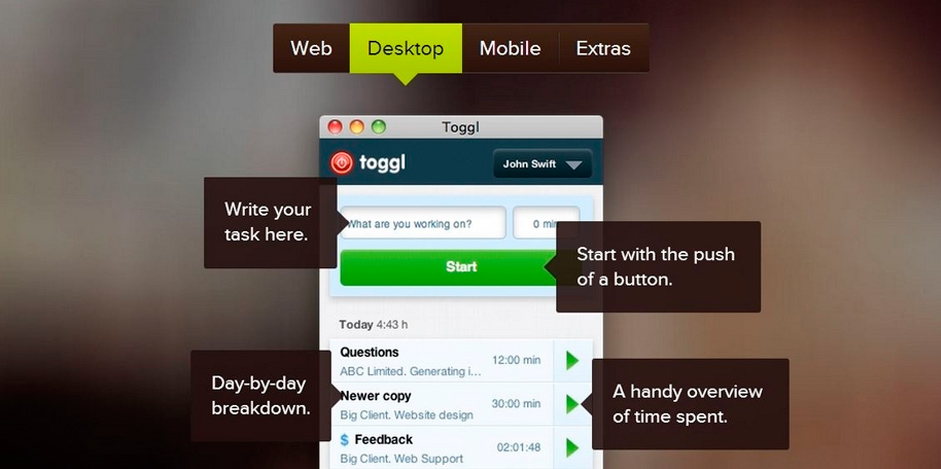 Toggl is an easy to use time tracking application. It's insanely simple, and super useful for times when you need to be sure you, or your contractors are keeping on task. Just one click and you're keeping up with exactly how long a task is taking.

Slack is the premier group chat application. It combines the most attractive ingredients from services you know and love such as GChat, Twitter, Campfire, and so on. It works by way of "Channels" which are group discussions visible to everyone, yet conveniently categorized by project and organized using hashtags.You can also attach files to any communication, or even link to media files which extend inline, so you can view/listen without having to leave the channel.
Section Tip:
The fantastic thing about project management tools is it allows you to gain invaluable data about the overall state of your organization.
Who's performing?
Who's goofing around?
Where do you need to inject a bit of mentorship?
and where can you cut the fat?
Paying attention to the conversations surrounding a project and the output of each team member can shed a lot of light on some very important decisions you'll need to make as you scale your business.
Client Management
If managing your projects with collaborators and contractors can be trying, then managing your clients is damn near impossible. You have very little say over what they do and they hold the purse strings. Getting anything accomplished without the consent of your clientele is worthless, so it's probably best to grab the bull by the horns and have the involved with projects from the get go--without being micromanaged.
The world leader in CRM tech is undoubtedly Salesforce. Industry specific, and almost unreasonably scalable, Salesforce is one of the most flexible client management solutions ever conceived. Its feature list is comparable in length to a phone book. Here are just a few:
Marketing automation
Email integration
Performance tracking
Fully customizable dashboard
Case/Sale tracking
Innovative and expansive UI
Summing up Salesforce is a lot like the old iceberg metaphor: there's a great deal more to this behemoth beneath the surface. Take a look at some of the demos on the web page to get a deeper taste.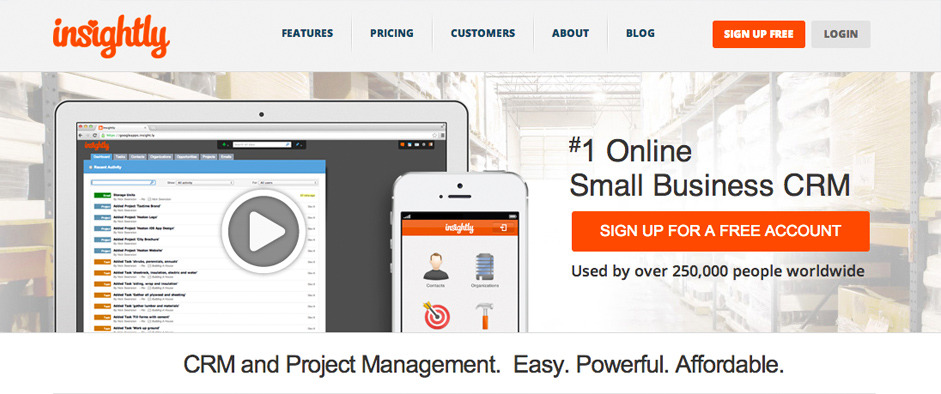 The CRM (Customer Relations Management) web application, Insightly, is one of the more powerful client management tools available. It fully integrates with your social media profiles, your Google Apps account, and even MailChimp. This makes for quick and easy porting of activities and contact lists.
Additionally, Insightly automatically retrieves in depth. However, all the info involved is relevant, and each section works as a standalone resource for anyone looking for info on that specific topic or data about your contacts from around the web without you ever having to lift a finger.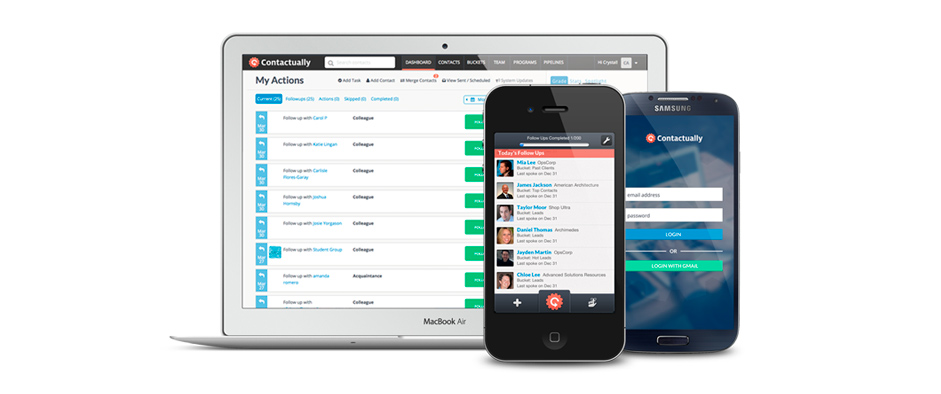 Contactually keeps your relationships with clients active and avid. By managing contacts, notifying you of important actions to take, and tracking your progress it ensures none of your contacts ever slip through the cracks.
Not only that, but Contractually keeps track of your history with clients across multiple channels, including social media. This allows you to take a big picture view of your client relationships, to better understand and empathize with their needs.
Section Tip:
Contact lists take forever to build, and once built they are great commodities. It's much easier to convert a former customer than someone who's never heard of you. Try to stay on your former client's radar, even if it's just a monthly newsletter letting them know you're up to exciting things. You never know when a former buyer might need your services once more.
The best way to build a contact list is through clever content marketing and a killer landing page. Produce an eBook or give away a free set of attractive mockups, vector animations, or anything of that ilk. Just ask your visitors for their email addresses in return, and if you do the marketing legwork you'll have a huge list in no time.
Marketing & Sales
Marketing is everything up until the point where you get your client's contact info, sales is everything after. Altogether there's a lot involved with both. Marketing is one of those paradoxical subjects that manages to be simple and complex all at once. At it's heart, marketing and sales are pretty simple: give people what they want, and let them know you're doing it. It doesn't matter whether it's entertainment, a commodity, or a service of some kind. As long as you're producing value, there's a good chance somebody wants to hear about it and then make a purchase. Here are a few tools that can help make sure your name is out there and get your customers to sign the line which is dotted.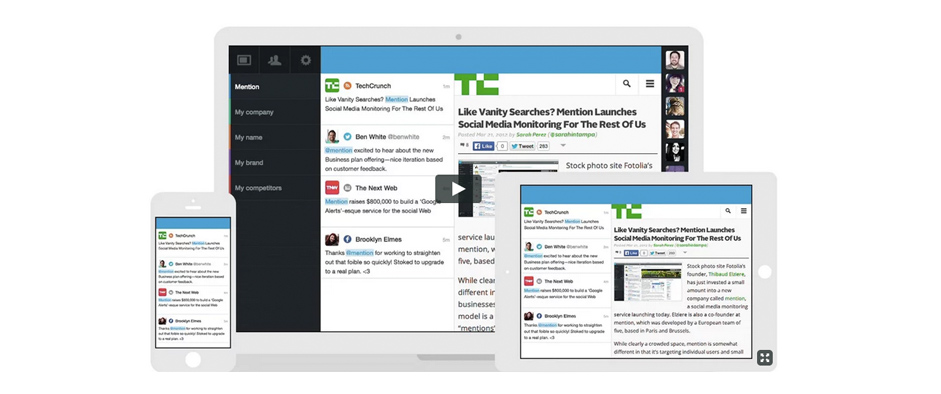 Mention is a media monitoring tool that allows you to track any mention of your brand, a competitor or a keyword over a variety of platforms in real time. You can see what your fans are saying about you as they say it and instantly reply to them, regardless of where you are or what platform they're using. You can do all of this from one simple dashboard.
Buffer is a social media post automator, and so much more. It allows you to create posts to be shared across all of your social media channels at once, while their analytics measure your content's effectiveness. But the best part is it's suggested content feature, which aggregates high quality, hand picked content classified into categories, based on your interests.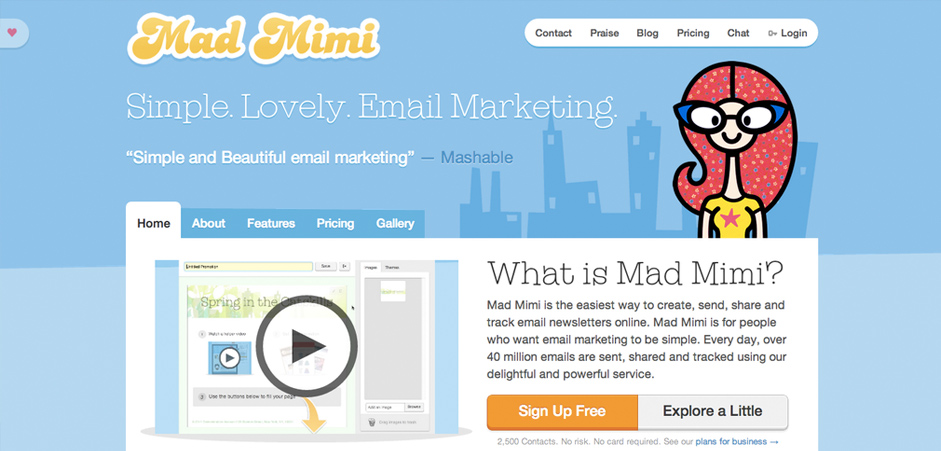 MadMimi takes email marketing (and quirky nomenclature) to a new level with it's intuitive interface, contact management, and design friendly newsletter creator. Eschewing traditional layouts, MadMimi guides you step by step through the process of creating attractive and effective newsletters in HTML.
Loaded with extra features, this application automates all of the tedium associated with running an email marketing campaign and allows you to focus on the fun stuff like:
Analytic tracking

Web form customization

Strategizing drip campaigns

Affiliate marketing
Section tip:
Give people something for nothing and they respond by wanting to do something for you in return. The next thing you need to do is extend your reach as far as possible. That means diversifying your advertising. Go through multiple social media channels, develop your site's SEO, use PPC ads, produce guest posts on authoritative blogs, interact with brand influencers and try to get their endorsements. The more people hear your name the better.
From there, it's a matter of narrowing down to your niche. Develop your ideal customer profile and target specifically. That's where all of those aforementioned analytic tools come in handy. Learn who your best clients are, where they live, how they interact with your brand, what devices they use, and every other tidbit you can get your hands on. Leverage that information to better target them, and better serve their needs.
Finances
Every empire runs on gold. If you don't know where yours is going, where it's coming from, and the proper format for procuring more, than your dictatorial reign is destined for a quick end. While money in and money out is the basis of all finance, there are a million little cracks that your cash can slip through once you're in the empire building game. The best thing to do is plan early and often and keep track of all your expenses, profits, and investments from the beginning.
Take a look at these next three tools designed specifically to help you do just that.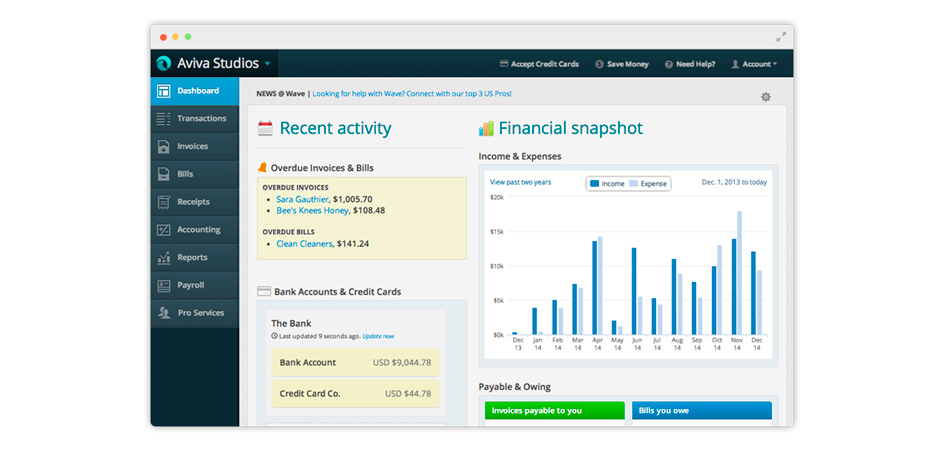 Wave is an everything finance application. It makes invoices, provides payment solutions, calculates payroll tracks incoming and outgoing transactions, and builds enlightening reports for your personal perusal. Wave really shines as an invoice builder, allowing you to create simple, attractive, and effective invoices that even have credit card payment solutions embedded on the document.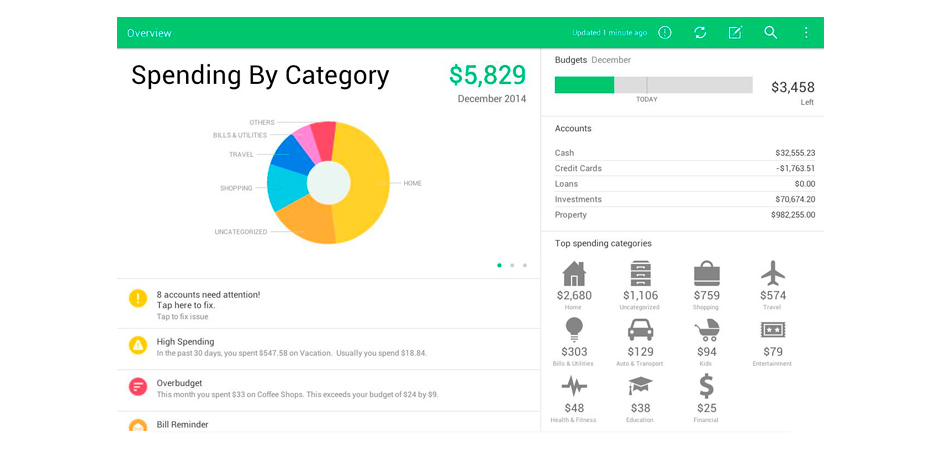 Mint is a fantastic finance application. It integrates with every major bank in America (and a few not so major ones to boot!), provides you with a free credit check, automates your budgeting and investment tracking, and even alerts you to upcoming bill payments. Most importantly, it's extremely security savvy, with triple layered SSL encryption.
While Mint is awesome, it tends to be more effective for personal finance, rather than business accounts. If you want to build an empire, you'll need a scalable budget tracking application. Thus, submitted for your approval: BudgetTracker.
This app tracks all of your bank and credit accounts and keeps them all on one screen. It also automatically updates, so you don't ever have to enter in recurring payments. More impressive, however, are the financial statistics and expense spending behaviors that it curates into insightful reports. And of course, you can manage your business with invoices and project planning, along with another set of useful tools.
Section Tip:
The problem working in a lucrative field like web design is that you're prone to treat money lightheartedly. Unfortunately, that can leave you vulnerable in lean times. Therefore, it's important for you to set a budget and stick to it, even when you're pulling in greater than average revenues. You have to cut costs on all but the essentials. Carefully consider what your needs are, versus your luxuries.
That said, never be afraid to invest in your business. You have to spend money to make money, and growth is never cheap. If you want to grow your business into an empire, you've got to spend smart. That means hiring the right employees, not just the cheap ones.
Bonus Section! Keep Informed.
A wise man once said: knowledge is power, and in industries dealing with information technologies, this couldn't be more relevant. If you truly want to reign supreme in your conquered domain, you can't just rely on your fancy C.S. degree. You've got to keep up to date with all the latest trends, fashions, movements, ideas, and actions that are constantly popping up.
Here are a few outlets to help you out.
Imperial conquest is within your reach. All that's left is to get out there and put the leg work in. You're well armed, informed, and motivated to take what is yours by right of pure determination. Remember to work hard, ethically, and with ruthless persistence and nothing can stand in your way. But don't keep the secrets to world conquest to yourself. Being an emperor is no fun without a republican senate to bounce all of your best ideas off of.
Just ask Caligula.
Share this information and gain the adoration of the masses, it's never too early to start currying political favor. And if you have any thoughts you'd like to share about the tools or tips above, feel free to drop a comment below.