Today we are presenting two books that can help you learn to sketch interfaces quickly. It doesn't matter if you're not a good drawer, it's not hard to learn the drawing techniques to sketch web elements and screens quickly and creatively. "The Sketchnote Handbook" will help you if you have little or no drawing experience and the second title, "Sketching User Experiences: The Workbook" is a practise book for UX sketching techniques.
The Sketchnote Handbook
The Sketchnote Handbook is an illustrated book and video, designed to teach ordinary people how to create their own sketchnotes.
This book teaches you to create sketchnotes and use them to capture your thinking visually. You can learn how to draw graphic elements, types of sketchnote and techniques.
Download a Free Sample Chapter!, including the introduction, table of contents, all of chapter 4 and the complete index.
Although this is not a book specifically for web designers, it is very useful for us. To complement your learning about drawing web elements, we recommend you print some "Hand Drawn UI Kits" and practice drawing icons to incorporate them into your interface sketches. It would be good to use a UI Stencil with a set of icons and symbols to help you sketch UI elements.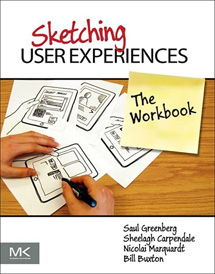 Sketching User Experiences: The Workbook
In Sketching User Experiences: The Workbook, you will learn, through step-by-step instructions and exercises, various sketching methods that will let you express your design ideas about user experiences across time.