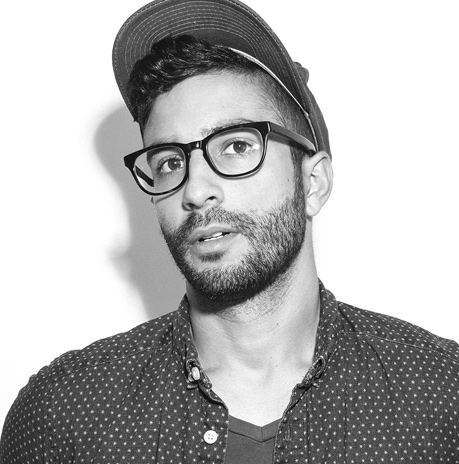 Gabe Lopez
Founder and Creative Director at Brave People
Gabe drives a Honda Element, so you could say he's a rebel. He founded Brave People, an agency for the detailed, located in historic Ybor City, USA. We're passionate about problem solving and beautiful, user-centric design.
10 questions for Gabe Lopez:
What did you do before becoming a designer/developer?

I've always been in love with art and creativity but music was my primary form of expression before I considered Design as a career.

Where do you turn for inspiration?

I'm extremely visual so my inspiration process is made up of random daily interactions with architecture, magazines, websites, the wood grain in my cedar desk, a quote hanging on the wall — inspiration isn't always a choice.

Which are your favorite studios, designers or agencies?

I've always followed and respected the work produced by Landor, RGA and Wieden Kennedy. There are tons more but those 3 really influence design culture on a global level.

Who do you side with: Team Mac or Team PC?

I didn't know PC even had a team? ;) (Team Mac for life)

Is your city a good place for designers?

I think our city has as much potential as the next to foster a strong design community as long we can accurately recognize what strong design looks like. Jiro Ono, a world renowned Japanese sushi chef, poignantly said, "Without good taste, you can't make good food." The same is true for good design and I'm hopeful that our city can evolve in that direction.

Which technologies are you excited about?

All things mobile. There are currently more smart phones and tablets being purchased than desktop machines and I look forward to how this shift in computing will affect our industry and our focus on the user.

How many hours do you work each week?

More than I'm proud to admit. That's a new year's resolution of mine — work smarter not harder ;)

Do you listen to music while you work? Describe your playlist.

Absolutely. The project always determines the playlist but usually it's a range from classical to electronic to trap to indie folk to experimental/instrumental and other tiny crevices in between.

What is your favorite book?

Anything by Malcolm Gladwell.

What is your favorite sport?

To play: Ultimate Frisbee. To watch on TV: Soccer.

Tell us your funniest anecdote related to your work

Our entire team is made up of musicians so none of us can sit still without tapping on our desks, beat boxing/rapping or even breaking out into a spontaneous 3-part harmony on a pop song whose lyrics we're ashamed to know. It's quite ridiculous and if it was caught on camera, we'd all look mad.