Last week I went along to LeWeb London for the first time. The tech conference is Europe's largest, bringing together industry leaders, entrepreneurs, start-ups, investors and journalists. People gather from all over the world (more than 80 countries in 2012) to hear folks like Chad Dickerson of Etsy (@chaddickerson) and Jeremy Stoppelman of Yelp (@jeremys) share the secrets of their success.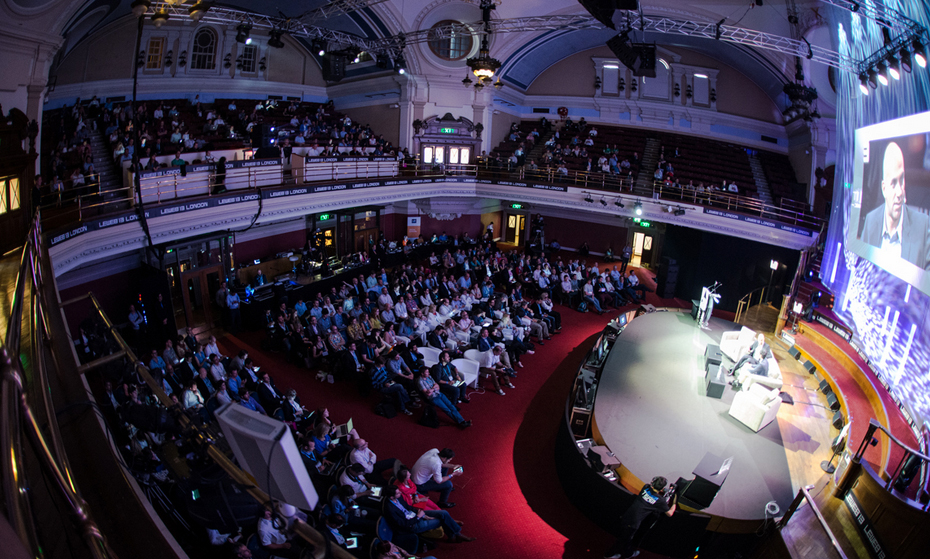 DAY ONE

The conference kicked off last Wednesday in Westminster, with a welcome from founders Loic and Géraldine Le Meur.

Loic and Géraldine Le Meur
Joe Gebbia

The first highlight was Joe Gebbia (@jgebbia) talking about the origins of the now-massive Airbnb. A design conference was taking place in San Francisco and hotels were full up. "Air Bed & Breakfast" was the solution. Gebbia describes entrepreneurship as "connecting two dots in a new and different way", which in a sense sums up the theme of this edition of LeWeb: "the Sharing Economy".

Networking Areas, Nick Halstead

Over lunch, an extremely efficient networking system was in place. We were all identified by our badges (Participant, Sponsor, Team or Press) with dedicated spaces for pre-arranged meetings or impromptu chats. Everyone made the most of the two-hour break to connect with like-minded folk.

After lunch, Chris Chabot of Snapsation focussed on the importance of visual storytelling in a world where people don't want to spend time reading anymore. This is a big issue that many companies are still struggling to adapt to.

DataSift's Nick Halstead delivered the first of the "Big Data Revolution" sessions. DataSift uses advanced filtering technology to make social media data useful to companies. One innovative example was a football team who used Twitter to track which number shirts were popular in which locations, and stock their stores accordingly.

The start-up competition

Running parallel to the main sessions was the Start-up competition. New Start-ups presented their businesses to specialist judges and the audience, with the winner from each group going through to the final on Day Two. Of the pitches I got to see, We Can be Heroes and Genetrainer impressed the judges, but the eventual winner was French entrant Pricing Assistant.

DAY TWO

Larry Harvey, Martin Källström and Martin Varsavsky

On Thursday I was looking forward to a rare appearance from Burning Man founder Larry Harvey, and he didn't disappoint. We got some insight into the ideas behind the "temporary community" based in the Nevada desert, delivered with a touch of dry wit, and I'm sure I wasn't the only.

Martin Källström was next, presenting Memoto, the lifelogging camera that made 11 times its $50k goal on Kickstarter. I hadn't thought of all the possibilities Memoto can offer until Martin shared the story of autistic child who couldn't tell his parents what he did during the day, until they got him a Memoto camera that meant he could share it with them in pictures. I met Martin's partner, Oskar Kalmaru, (@okalmaru) at a conference last year and am so impressed with these guys. Memoto launches late this summer.

My personal favorite session was from Martin Varsavsky (@martinvars) CEO of corp.fon.com. He focussed on the surprising fact that sharing of many things you think are yours is regulated: your music, books, money, video, food, research, household chores, car, home...

Regulations are meant to protect you, but they don't take into account the non-quantifiable value of the kind of sharing users of Blablacar or Couchsurfing experience: Getting to know other people.

He offered two possible ways of getting around this problem, which you can discover by listening to his talk (the slideshow is awesome.

This was the first LeWeb since Loic and Geraldine Le Meur sold a majority stake in the company to French conference company Reed Midem. It's good that they have stayed involved, since Loic is a great emcee who engages wonderfully with his guests and really helps make LeWeb an experience people want to repeat.