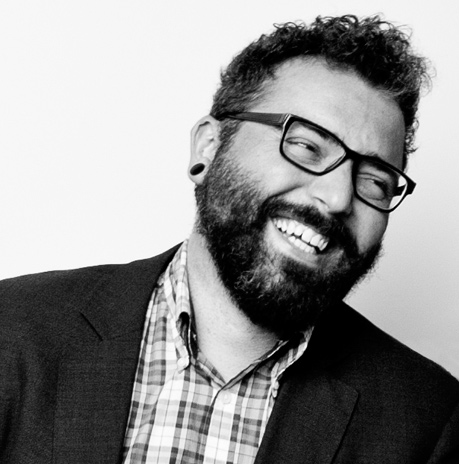 James Noble
Self proclaimed Digital HTTPster, he has hand-crafted one of Australia's leading and UX agencies, Carter Digital
James has gained a broad range of user experience (UX), user interface design (UID), marketing and comms globally for over the 16 years in the industry. Possessing a wealth of design experience in print media, ecommerce, mobile applications, user experience, digital strategy and business platform integration.
James enjoys wearing glasses.
10 questions for James Noble:
What did you do before becoming a designer/developer?

I've had more jobs than I care to remember. Everything from a paper boy, Working cash in hand labouring, fitting air conditioning into factories. My love of sports dropped me into sport stores, then food moved me to restaurants as a dish hand, pizza maker, baker, to stacking shelves in supermarket. At one stage while travelling, I ended up working the door and a club back in Manchester for a few months. For me it was about trying to experience as many things as possible until I found my passion. Knew from a young age I wanted a creative path.

Where do you turn for inspiration?

For articles and Information, A List Apart, Smashing Magazine, and more recently Medium.

My inspiration comes from the creative industry and fellow creatives, sites and architectural design.

Creating Carter Digital allowed me to pursue my interest in designing and building furniture and its often the physical, not pixel that can help you come up with the right digital idea or direction. User Experience can be based around people's repetitive nature, but if you can connect with someone emotionally that's the sweet spot of user-centred design for me. I think my life experiences before finding my digital has been crucial in helping me understand simple and intuitive user experiences, that how I look at it.

I will say this, if you are looking to be inspired, I mean really inspired: Sit back, put on your headphones and listen to Alan Watts. Gives me goose bumps every time.

Which are your favorite studios, designers or agencies?

Loving the quality that's came out of Fantasy Interactive this past year. Interested to see what 2014 has to offer. R/GA are also on my radar, they have some really thought provoking ideas and directions. People, I'd love to meet Jeffery Zeldman and fellow creative morning speaker Mike Monteiro over a beer for banter and advice. I mainly look to my designers to push the ideas and challenge the direction of others.

Who do you side with: Team Mac or Team PC?

Mac all the way, though I have been leaning toward moving away from the iPhone. Using so many devices for testing in studio, I'm beginning to like the user approach of Android more and more.

Is your city a good place for designers?

Absolutely. Melbourne is a great place to work, rest and play. Its an inviting place with many design events to be part of. The digital community is growing rapidly and its an exciting time to be in Melbourne.

Which technologies are you excited about?

It has to be Oculus Rift, gestural technology, 3D printing and nano technology. Another big one would be the iBeacon the possibilities for GPS, location data just got a whole lot bigger.

How many hours do you work each week?

I love and enjoy what I do so it rarely feels like 'working'. The lines between work and play are very blurry, so I've no idea when one ends and another begins, just check out my twitter feed...24/7.

Do you listen to music while you work? Describe your playlist.

When concentration is paramount, its Nine Inch Nails, Tool and Black Keys all the way. My listening habits are directed at evoking a mood or feeling be it for relaxing, focus, smiles or calm. Hopefully I don't sound to pretentious, but I'm open to listen to anything. Love, love, love dirty blues. My playlists go from Classical, Brit Pop, Disco to Metal, Rap and 80s glam rock!

What is your favorite book?

Inspiration and education related you can't go past the 'A Book Apart' series. To be honest, I find myself getting consumed by content rather than novels. I feel blessed to be paid to do something I love so much, its what I do in my downtime.

What is your favorite sport?

It would have to be Basketball, specifically the NBA. Watch the highlights daily, games weekly and often take a day off here and their during the Playoffs.

Tell us your funniest anecdote related to your work

Would have to be when I first worked in the banking sector at the start of my career. I became for good friends with one of the developers. We would always try to be the first to the office each morning, tweaking the others desk in some way elaborate each day.

Eventually it got to the stage where I swapped a few keys on his keyboard (keep in mind I was in my late teens/early 20s). Our desks where in a very corporate (cubicle spaces). Thinking he in no way be able to better that, I arrived lazily in the office at 9am. As I approached, it appeared someone had knocked my chair over. leaning to pick it up, I noticed my design process poster also on the floor. It was at that point I realised my entire workstation had be turned on its side and glued/cello taped at a right angle, Inception style!