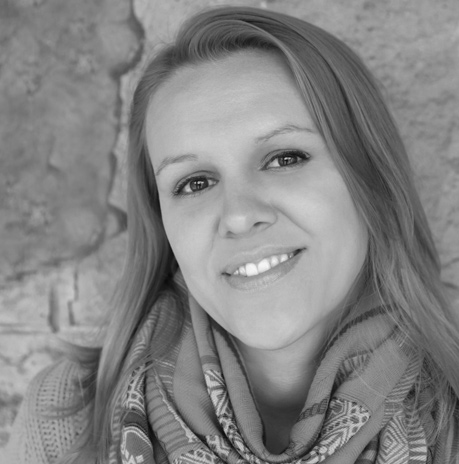 Ines Maria Gamler
I design visually appealing stuff & get my hands dirty with CSS3 & HTML5. I love what I do. Great design is a result of Zeitgeist, professionalism, good usability & passion.
I'm a freelance interface designer passionate about travelling, photography and cooking. I'm craving for clever interactions, beautiful icons and great user experiences. Since my starting point, I tend to see every project as a new opportunity to evolve and to challenge myself. My friends would describe me as open minded and easy going, yet thoughtful. This is also consistent to the way I approach my work. When I'm not creating something I'm a huge fan of Nutella ice cream, smoothies, minimalism, vintage furniture, ginger ale, city trips, Asian cuisine and fancy colours.
10 questions for Ines Maria Gamler:
What did you do before becoming a designer/developer?

I went to university, studied Creative Media Design and Interactive Media Management and worked as a junior designer for agencies and software companies. After that, I decided to make a living as a freelance web designer. Since my starting point I'm constantly evolving my skills and challenging myself in order to avoid getting stuck or distracted.

Where do you turn for inspiration?

Well, I think the main source of inspiration is life itself. It's not what you see, but rather the feelings you experience when looking at things. Finding ideas is not that difficult. I turn to magazines, galleries, websites, blogs, flea markets and books for instance. But finding inspiration is much more profound; I'm inspired by travelling, exploring new places and cities, people, stories, love, nature, photos & movies, new experiences, cooking and conversations. To me, life aside of my desk is the most important source for true inspiration and new perspectives.

Which are your favorite studios, designers or agencies?

I'm a big fan of Anagrama, Lotta Nieminen, Sagmeister & Walsh, moodley brand identity, Berger & Föhr, Focus Lab, Trent Walton, Studio Muti, Saturized, Dan Matutina, Dan Cassaro, Field and Atlas Font Foundry just to name a few.

Who do you side with: Team Mac or Team PC?

Easy, team Mac.

Is your city a good place for designers?

I'd say yes, Vienna is a good place for designers. Of course there are more trendy cities but all in all Vienna is a good place to make a living as a designer. The only thing I really miss is the ocean.

Which technologies are you excited about?

Even though responsive webdesign is slowly growing up, I'm still excited about what lies ahead. Especially with regards to client-side image solutions and front-end frameworks. I'm also excited about transitional interfaces and interactions on individual elements.

How many hours do you work each week?

It depends on deadlines, workloads and personal side project. Sometimes less, sometimes more. But on average I'd say between 35 and 50 hours. I try to make room for life aside from my desk as much as possible in order to stay inspired and productive.

Do you listen to music while you work? Describe your playlist.

Yes, in general I listen to music while working. My playlists depend on my mood and the kind of work I'm doing. Some are funky, some are sophisticated and singer-songerwriterish, others get me going through the night with some deep beats per minute. You'll also find classical tunes in my playlists. I'm very open-minded.

What is your favorite book?

That's a difficult question. I won't be able to name just one since reading is an important part of my life. Here are a handful of titles I'm a big fan of:

White Nights - Dostojewski

Owen Meany – Irving

1Q84 – Murakami

Amrita – Yoshimoto

The Picture of Dorian Gray - Wilde

What is your favorite sport?

Swimming & beach tennis.