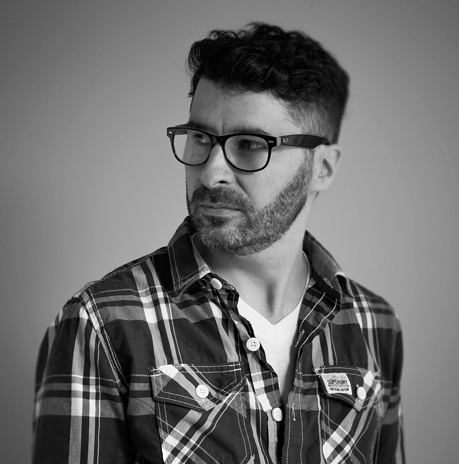 Alejandro Lazos
Creative Director and Co-Founding Partner at inTacto.
I was born and currently live in Buenos Aires, and graduated as a graphic designer from FADU/UBA, where I also taught Morphology for 10 years. I've been working in interactive media since 1999 and since 2001 with inTacto, and today we have a multi-disciplinary team of more than 50 people. I'm responsible for creative and art direction at the agency, always aiming to achieve the highest standards of quality.
Questions for Alejandro Lazos:
What did you do before becoming a designer/developer?

I was always in touch with graphic expression. In my childhood I was interested in drawing, but before studying design I graduated as an electrician and then tried engineering for 2 months. Luckily, I later devoted myself to my true vocation of design.

Where do you turn for inspiration?

Many times inspiration shows up outside of our work life. I am always watching the world around us and everything in it: shapes, spaces, people, colours, textures, etc. Actually, I believe just about anything can turn out to be our inspirational source if one can transcend the explicit and evident.

My daily referrals are Smashing Magazine, Abduzzedo, Pinterest and, of course, Awwwards. Travelling inspires me too, when it is possible.

Where do you see the industry in 5 years?

I think interface design will be present on each object we use and bidimensional screens will leave the room because of the introduction of volumetric designs where experience and UX will reach new heights. I foresee there will be a huge development in Virtual Reality, IoT, Human Interactions and all kind of sensors. Those possibilities will open a large number of doors, and each time that occurs, creativity remains as the central axis for differentiation.

Have you got an academic background or are you self-taught?

Fifty-fifty I guess. I graduated as a Graphic Designer which taught me valuable design theory, but the day you graduate is the day you start learning on your own. I think both forms of learning are very important, there are concepts that practically don't teach you but then, being a self-taught person allows you to find new solutions.

I think when you are passionate about something the autodidact side of you grows naturally.

Is your city a good place for designers?

Buenos Aires is a cosmopolitan city and can be a great inspirational muse for designers, especially considering the fact that we are one of the busiest cities when it comes to exporting designs as well as having high-standards of academic levels in our Universities. As time goes by, there are more and more events on design, with the participation of international designers, our own renowned professionals, plus the young curious designers, all of whom make those events highly productive and enriching for everyone.

Which technologies are you excited about?

I love what has been emerging with VR in general. At inTacto we are working with Unity 5, Tree.js, Arduino, node.js, and also on apps for Oculus and Cardboard.

What do you do in your free time?

Until recently I used to practice Aikido, which as a martial art it has a deep connection with philosophy and your own lifestyle. It is something I need to get back into soon!

If you could give one piece of advice to newbie designers, what would it be?

I've been lucky to work as a design teacher for 10 years, and I used to advise the students to do what they love, to dream strong, work hard and things will accommodate themselves. When I was a student I used to have the Communications Arts subscriptions and I used to see those published works as something unreachable. Now that time has passed, I can see that we at inTacto have reached big goals and all thanks to the extra effort we put into everything we do. Why? Because we love what we do. So it seems simple: Do what you are passionate about.