The vast majority of websites are looking to convince people to take action from buying a product to signing up to a mailing list. However, with only a few seconds to grab users attention, how do you ensure that people act? In this workshop, you will learn the secret to achieving precisely that.
Wed 21st & Thurs 22nd April 2021: 18:00 - 21:00 (CET) / 10:00 - 13:00 (PDT)
When you design a website, there is a lot to consider. You need to explain your offering, convey its benefits and, most importantly, ensure that people take action. Unfortunately, according to research and site analytics, you only have about eight seconds to convince people to hang around.
Paul Boag, author of Click! and Conversion Optimisation Specialist, will explore how to optimise your website to encourage users to take action. By learning from fields such as design, copywriting, psychology and marketing, he will explain how to create a high converting site. As well as unpacking his secrets to conversion, he will practically apply them by reviewing attendee websites and discussing with the group how they can improve them.
Psychology
Usability Testing
UX
Conversion
Testing
Trailer
What you'll learn
In this workshop, you will learn:
The role psychology plays in encouraging action: Psychology plays an enormous role in designing for conversion. Paul focuses on four of the most influential factors and how they can be practically applied to the websites we create, without straying into manipulative techniques.
How you can create a compelling offering: Design alone is not enough to encourage users to act, you also need excellent copy and a desirable product or service. That is why Paul introduces you to the process of creating a value proposition and how to address the questions and concerns people have when being asked to act.
How to shape people's perceptions through good design: Good design performs two roles on a website; it shapes people's impressions of the product and also guides the user around. In this workshop, you will learn how to nurture the right emotional response and create a visual flow through your site.
How to continually improve your site's conversion: Nobody will create the perfect converting website on their first attempt. The secret to conversion optimisation is ongoing testing and iteration. That is why Paul will explore topics such as identifying problem areas, A/B testing and post-launch usability testing.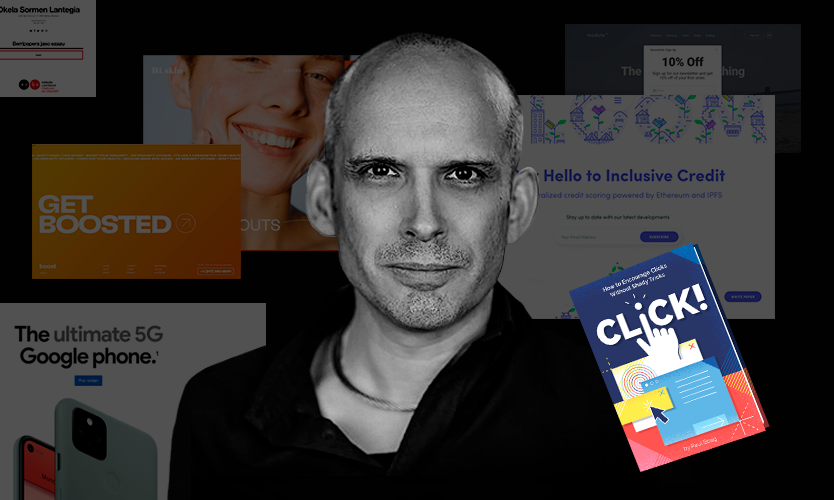 2 Day Workshop: Websites designed for action - how to encourage users to click
By Paul Boag
Psychology
Usability Testing
UX
Conversion
Testing
This offer ends:
English

Intermediate

Access on mobile and Desktop

Full time access
Speakers
Learn from the best
Paul Boag

User Experience Strategist

Paul Boag has been working in digital for 25 years. In that time he has gone from designing websites for chicken incinerator factories (true story) to consulting for international brands like PUMA, UNICEF and GlaxoSmithKline.He built an international reputation and brought in enough work to grow an agency from 3 founders to over 20 people, before becoming an independent consultant.