Jan 24, 2012
'Site of The Year' Awwward 2011 - Interview with Hinderling Volkart AG
And the Awwward for
"Site of the Year 2011"
goes to...
360° Langstrasse by Hinderling Volkart AG!
The Awwwards Jury, by a majority vote, has granted the "Site of The Year" Awwward to
360° Langstrasse Zürich
, created by Swiss agency
Hinderling Volkart AG.
Additionally
,
the Awwwards Jury, also by a majority vote, decided to grant the "Agency of The Year" Awwward to the paris-based French agency,
Ultranoir
.
Congratulations to the
Hinderling Volkart AG Team
on this fantastic and innovative work!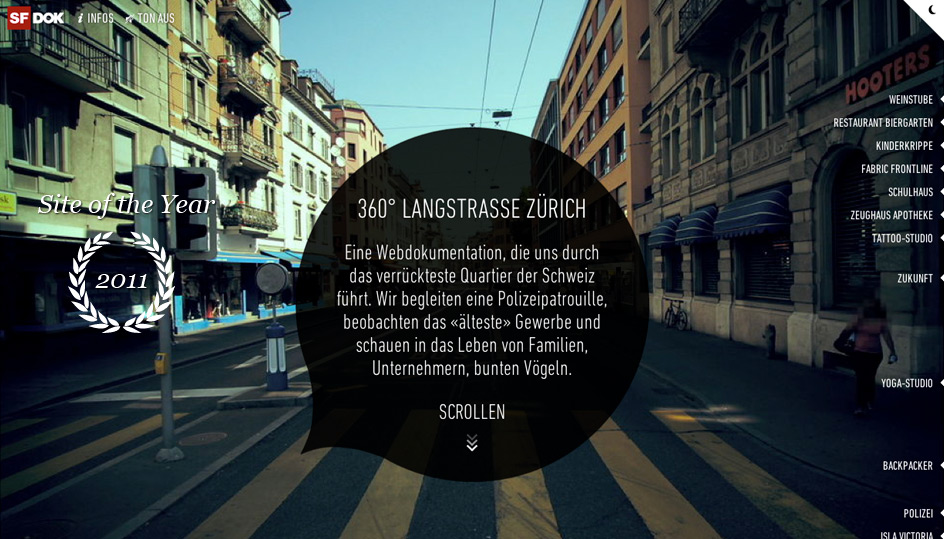 Interview
But let's find out a little more about Hinderling Volkart AG.
Awwwards Team:
Please tell us a little bit about yourself: who are you, where do you come from and where are you going?
Hinderling Volkart AG:
We are a full service digital agency based in Zurich, Switzerland.
Founded exactly five years ago in 2007 by Michael Hinderling and Michael Volkart
, we are now 18 employees. 2 Bosses (both Designers), 4 Art Directors, 5 Developers, 5 Consultants, a Copywriter and an office manager, the only female in our office.
AwT:
Tell us about the project, how did you come up with the idea?
HVAG:
Switzerland is a beautiful country and Zurich is a very nice city. Beside cows, chocolate and banks there are lot of impressive sights. One of them is a street in the heart of Zurich called Langstrasse (the long street), famous and notorious at the same time. Its charm, its exotic touch, its variety inveigled the Swiss national TV to produce a TV-Documentary. Instead of simply transporting the hours of material onto the web,
we decided to focus on the vibrancy of the street itself. The visitors of the website shall feel like a visitor of the street, thus discovering the many angles that are also highlighted in the TV version.
We tried several interfaces and interaction concepts, but they all felt kind of flashy and decoupled from a natural browsing experience. Eventually, we came up with using the scroll interaction to move through a video. First prototype tests prove the user experience to be really nice. From there it was just a natural process to further develop the idea and use it as a combined navigation and content visualisation concept.
AwT:
Which were the profiles of the members of the team that worked on the development of this project?
HVAG:
Our Managing Director Michael Volkart, our Creative Director Michael Hinderling, our Chief Interaction Developer Severin Klaus and our youngest Art Director, 21 year old Ruben Feurer.
AwT:
Which technologies and software were necessary for the development of the project?
HVAG:
Surprisingly, most of the website is based on technologies that have been available for a decade.
The basics are covered by simple semantic HTML & CSS and some fancy Javascript.
The sweeter the browser the more sugar we added:
CSS3
Transitions,
HTML5
Video and Audio and some neat performance optimizations with stuff like
3D Transforms
. There's also basic support for touch devices. We recommend reading our tutorial on
Netmagazine
.
AwT:
What did you do before becoming a designer / developer?
HVAG:
Nothing remarkable. Dreaming of becoming a designer / developer?
AwT:
In your opinion, which is the future of the Web? (HTML5, Responsive Design, Flash, Mobile...)
HVAG:
Recently the four year old godchild of Michael Hinderling visited our company and picked up that decades ago there were no computers at all. He looked at us very surprised and confused and then asked: "…but how did you connect to the Internet without computers?" Soon kids will be suprised how we did this without smart phones and tablets.
We indeed believe that the web will continue to emerge into touch devices (aka. mobile devices), especially when it comes to discovering and browsing content.
We have a long past with Flash and love what it gave us – when it comes to the future, we believe its importance will keep on decreasing. There's a lot going on right now (yes, we're in the middle!), and we will be happy to embrace whatever is gonna contribute to a fabulous experience that makes sense. Way to go!
AwT:
Where do you turn for inspiration?
HVAG:
Michael V. is a design magazine enthusiast, Michael H. is a passionate golfer, Severin loves his little cottage without electricity high up in the mountains and Ruben spends his weekends as a VJ at the most famous electro clubs around the city.
AwT:
Which are your favorite studios, designers and/or agencies?
HVAG:
Raffinerie, Stephan Walter (both in Zurich), iA, Fi, AKQA (yes, we like acronyms).
AwT:
Tell us about a particular situation or funny anecdote related to your work.
HVAG:
Every meeting with a "classic" advertising agency speaking about digital is quite a funny experience...
AwT:
Which city do you live in? Is it a good place for designers?
HVAG:
Zurich has a long design and typography history.
Nowadays you'll find some very talented and passionate illustrators, graphic designers and a lot of inspired and inspiring creatives. If you're not too disgusted by clean streets (Langstrasse might be an exception), low criminality and a flawless public system, the city might be just the place to be... The lake is lovely, the mountains are near and the parties famous.
Not the worst place to live in, really.