Jan 9, 2023
Rob Ford Interview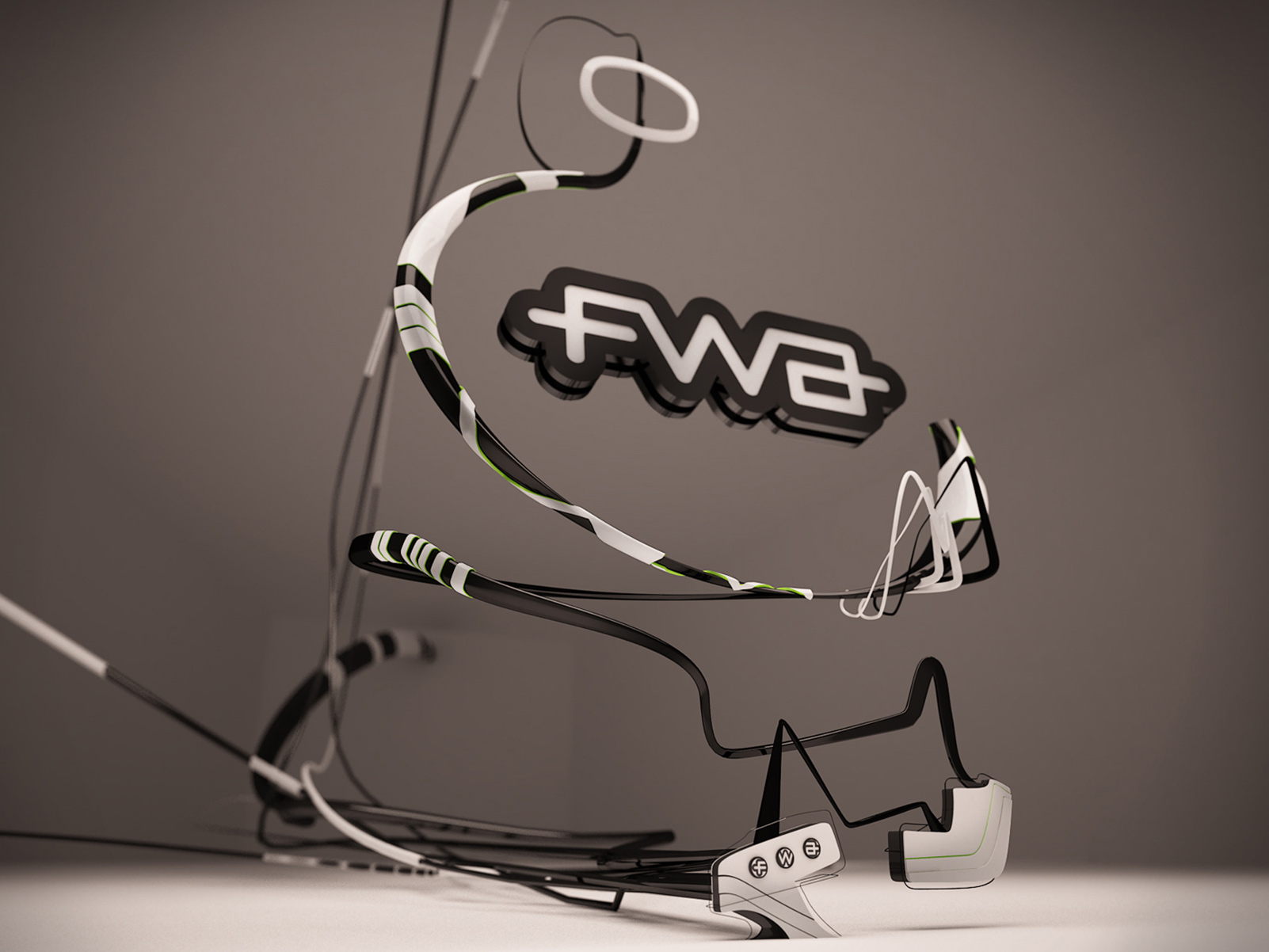 Rob Ford, founder of the FWA, best-selling author, and mental health campaigner opens up about living through several digital revolutions, his all-time favorite websites, the integration of AI, dealing with the haters, growing trees, and making music.
How many digital revolutions have you experienced, which one has impressed you the most and why?
I first started using the web around the time of Windows 95. I guess that was my first experience of a digital revolution as it was my first experience connecting to the super highway, using a 33.6 KBPS modem (when our phone line wasn't being used).
Just before this I was looking through print ads to connect with people swapping Amiga 500 games. I went from having one game to play at a time, like Monkey Island, to having hundreds of copied games on floppy discs and never really getting into any of them. I see this so much in today's society when we all have so much that we can't focus on any one thing.
Back to the web… for me though, the web was so hard to use then, at least if I wanted to be creative. So, I copied the code of my local builder's merchants' website in 1997 (2Advanced didn't have a website then so I couldn't copy it like many others did!) and quickly established my own web presence (Altern8 web design… inspired from my days of raving). I copied the code after printing an entire HTML book off the web and running my dad's printer dry (he wasn't happy). Basically, HTML was way too complicated for me. I've never been a coder.
For most of the nineties I was out of work, or should I say I dropped out of conforming to what was expected of a single man in his twenties. When I left school, I worked in a bank, then as a foreign exchange teller, then as a car salesman. Car sales taught me a lot about sales and being self employed (i.e. you get paid according to performance).
In 1989 I co-founded a company called Nimrod Vehicle Location (you can check out my business card and work history on my LinkedIn profile if you fancy it here) with one of the other car salesmen I worked with. We would use the power of networked computers to allow people to find the car they were looking for. Everybody laughed at us or gave us a blank look when we pitched to them. I guess we were too early with this idea. I believe if we had a mentor back then things could have been different. Think $8 blue tick. :D
Whilst hanging out with friends and doing various jobs in the '90s like hay baling, selling Swatch watches out of a rucksack down the Portobello Road in London, and converting a 1920s old cinema into a bingo hall with my uncle, a friend showed me the intro page of a website for an events company he was freelancing for and it was using Flash. I can still picture the moment now and I suddenly became addicted to web creation using Flash as I was able to do anything I could imagine without any code at all.
My biggest web presence at the time was treecity.co.uk (it's still live here if you have the Ruffle player installed or you can see a video here) and after stumbling across a website that had won a Golden Web Award, I clicked the badge and found a submission form and submitted my own website. An automated process saw me become an award winning webmaster immediately. It was a buzz even though clearly fake. I then spent 3 years honing my treecity.co.uk website and applying for awards.
In the late '90s there was a vibrant awards community, mainly run by individuals as a hobby but many took it very seriously and there were award orgs like Award Sites and WebsiteAwards.xe.net which hosted the World's Top Awards. Award Sites rated web awards, with level 5.0 being the pinnacle.
I soon became addicted to winning awards and amassed over 500 awards for treecity.co.uk, including the Superb 500, for winning, yep, over 500 awards!
I became quite a central part of the awards community, being one of the "secret" groups for Award Sites who rated web awards. I also helped establish Awards Scoop.org, to help educate the wider internet about web awards.
However, I was finding the awards community challenging as they were so focused on their own awards and very strict criteria, score sheets etc when judging that I just realised they were doing it all wrong. Think X-Factor or American Idol or Britain's Got Talent… judging happens on gut instincts and experience, not after spending hours going through a 100 point score sheet and this is when I decided to set up my own awards, Treecity Favourite Website Awards.
Quite clearly for me, the Flash revolution impressed me the most. From 1997 until 2010 when Steve Jobs published his "Thoughts on Flash" and Adobe did nothing about it. Adobe really should have tried to engage Apple more, much like they have done with Microsoft these days. A lot of us were gutted to see Flash die but it was well overdue. In fact, I think Awwwards saw all this coming long before I did and launching with a focus on CSS websites in 2009 they certainly hit the ground running at a time when I thought FWA might totally die as it had become so associated with Flash. Some people still think FWA originally stood for "Flash Web Awards", it never did.
It took a lot of effort and time to educate FWA's audience that we could actually showcase anything that was cutting edge and, thankfully, over a decade later we're still here and stronger than ever… awarding a whole new generation of people and work.
How have your relationships with agencies and creatives developed over the years?
This is a really interesting one. Over the last 20+ years, I've seen a pattern. Basically, it seems there has been a sweet spot for many agencies in that they have a spell of being prolific FWA winners and then that tails off as they grow bigger and lose that personal passion to appease big brands and clients, or they become acquired, or even close down.
MediaMonks and UNIT9 remain the only 2 who have been around since the dawn of FWA and are still prolific winners. Of course, many of the others are still creating epic work but not at the volume and consistent quality of those mentioned.
In terms of my relationships with those behind all of the awarded work… I would say that before social media, I would receive emails every day from people saying how much they loved FWA and, especially, when they won. I even have a folder where I collected and still collect "nice comments". Here's a random one from 2002, at a time when I used to send a personal note with every award winner notification email:
I can't believe it!!!!!!!!!
Is this true........? ..... or am I asleep?
I was absolutely glued to the screen when I received this email.....
yeah.... it's true...
This is one of the best moments in my life..
Thank you very much!!!!!!
I still can't believe it
Social (the most ironic name for something so anti-social) media has pushed the entire way we communicate with each other. It's far less personal and relationships have become less personal too. I'll give you an example… When I published my last book, Web Design with Taschen, we sent out over 200 free copies to people who had contributed to it. Of those 200+, less than a handful sent me a personal note, yet the huge majority of the others took to social media to show how proud they were to be a part of the book. I miss the personal contact with people online.
Having said that, I know pretty much everyone in the industry and those that started their companies around the same time FWA did, I feel like we have a bond that is steeped in respect and trust. Running something like FWA on your own (not forgetting the awesome team of volunteer judges of course) is not easy so I am always reaching out to people for help and support on various ideas or projects and even my personal life struggles sometimes.
In the last 12 months I've struggled mentally and when I hit a really low point I reached out to a few people and was blown away by their response. Knowing that, even though you're on your own, there are people out there willing to support when you do need it.
What are the websites, installations, apps, etc. that have impacted you the most since the beginning of The FWA?
Oh, wow, this is a big one and close to my heart. I even did a book on the most impactful projects since the 90s of course. In fact, if you check out my Amazon profile you can get my earlier books for next to nothing and they all have historical importance with regards to web archival.
If we think of the 1990s, David Gary Studios "Full Throttle", from 1998, had huge impact on me when I first saw it.
Flash, I believe, has been the most impactful presence on the web. It was a time of unrivalled creativity where individuals just expressed themselves for the first time, to a world audience, which had previously been impossible.
I would say that Flash saved me as a person, at a time in my life when I had lost my way and didn't know what to do with myself. A textbook young man in his twenties not knowing what his purpose was in life. Flash opened a door and enabled me to express myself in ways that HTML, or the real world even, just couldn't.
Many will know this website, which I called the most copied of all time. The rolling clouds, the sound effects, the movement and pure pixel perfection saw this win the title of The Most Influential Flash Website of all time, in polls FWA ran for Adobe when they asked for some help around the 10th anniversary of Flash celebrations back in 2006.
This was a classic example of ripping up the latest trends and setting the bar at a time when people were moaning how web design was all too samey. Tokyoplastic was so different and saw them gain world fame overnight, something we no longer see happening.
One of the best web creations of all time.
A pioneering experience that really put HTML5 on the map. I remember putting my childhood postcode in and finding myself experiencing my old neighbourhood and having goosebumps all over. Again, it's pretty rare for that to happen these days but I always remain hopeful as I know the talent is out there.
As we enter 2023, I ask you if you're still making parallax scrolling websites? In 2011 Wieden + Kennedy and Nike launched this site that we are still seeing as the main influence for web design over 11 years later. I feel the only chance we have of changing the direction of web design lies in the hands of individuals and their personal projects and experimental works. Think tokyoplastic and you'll go far and, maybe, even help change the direction of web design.
As you might notice, there's a huge time gap from Nike Better World and this final project in the list. For me, that shows how stale and dull web design became for a decade. Thankfully, technology is helping move things out of the browser, like with Nike React Game of GO and us seeing some truly great interactive installation works. Unfortunately, Covid made touching things in public an issue so we have, recently, seen more micro sites being created only after a few years ago when people were saying micro sites are dead.
My experience of the web and digital in general is that nobody can predict anything or say anything is dead. I'm still checking Is Flash Dead Yet? daily. ;)
What is your vision of The FWA in the coming years?
This is a hot topic for me as I have realised FWA is at a big crossroads. Many will know I openly looked for a new owner in 2021 and publicly advertised it for sale. The response was massive with over 200 enquiries but no stars aligned and I have realised that to secure a long term future for FWA it needs to be owned and run by the community, rather than… just me. I had some interesting offers… one was for double what I was hoping for but that person later disappeared into hospital and I never heard from him again. I hope he's well, or at least real. Another that stood out was a consortium that kept dropping their offer, probably seeing my desperation, until I ultimately pulled out after they said they wouldn't keep me on, which was a worry as everyone else I have ever spoken to wanted me to have some sort of role in FWA's future.
Even though FWA has an incredible team of over 500 judges for around 40 countries, it's basically been me sitting behind my PC for over 20 years making every decision myself.
There are currently some talks behind the scenes to propel FWA forward to a community style ownership. There's a lot to figure out but that is the path I am on and I can't wait to make an official announcement about that in 2023… hopefully!
For the record, I have never felt comfortable owning FWA and have looked to become owned and work for new owner/s as I don't like carrying the legal responsibility of something so huge. This is more about my psyche rather than owning something that is a legal liability as it isn't.
In 2008 I flew to New York to meet a team from a well known award festival so they could meet me after we'd already agreed a deal for FWA. I wish video chats were available back then. I didn't even own a smartphone and was panicking about not being able to manually update the FWA site of the day for 24 hours! We were so close to signing the ~50 page contract but the stock market crashed and that was game over.
In 2009 I first put up a For Sale sign on the FWA website which shows how I struggled even back then. Since then I have spoken to so many people about acquisitions. Including many big tech brands and other award festival owners.
How do you see the future for digital creatives?
The future is guaranteed for digital creatives because, what else is there? I wish everyone would turn off their devices and get outside more and remember how to daydream, which is one of life's great free gifts that is dying out as we are all so connected… all the time every day.
AI could take some work away in some areas but it was always said that template sites would finish web design. AI can work alongside digital creatives for sure.
I feel blessed to say I remember a world before the web, and then how it trickled into the mainstream. I remember printing off FavouriteWebsiteAwards.com on a piece of photo paper and sticking it in the rear window of my car with tape. I remember when you'd watch an ad break on tv and there were no web adverts and then I remember the first time I saw a URL mentioned on a tv ad and how the likes of Dragon's Den went all googly eyed when someone stood before them and started mentioning "hits" to their websites. I even applied to go on Dragon's Den, and received an interview opportunity but didn't have the guts to go any further.
In a world where, pretty much, everything is digital, or has a digital arm, and I have an 8 year old son… my wish for him is that he will work out in the environment, maybe in horticulture or at least something with nature. Whilst digital saved me and gave me a life I never imagined, I now hanker for being outside. I love being at one with nature. Give me a drizzling late autumn day, a spade and a homegrown tree, and I am in my element. Yesterday I cut around 500 seed pods from a wildflower patch (all corncockles) and, today, sat for 2 hours emptying every one of those pods by hand. Each had around 30 seeds. So, around 15,000 seeds to sow. Nature is so incredible, we'd all do well to focus on the outside and nature.
What projects are you currently working on and what others would you like to carry out?
I've literally just finished up another book, which launched in September called Members Only. It's a showcase of the iconic membership cards and passes of the acid house and rave generations and includes contributions from the pioneers of those days. The book is based on my own personal collection which, I believe, is the largest in the world. You can probably see a pattern in my behaviour of always going all out when I "collect" things. The book is the first thing I ever launched that hasn't, so far, received any negative comments. That's strangely a weird feeling as I often feel a project is complete once someone complains about it.
I have a lot of projects planned outside. During one of the early UK lockdown's, we somehow managed to sell our house after a couple knocked on our door one sunny Sunday afternoon. We moved out to the countryside and now have a beautiful house with 4 acres of land, which keeps us very busy and that overlooks a 13th century church. Our main focus is bringing wildlife onto our land which was mostly grazed before. SO, planting lots of trees, growing wildflowers and leaving stuff to just do what nature intends. We're already seeing a lot of new wildlife and catching stuff on the wildlife camera is a total buzz.
The future of FWA will be a big project for sure but if I was able to work on something new I'd love to deal with 2 things… let's just stop with cookie policies and permissions. They drive me absolutely mad and feel like people with the best intentions have applied laws to us, especially in Europe, that make web browsing the worst experience ever.
The second thing I'd love to tackle is… passwords. They are a mess, get people in a mess and are so archaic. When we have FaceID, TouchID etc available, why are we having to rely on the likes of 1Password (thankfully) to help us navigate our passwords and avoid some form of hacking?
What does the future hold with the integration of AIs?
There's some truly fascinating stuff being created with AI. I am concerned that you can create AI artwork with key words that include artist names, even though the artists are not, currently, being compensated. Of course this type of process could see them losing work.
However, it's still early doors and I am personally very excited about AI generative motion graphics around music. As a music producer myself, I've struggled to find a way to create videos for my tracks so I'm hopeful AI will help move that forward.
I, also, have to be honest, I'm 53 now and feel I am getting somewhat old with the "future" of anything. Think Metaverse, VR, AR, NFTs etc… they all feel like an attempt to create another gold rush and I feel jaded to give any of them much attention, even though FWA will always showcase the best examples. I feel all these progressive ideas have elements that are great in certain situations, but when something new comes out, we all need to be aware of FOMO. Trust me, I am still sitting on 2 Vivienne Westwood swatch orbs that were worth more the day after I bought them in 1993 than they are today, over 30 years later.
You've been a vocal mental health campaigner, do you have any techniques or advice or massage you'd like to share with people who may be experiencing mental health challenges?
I think mental health is something everyone experiences from time to time in their lives. It's certainly not unique to only certain people. I would say 90% suffer with their mental health at some points in their lives and the other 10% are lying.
If I had never struggled with my mental health, FWA would never have existed as the web enabled me to be the person I wanted to be without all the face to face and really personal stuff.
I've been struggling more so over the last couple of years. I think the pandemic has pushed people, mentally, further than ever before. I found myself being triggered by pretty much everything in life, to the point where I have felt like a nervous wreck running on extremely high levels of anxiety. Over the years I have felt as though my mental health has been like a fruit machine, with one triple bar in place all of the time… that's ok. Then, I've had periods where the second triple bar is also on the win line… that's not so great but livable and manageable. Recently, however, I've been running at two triple bars on the win line and the final, third reel, spinning constantly and I've been subconsciously looking at it all the time, anticipating the jackpot, third triple bar to land and that's when life becomes way less manageable.
Over the last 20+ years of running FWA, I've had some big mental health triggers, the biggest was probably when MTV Networks served a cease and desist notice on me at my parent's front door for having a logo that they felt copied theirs. I was oblivious to the similarities at the time to their VH1 logo and the FWA One logo (designed by David Martin of Fantasy) as I was into raves and not watching MTV. It was a nightmare few weeks to be alone dealing with the fallout. Mentally, I was wrecked!
Another great (!) time was when I almost sold FWA to another famous award and as the contracts were getting close to signature, the company hosting the FWA website was involved in a fire and it looked like the entire FWA website might go up in flames.
However, recently I don't need such a catastrophic event to trigger my mental health. An example being when a German lawyer sent a demand notice for 5000 euros for infringing their client's copyright on an image that was submitted to FWA as part of an awards submission. Whilst I knew I/FWA had done nothing wrong, it totally triggered me into a sense of panic.
Now… after 2.5 years of counselling I have finally started taking some SSRI antidepressants. I'd put off taking meds for years as I felt it would be a personal failure but they have had a huge positive impact on me. It feels as if they have suppressed dopamine and massively reduced those trigger feelings or dopamine hits that were happening for me constantly and for years. Even down to that dopamine "hit" you get when Facebook shows the red dot notification. It's no different to the crack dealer driving pass when you're an addict.
When Covid "started" I watched too much news, online and offline. I was actually worried that I could die if I caught it. The press really did hit the bullseye for terrorising us all. The day the vaccine was approved, the fog thinned a lot. I think becoming a dad at the age of 45 made me worry more about my mortality. When the war in Ukraine started, I just couldn't cope with how depressing the world had become and removed all the news apps from my phone. I barely keep up with the news now and whenever I do watch it, it reminds me how bad it is for us all mentally. I don't miss it. As my late dad once said, all this stuff has been happening forever, the only difference is now we are subject to it 24 hours per day.
What do you do when you're not working, do you have any hobbies / passions? We'd love to hear about them
I'm passionate about music. Back in the 80s the beginning of the acid house and rave eras really took hold of me on many levels. I used to create mixtapes by listening to pirate radio out of London and using the pause button on the cassette recorder to create mix tapes for myself and my mates.
With so many great apps now available to make music, I went full on music producer in early 2019. I now call myself a prolific drum and bass producer, with over 120 of my tracks on my Soundcloud, my artist name, of course… Rob FWA.
I feel as though creating music has been amazing for my mental health and, often, my tracks reflect my mental state at the time of production. My dad passed away in July of 2020. We knew it was coming and did the whole family rota to make sure he didn't pass on his own. I found it quite challenging watching him die (he was a dialysis patient as a result of cancer and, after 7 years of treatment, made the brave decision to refuse further dialysis, so we knew things would happen quickly). The last time I was with him, he looked uncomfortable, and I found it very hard to watch. As a distraction, I started playing around with some sound loops on my phone at 2am whilst sat with him, and created a track on the fly. He passed away a few hours later and I forgot about the track until two days later. 1936am became the title of that track and if you take a listen it's the perfect example of tapping into one's subconscious for music creation. Every time I listen to the track, I am transported back into the room next to him.
I've released a number of tracks through record labels now but have started releasing them personally as the buzz I get is from a quick release to the public and most labels take 6 months to release a track and they all want total radio silence until the release happens, which I hate. I've been blessed to have my tracks played almost weekly on radio stations like Kool London and even live inside clubs, festivals, raves and recently on the BBC also. That's a massive natural buzz.
My other passion is growing trees (see the treecity name connection?!). I've been growing trees from seed since 1994, with my first acorn sown in 1994 from an English oak tree that was on the golf course where I used to play in my teens. That tree has been grown in a half oak barrel for 28 years and was finally planted in the ground when we moved to our dream property in 2021.
My collection of trees grown from seed are now, finally, being planted in their final resting places.
My love of collecting things started with bottle tops when holidaying at 10 years of age in Canada and evolved into collecting websites (FWA) and, recently, rave flyers and acid house and rave membership cards.
What did you have for breakfast, and when get take out, what do you normally order?
Toasted sourdough bread, toasted until the smoke starts (love slightly burned toast!) with real butter cut up into soldiers to go with 2 dippy eggs. Cup of proper strong Yorkshire tea. Breakfast choices are often dictated by my 8 year old son. :)
Takeaways… I love pepperoni pizza. I also love indian and nepalise food. In fact, I love food, especially sugar and I've spent my entire life battling with weight (comfort eating for mental health). My dad worked for Wall's ice cream so we always had a freezer full of the latest ice creams and a queue of friends at the freezer! One of my great childhood memories was when my dad met the Mars sweets sales rep and he did a swap… ice cream for sweets… good times!!
Over the years, I/FWA has suffered quite a bit of abuse. They would start as emails, back in the early days via the contact form on the website.
Is there a question you've never been asked, that you'd like to answer for us?
How do you cope with abuse online?
This just came to me so I will go with it.
Over the years, I/FWA has suffered quite a bit of abuse. They would start as emails, back in the early days via the contact form on the website. What was interesting was that I was receiving the IP address of the people messaging and could see the same IP address a number of times. So, I could see someone submit for an FWA, not win and then start sending abusive messages.
The only way I found to deal with those was to not respond and file them in a folder called "STRANGE". I still have and use that folder today. I even thought about publishing a book with all the content!
What this enabled me to do was find the funny side of the negativity, to the point where I'd get a slight buzz to receiving some correspondence I could add to the strange folder!
Some high or lowlights:
After awarding a micro site for tasers, there were complaints on social media (because it was tasers) and then the FWA website suffered a DDOS attack.
Someone set up the FWWA Tumblr to highlight why they hated each FWA's "winners". Note that they were hating on submissions, which were not even winners!
My personal mobile phone number was put on twitter when we awarded a site someone didn't like.
The FWA server was hacked back in the early 00s… well, I found a file sitting and waiting so we just caught this one.
I've just checked the "STRANGE" folder and can see 432 items, I'll pull one just for LOLs from 2003 (someone who submitted and didn't win and then sent multiple messages like this):
Wow! look at what we found today! METROID PRIME!!?
You call this award winning? Please!
Does anyone at FWA have ability to distinguish between the good, bad and the very ugly? apparently not.
TIm sure your long list of Judges all agree these sites are worthy of this C*** S****** award that has absolutely 0 merit in the real world.
In closing, give yourselves a nice warm pat on the back, cause theres Plenty of FWA awards to go round for all the Judges to s*** on!
Have a nice life you ignorant, self-worshiping, narcissistic sheep.
P.S. Keep on s****** on Erik Jordans d***!!
We're aiming to create a "multisensory" interview. Please share one of the following - do a quick drawing, your favorite song, a recipe, or if you play, give us a tune on your instrument.
Here's a track I made recently called Absolute Xero. It's a track that I'm very proud of. It's a very pure track with a cinematic feel to it. A NYC-based Jazz and Classical Guitarist commented on it recently "Love the bare minimalism of this track and the interplay between Drum & Bass and acoustic guitar - reminiscent of old Aphex Twin...but hipper."
Here's 90 seconds of it: