Apr 13, 2023
Niccolò Miranda Interview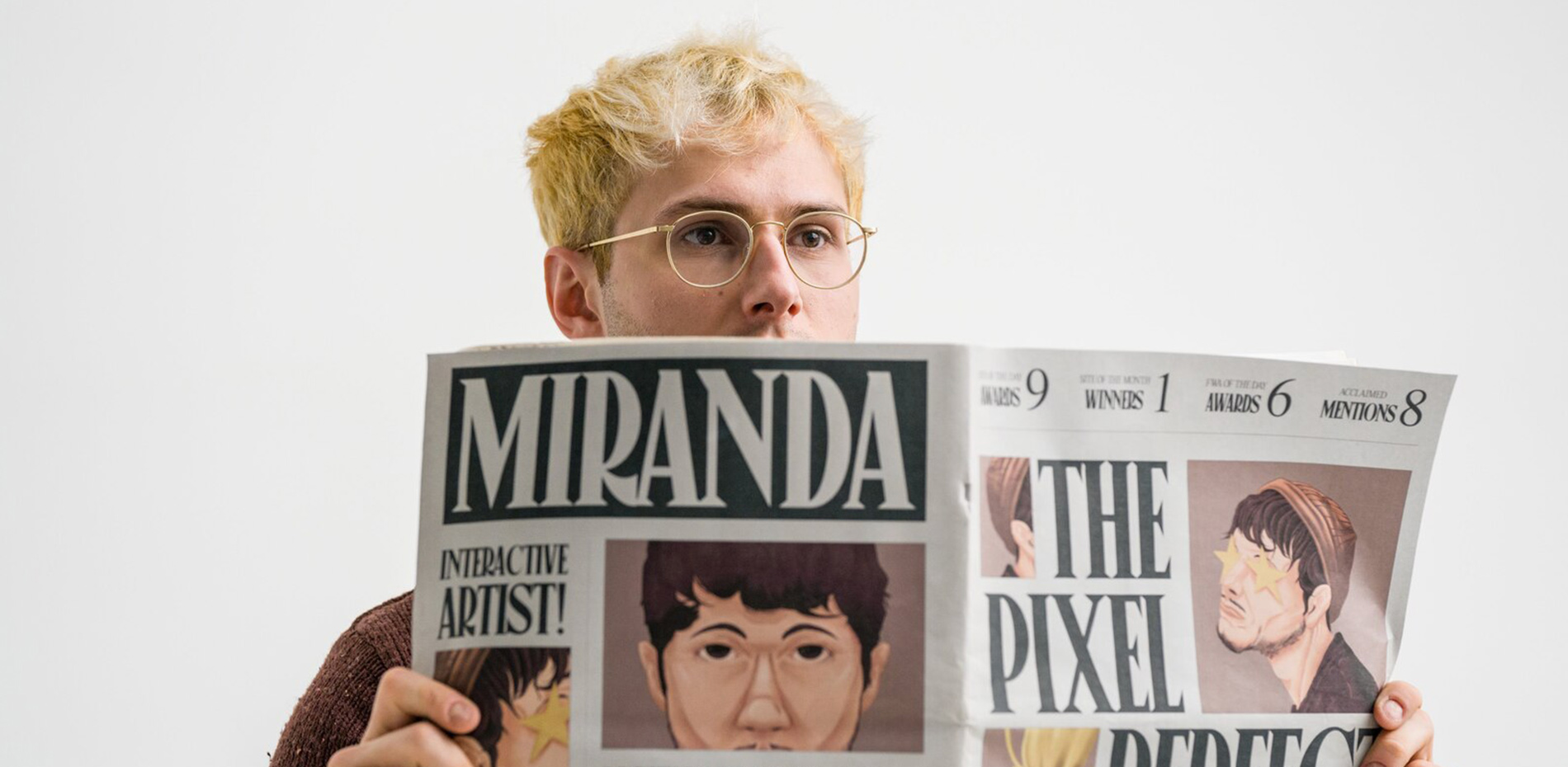 The pixel perfect artisan Niccolò Miranda, digital art director, interactive designer and creative developer, shares how he taps into his creative energy, the beauty of growing up in Italy, working with Om Swami and the world of NFTs.
---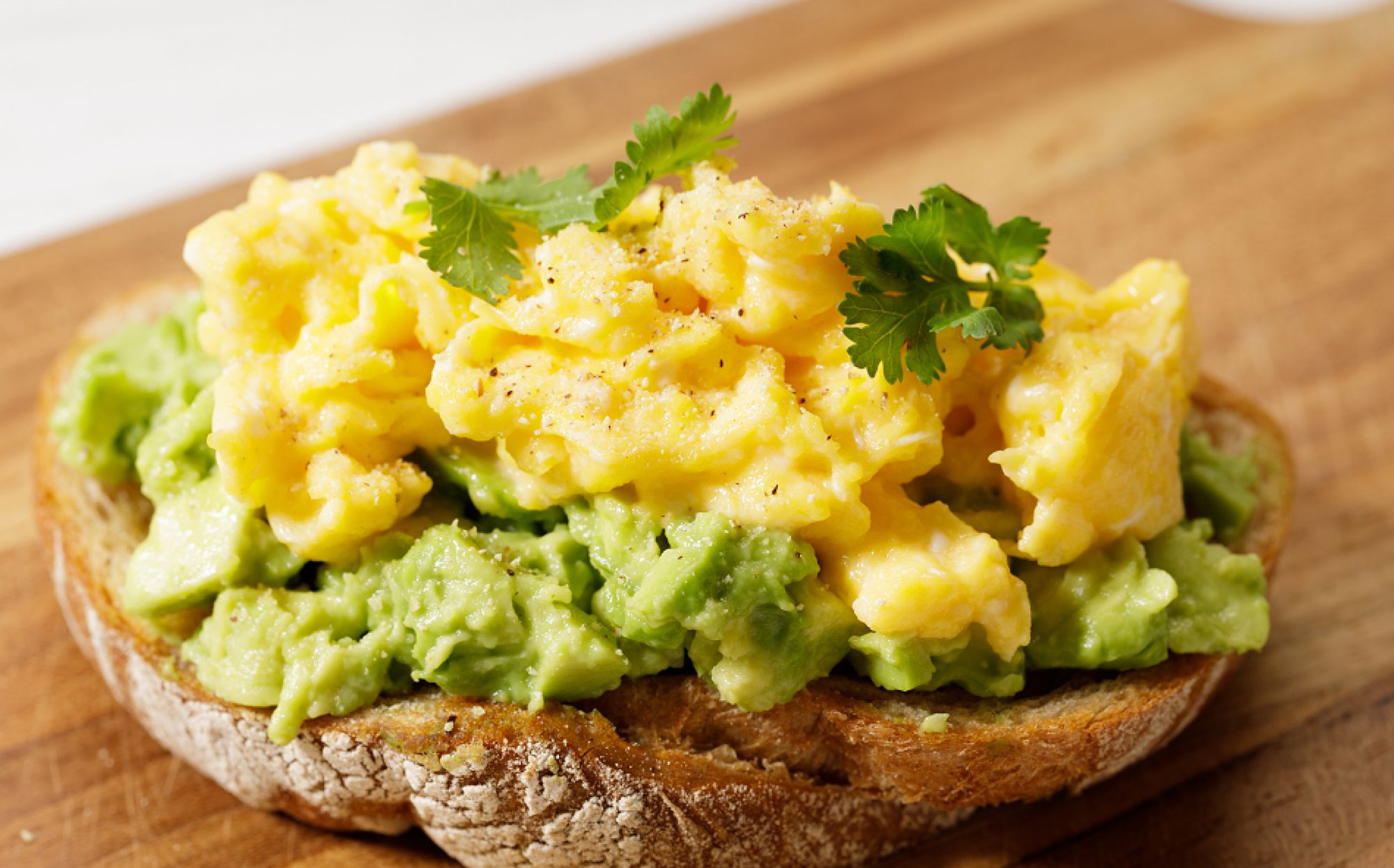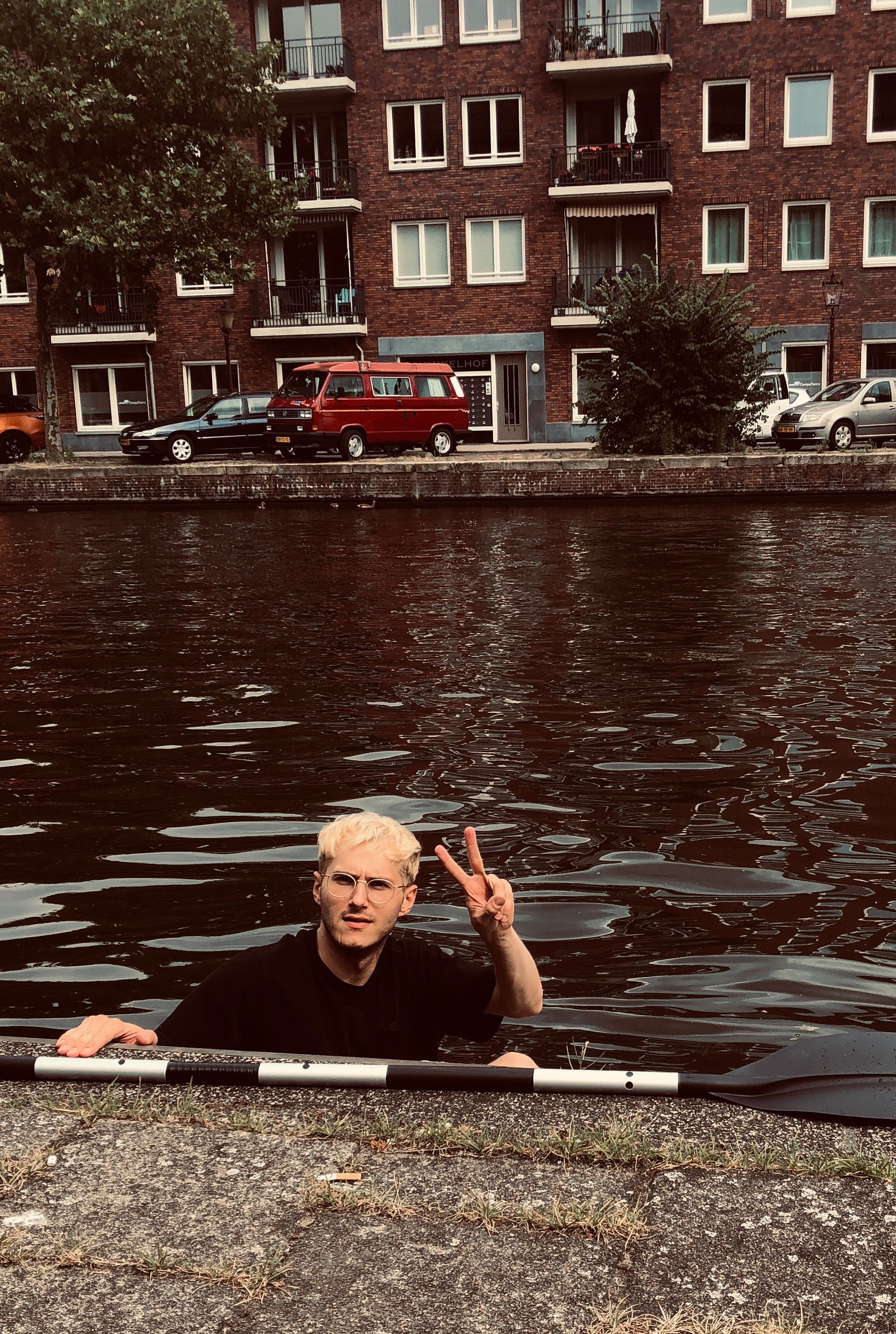 My pre-work morning routine
While I am not a "super early riser" by any means, I do make sure to give myself enough time in the morning to properly prepare for the day ahead. One of the things I love most about is the opportunity to switch up my breakfast each day. I am a big fan of avocados and often make scrambled eggs with them. I also enjoy a refreshing glass of apple juice or a smoothie made with fresh fruit and fruit extract. I don't drink coffee in the morning, I prefer natural energy source.
I find that making a healthy and delicious breakfast, along with my meditation and workout or kayaking in summer times, helps me to feel energized and ready to tackle whatever the day may bring. It's a small but important ritual that I look forward to each morning, and one that I believe sets the foundation for a productive and fulfilling day.
Working process and tapping into creativity
Organization is my lifeblood. It's the heartbeat that keeps my projects, my team, my clients, and most importantly, myself, in sync. It's the key value strategy that helps me navigate the chaos of multiple tasks and deadlines.
But there's more to it than just being organized. For me, it's about tapping into the creative energy that flows through all of us. It's about being open to the "aha moments" and "eureka" moments that can spark brilliant ideas for concept development, digital projects, or problem-solving.
I believe that this kind of creativity comes from having a deep understanding and appreciation of different forms of art, like sculpture, cinema, painting, and architecture. These are the things that inspire me and feed my imagination. Sometimes I even wake up in the morning with animation ideas, grid layouts or fonts swirling around in my head, ready to be put to use in my projects.
I spent hours flipping through the pages, soaking up the wisdom of the masters. And in that moment, I had the feeling that this was what I was born to do.
The winding path that led me to design
I was born and raised in Italy, surrounded by the beauty of art and creativity. Growing up, I was blessed with exposure to all kinds of pictorial art and it shaped me into the person I am today. As a kid, I fell in love with photography, and as I got older, I studied architecture and surveying and dabbled in illustration. These experiences taught me the importance of observation and how to truly see the world around me.
But, as much as I loved Italy and its rich artistic heritage, I found myself yearning for more. I enrolled in a Computer Science degree in University, but the traditional teaching methods left me feeling unfulfilled. So, I began to travel the world, seeking out new experiences and perspectives. I visited places like New York, Patagonia, Iceland, Norway, Netherlands.And it was in New York, at the Strand Bookstore in the East Village, that my life changed forever. I was searching for a photography book when I stumbled upon a basket full of design books. I spent hours flipping through the pages, soaking up the wisdom of the masters. And in that moment, I had the feeling that this was what I was born to do. I have been practicing and learning from the best ever since, and every day is a new opportunity to create something beautiful.
Projects for Om Swami and "The Books of Ye" for Kanye West
When I think of Om Swami portfolio, words like "inspiring" and "transformative" come to mind. He is, without a doubt, the best client I have ever had the privilege of working with. Not only is he a visionary with a wealth of knowledge, but he has a heart as big as the world. The first time I met him, I felt a connection that I've never experienced before. It was as if he could see into my soul and understand me on a deeper level. Working on his portfolio with him has been an incredible journey mixing up WebGL and colorful illustrations. One that I will always treasure.
But if I had to pick one for this 2022, it would have to be "Books of Ye". Although I didn't have the opportunity to work directly with Kanye West, as a huge fan of his, it was truly an exceptional experience. The Books of Ye is a conceptual NFT web experience depicting the five Books of Moses, in which each instance of God is replaced with Ye (Kanye West), accompanied by a foreword elaborating on the concept, and exquisite illustrations depicting key scenes from the Books. It's a project that will always hold a special place in my heart.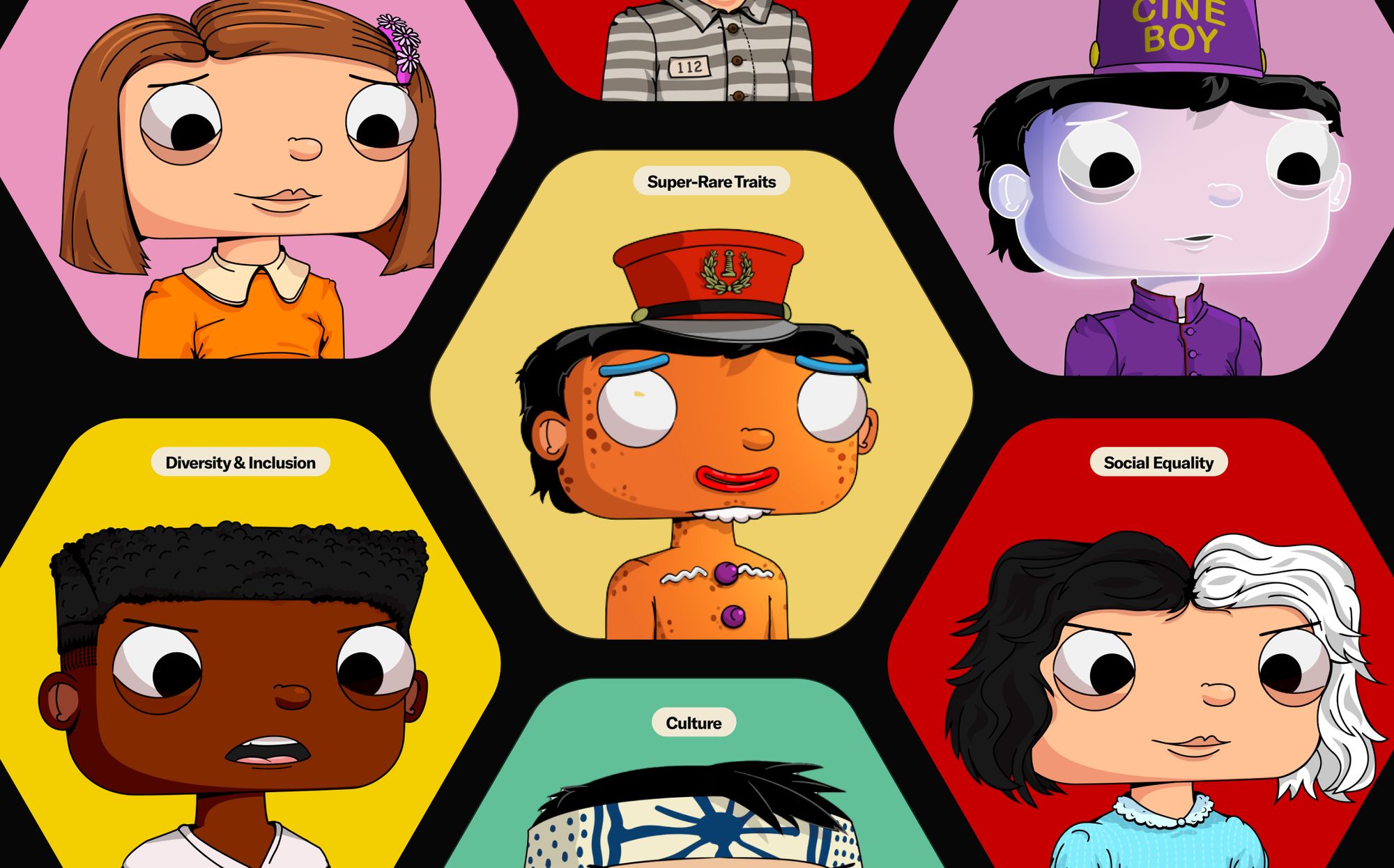 The world of NFTs
NFTs and Web3 have completely transformed my work career in 2022. They have ignited a passion within me and given me the opportunity to soar to new heights in my career. I am incredibly proud to be working on a huge Web3 manga project called Animape in collaboration with G-NS Studio, set to be released in 2023. And I have also founded a Web3 startup called D-Verse, which is a next-generation entertainment ecosystem that empowers fans and media creators of the future. We are about to launch Tapers Ciak Club, a collection of 10,000 utility-enabled PFP NFTs, inspired by iconic cinema characters and living on the Ethereum blockchain.
Working on NFT projects is a multidimensional experience that requires expertise in visual strategy, illustration, development, marketing, and more. The possibilities in this space are truly endless and it's an exhilarating time to be a part of it. It fills me with a sense of purpose and fulfillment that I never thought possible.
I still lived in Italy back on that time. The pandemic hit hard initially and it was a difficult time for all of us, especially with our high population of elderly people. During those trying months, I made the decision to focus on personal growth and self-improvement by diving into the world of Blender, AI tools and Web3. It was a challenging yet extremely rewarding experience that served me very well in the long run.
However, I quickly realized that dedicating 13 hours a day to learning and growing was taking a toll on my mental health. It was a difficult journey to find a healthy work-life balance again and it took me months to regain my equilibrium so I moved to Amsterdam to open a new chapter and close another one. I am grateful for the lessons I learned and the growth I experienced during that time. It has made me stronger and more resilient in facing any challenges that come my way.
Making courses for awwwards academy
I often find myself pondering about where I would be in my career if it weren't for the Awwwards community. The Awwwards Academy course was not only a game-changer for me but more importantly it gave students the tools to take their own careers to new heights, and refine their approach to visual strategy and art direction. The ability to share my knowledge and experience with others, and be a part of their growth and success is something that fills me with immense pride and fulfillment.
Time for a new chapter now, I'm currently working on an epic Masterclass in collaboration with Awwwards and CGMA set to be released in summer 2023. This advanced course will take students on an exhilarating journey from design to development, all while harnessing the power of AI to create cutting-edge digital experiences. It's going to be a wild ride and I can't wait to take this next step with the Awwwards community and empower and inspire the next generation of artists and designers.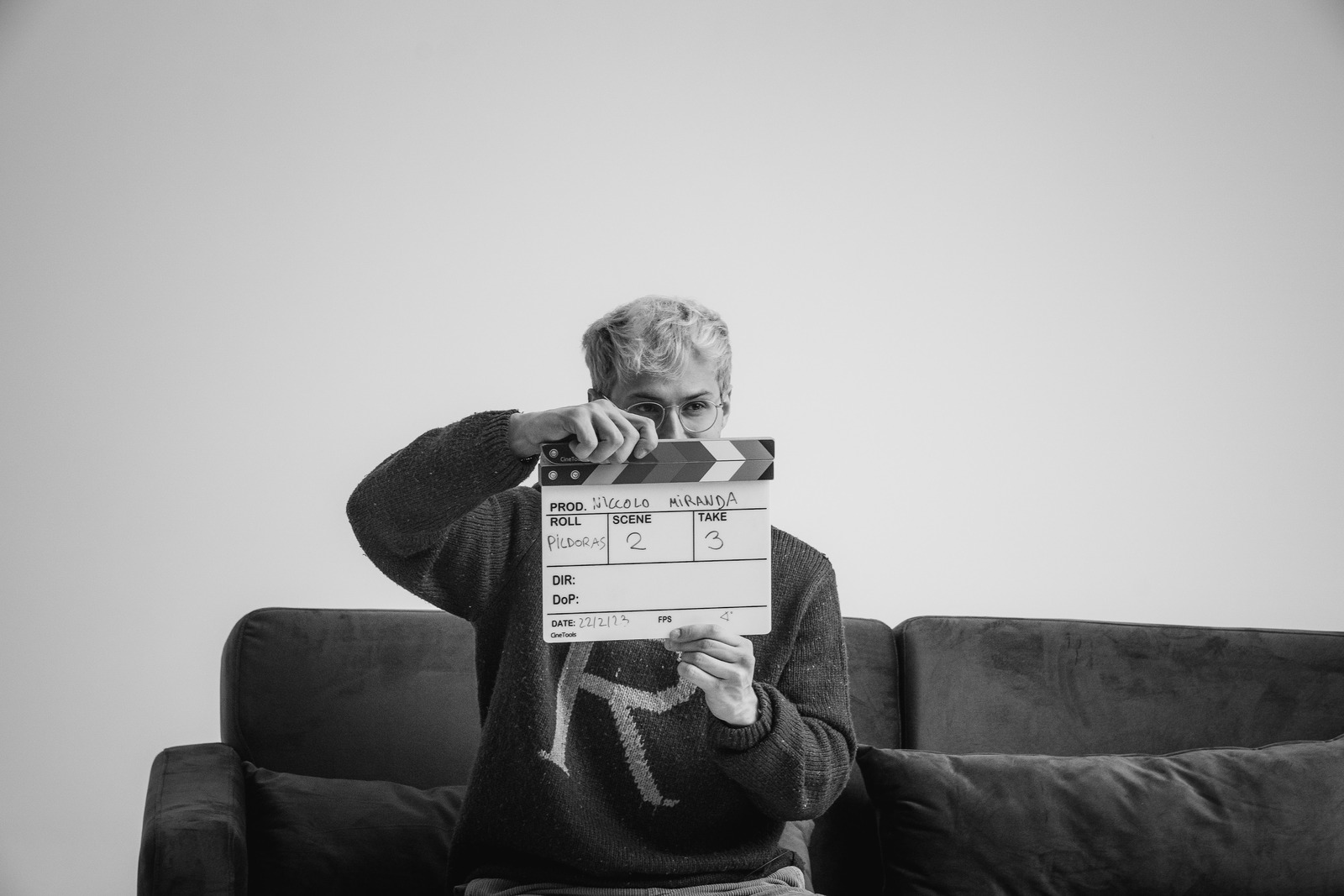 The evolution of interactive and web design
Interactive and web design will continue to evolve with the integration of technology such as AI, machine learning, virtual reality and Web3 which will lead to more personalized and interactive experiences. Motion design and animation will also continue to be popular. This web evolution not only brings exciting new possibilities for users, but also opens the doors for education and knowledge-sharing on a global scale. Imagine all those students who live in poorer countries, but will still be able to see the excavations of Pompeii or the Atacama Desert in Chile and study its morphologies, I consider this to be a truly amazing breakthrough. It is truly fulfilling to be a part of something that has the potential to make such a positive impact on the world.
The awwwards jury and community
Being an Awwwards judge is like hitting the jackpot in the web design world! It's not just about evaluating websites and giving out awards, it's also a personal growth opportunity for us judges. We get to learn from the best of the best, improve ourselves, and avoid making mistakes in our own projects. It's like a personal gym for web design, where we can work out our skills and knowledge. And the best part is, it's not just educational but it's a privilege to be a part of such a great community.
New technologies and tools I'm learning
I am extremely excited about the opportunities that new technologies, software, and tools offer for elevating digital design. I am currently delving into the world of AI, specifically using ChatGPT and Midjourney to shape the way we approach creating new products. Additionally, I recently explored Blender and have been blown away by its capabilities. And of course, I cannot ignore the rising star in the design world - Figma - which I am constantly learning and discovering new ways to utilize in my design process. The possibilities are endless and I am eager to continue expanding my skills and knowledge in the coming months.
It's my first source of inspiration, everything I design as a designer and developer is influenced by the movies I watch.
Hobbies and passions
I may not be a pro athlete, but I love to mix things up like the stairs in Harry Potter. I love to kick-box here in Amsterdam, Skateboarding is my jam, love kayaking on summer times and being Italian, I am also a passionate cook. I practically cook every day during my lunch break, it's my form of meditation. My go-to dish? 'Cacio & Pepe' without any doubts. It's my workhorse, it never fails to soothe my soul and make me feel like a chef extraordinaire!
But when it comes to my true passion, it's definitely cinema. It's my first source of inspiration, everything I design as a designer and developer is influenced by the movies I watch. The storytelling, the visual effects, and the way it can transport you to different worlds is truly magical. It's an addiction, I can't get enough of it.
When it comes to food, I like to keep things spicy, comforting and savory. And while I do love a good pizza, I like to switch things up and indulge in some Uber Eats Mexican and Italian cuisine. And let's not forget my love for Asian food, like dumplings, gyoza, spring rolls, sake and ramen. I'm always on the hunt for new and exciting flavors and cuisines to try, and let me tell you, I am never disappointed.
My musical delusional paranoia
When it comes to music, I'm a lover of all genres, but Neo-Soul, Country, and some branches of Electronic music hold a special place in my heart. I can't pick just one favorite song, I have a constant delusional paranoia that makes me change my opinion all the time. But one thing's for sure, music is a huge part of my feelings and emotions.
As for my musical abilities, I can strum a guitar and tickle the ivories on a piano, but that usually happens after a couple beers with friends. But who knows, maybe one day I'll be taking the stage and performing for a crowd (just kidding).
Learn with Niccolò, sign up to his course or masterclass today!