May 12, 2015
FREE eBook: Web UI Design for the Human Eye (Colors, Space, Contrast)
Web UI Design for the Human Eye: Colors, Space, Contrast by UXPin explains how to design visually captivating websites with analyzed examples from 30+ companies including Tumblr, Etsy, Google, Facebook, Twitter, and more.
The book explores how to apply psychology, web design fundamentals, and lessons from visual case studies so that you can make the best first impression on users.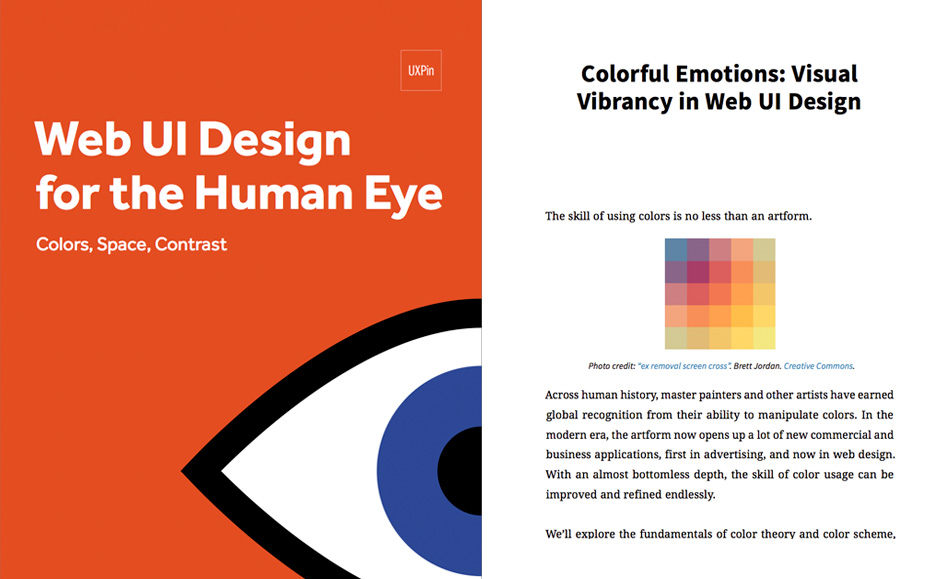 This book distills topics spanning interaction design, visual design, UX, and web design into practical advice. In this free ebook, you'll learn:
the most useful Gestalt principles and how they apply to the web
how to optimize the relationship between backgrounds and foregrounds
how to visually explain function without wasted words or space
the importance of white space for comprehension, and how to use it to guide your users' sight
how to group items to reduce cognitive load
the different types of contrast and which are most powerful
the emotional impact of color and how it will reflect on your designs
different and impactful types of color schemes and how to implement them
some quick and effective methods for testing your visual hierarchy
This book is available to download for free. If you find it helpful, feel free to share.