Jun 23, 2017
Case Study: Rainforest Foods by Immersive Garden

Rainforest Foods was born out of a desire to help people combine good nutrition with modern living. Realising that a return to time-rich living close to the land is just not possible, we have sourced a range of superfoods whose exceptional nutritional richness can support modern lifestyles rather than forcing them to change. We look all around the world for these foods, and have them processed in a way that keeps as much nutrition as possible while making them convenient for you to use.
The client
Rainforest Foods is a British company that sells superfoods full of impressive benefits.These foods, from remote places in various parts of the world, are cultivated with great caution and respect whilst providing customers the best quality possible. Rainforest Foods' ethics don't just apply to customers, they also cherish the local people who work for the brand by taking action regarding the field's water supply, rainforest preservation, life quality, etc. These notions, even though peripheral to the website, were important to us as we share the same values and made us really proud to collaborate! Importantly for us, the client already knew our work and placed great trust in us to create something relevant and beautiful for Rainforest foods.
The Brief
The brief was to create an emotional and inspiring website to promote and share Rainforest Foods' products, as well as raise awareness and interest in superfoods. The challenge: previously, the brand had had very little digital presence, so everything had to be created from scratch. Nice for us but it meant a large amount of strategic and graphic work. We had a very small amount of brand assets and communication materials around the products, but with the marketing input from the client being we believe in nature's benefits for human, we want to show it to people. We knew we could make something great.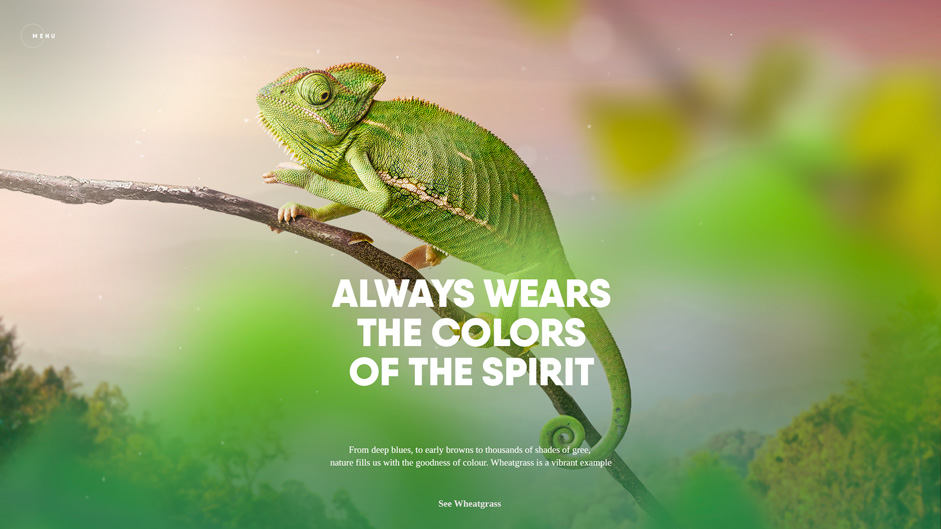 Our Approach
We started this project with the ambition to create a different experience, something meaningful and timeless. To achieve this, it was important to focus on a strong concept around nature and all it has to offer. The sentence connect human to nature nailed it! Our tests and strategic thoughts around this project lead us to be careful not to fall into some creative lines that would be too moralizing for the customer: even though the subject of nature can be quite touchy nowadays with global warming etc, we knew this path wasn't appropriate for Rainforest Foods, whose vision on life and belief in human commitment is so strong!
We were also aware that an experience too illustrative would put off visitors as it might seem too naive for the client's audience.
We were aware that an overly illustrative experience could put off visitors as it might seem too naive for the target audience. In our strategic, graphic and UX approach we also had to bear in mind that the products were premium and primarily aimed people between 30 and 55 years old. Our research, strategic insights and convictions lead us to craft a contemplative and oniric journey in faraway lands where each scene invites you to meditate and learn more about what nature provides for us and how it cures even in daily urban lives: the idea we had was to be very cinematographic in the way people would enjoy the experience.
Art Direction
In order to achieve the level of immersion we were seeking in this experience, where different representations of wild and beautiful landscapes were represented, we had to craft these natural universes that existed only in our minds, from scratch.
Our idea was to go from one place to another, slide after slide, without telling a narrated story but more like giving a mood to the visitor. To do this, we had to create matte painting scenes and work on image composition in which we added depth and interactivity. As the theme of nature is at the heart of this experience, it was important to give a real impression of being a part of it, so we added some elements to show that you are experiencing this "live" and controlling the experience.
The idea of this website is to show in a very simple and contemplative way how deeply bound we are to nature and how we heavily depend on its resources. To highlight this idea, we added quotes about natural elements, facts or benefits linked to the visuals and then to a product on each screen. This allows the viewers to make subtle connections in a non-intrusive way.
On this website we made a lot of effort on the About section, which offers a similar but distinct art direction to rest of the website. Here we envisioned it more like a section that could almost live by itself to insist on that immersion factor, especially when it comes to Rainforests' action and commitment!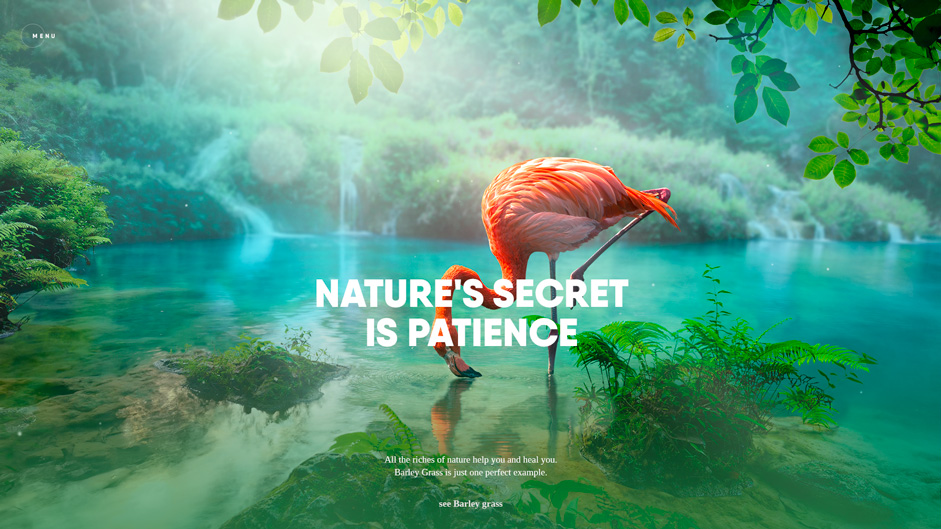 Interactivity and Navigation
With this website we kept in mind our audience and of course our client, so our idea was to find a way to achieve the maximum "wow effect" by doing very little gestures. We wanted people to be amazed or at least intrigued by what they were living at first sight. To achieve this objective, we went for a very simple and intuitive gesture: scroll. Indeed this lateral scroll allows you to live the experience just as if you were watching a movie! You can get from one slide to another very easily by just scrolling, using the arrows on the keypad or even by clicking on the arrows directly on the screen.
Next we thought about the different types of users who might visit the website: in order to keep them entertained and enjoying the website we added some interest points and easter eggs to enrichen the visit and slightly change the perception of each visit. These interactions are highlighted by graphic icons and smart magnification effects on the cursor as soon as you draw it to the interest point. We have noticed that this magnification effect has, in a few months, become a new standard on websites :)
Regarding the products on the website, they are presented on a different level where, once again, we tried to keep a nice sense of interactivity and immersion with the elements flying around.
Technical
One of the
challenges on this website was to have the performance as optimal as possible, given the density of assets
featured on the website, we had to compress the assets to the maximum without decreasing quality. In this sense we have also used no video but only parallax. We have also reworked the mobile version in order to have something super smooth on mobile.
We have reworked the mobile version in order to have something super smooth on mobile.
Technologies used on the website: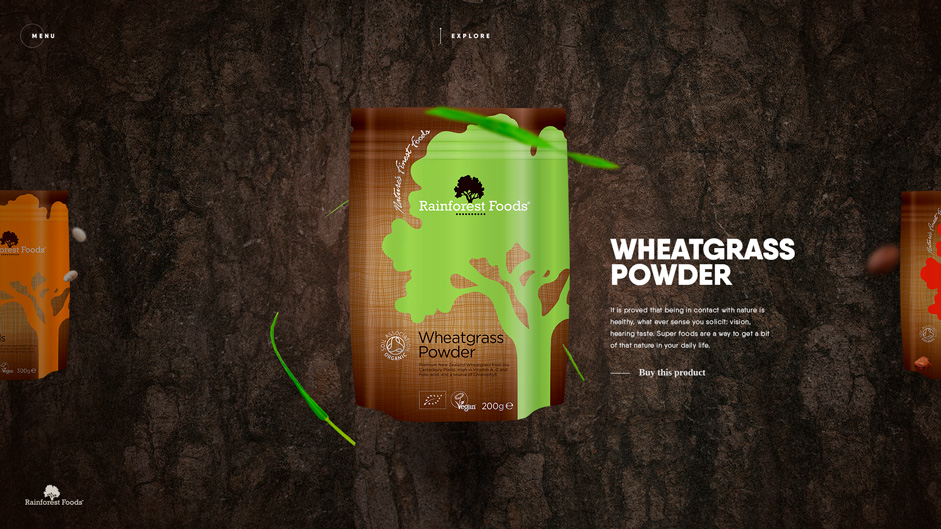 Our post launch feeling on the project
We have had really positive and qualitative feedback on this project, from the client and their customers (referring to analytics) as well as from other people who felt very inspired by the graphics and the approach on the website. The global ambiance of the experience that features natural scenes with a specific sound design - specially created for the project - seems to really appeal to people. We hope this will open up a lot more possibilities!
About IMMERSIVE GARDEN
Founded by award winning Art director Dilshan Arukatti, Immersive Garden is a creative team that has been passionately experiencing for over a decade new ways to bring to the world meaningful digital experiences that will touch people deep in their emotion and last in time.
We constantly challenge ourselves to achieve this. This quest has led us to be a multi-awarded team that never forget where they come from and always listen and adapt. Aesthetics, ergonomics, design should all be used to serve a purpose. We believe that every detail matters and that everything you see and don't see should have a meaning.
Our expertise allows us to support you in your project from the brief to the launch. team is cross-disciplinary: design, development, film direction, photography, motion design... artistic and technological skills added to our knowledge of strategy and our communication culture are the key to groundbreaking and successful productions.