May 4, 2022
Admire & Amaze: a magical experience by DEPT® and de Bijenkorf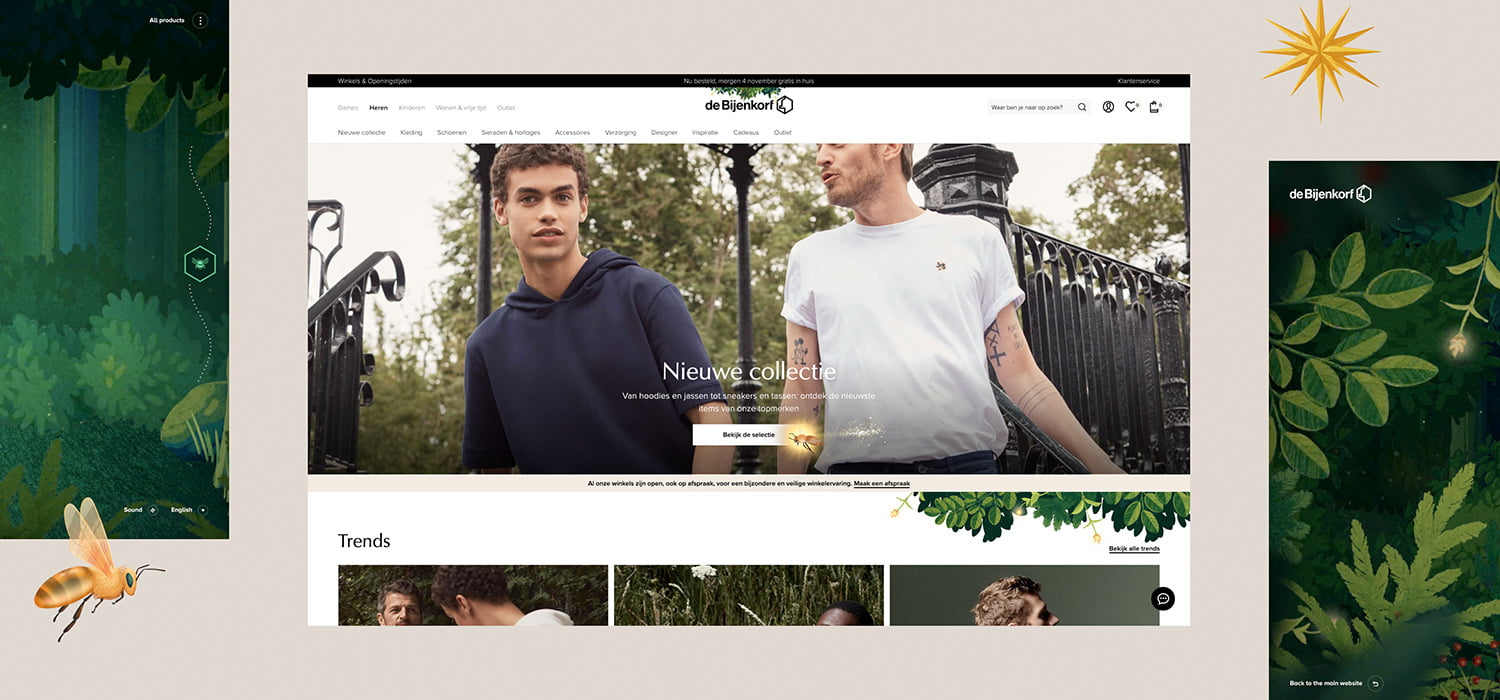 It's safe to say that the feeling of experiencing something magical is the best there is. It opens your mind and makes you think about things you never thought possible. To be dazzled, inspired and in love: that's magic. So, when de Bijenkorf asked us: "Can you create something magical for the holidays?", we did not hesitate. We were ready.
De Bijenkorf — the Netherlands' most well-known, inspiring and creative department store — seduces with style and inspires with beauty. That one-of-a-kind sensation served as the ideal theme for a holiday campaign in 2021. It was time to reflect their magical identity and tell a great story.
DEPT®, Dogstudio, and de Bijenkorf started their collaboration to create a magical, branded experience that digitally brings de Bijenkorf's wonderful shopping experience to life in this Admire & Amaze campaign.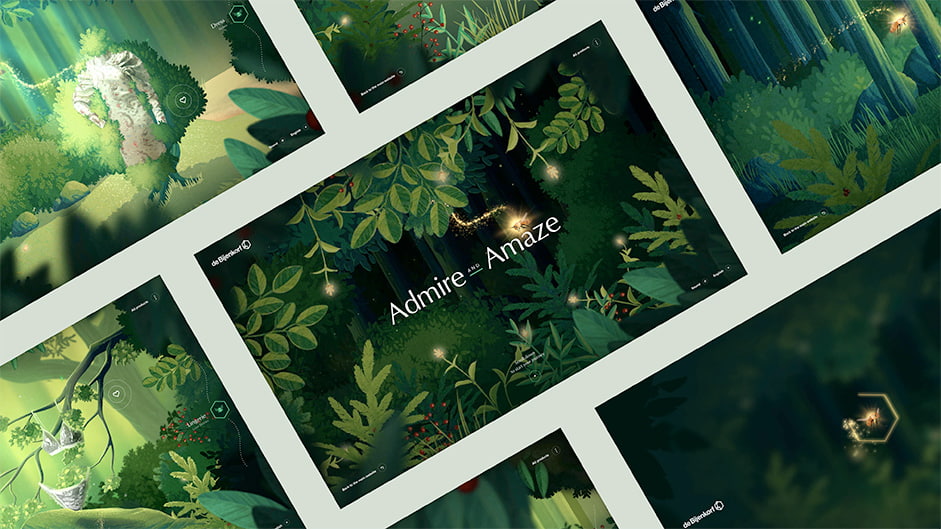 An enchanting story where commerce, brand and magic all come together.
Together with de Bijenkorf, we started looking for an experience to transcend conventional shopping routes: an experience that is defined by inspiration and wonder. With art direction, a storyboard, fairytales and surrealism as an inspiration, we transformed a visual and interactive concept into a magical commerce experience where 2D and 3D meet.
The Admire and Amaze campaign for Bijenkorf
From concept to manifestation
To achieve that magical feeling that we love so much, we went looking for a place where it feels like fantasies can come to life: the forest. And not just any forest, an enchanted one.
We created exclusive products, a flying bee and a magical forest for de Bijenkorf's digital experience. We explored how we could shape this into a user-friendly and enchanting story where commerce, brand, and magic all come together.
Buzzing bee
When visitors are browsing de Bijenkorf's online store, they are surprised by a bee buzzing around. The bee takes them to a three-dimensional world. When clicking on the bee, it embarks on a journey of discovery through an enchanted forest, taking the visitor with them. The bee leads the visitors through rustling leaves, whispering trees, and brilliant light, marvelling at the luxuriously presented products and inspiring them to feel the same way.
During the flight, the bee leaves behind a trail of sparkles. We collaborated with Myriam Wares – an illustrator known for her experience with surreal environments – to create the forest illustrations. Additionally, we made deliberate colour choices to avoid exact replication of the forest, but to add a surreal and magical touch.
As with a real forest, we see how the forest comes to life in the digital experience. It's interactive. For example, leaves sway up and down in response to the visitor's cursor movement. The audio has been considered as well; throughout the journey, we are surrounded by familiar forest sounds, to give the user a full experience. For example, when we fly past an owl, we hear it.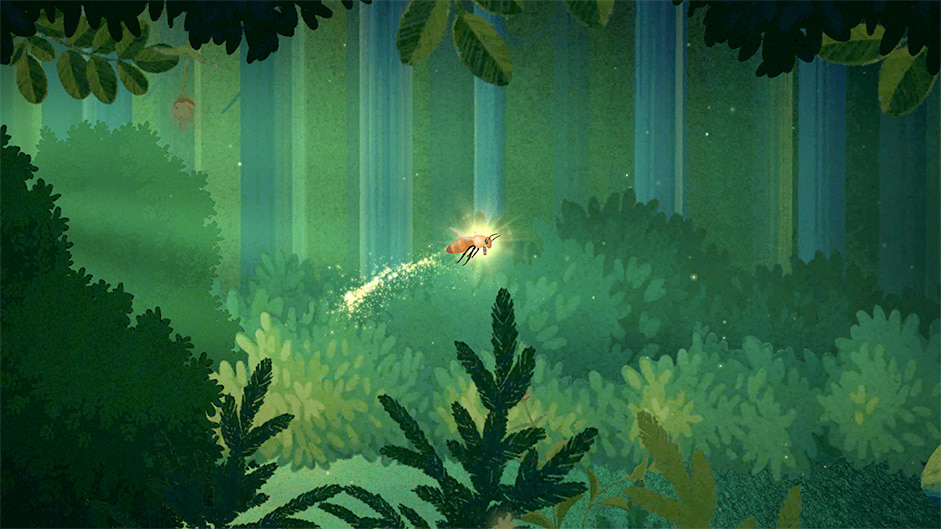 Fairytale
Subtle hints to Christmas tree ornaments — which are available at de Bijenkorf — are also illustrated and incorporated into the forest, such as a ladybug on a tree. Finally, we tie the products together with a narrative. We created a story with ten short sentences that always appear in the context of a new product, immersing the visitor even more in the flight through the enchanted forest. It's like a fairytale being read to you.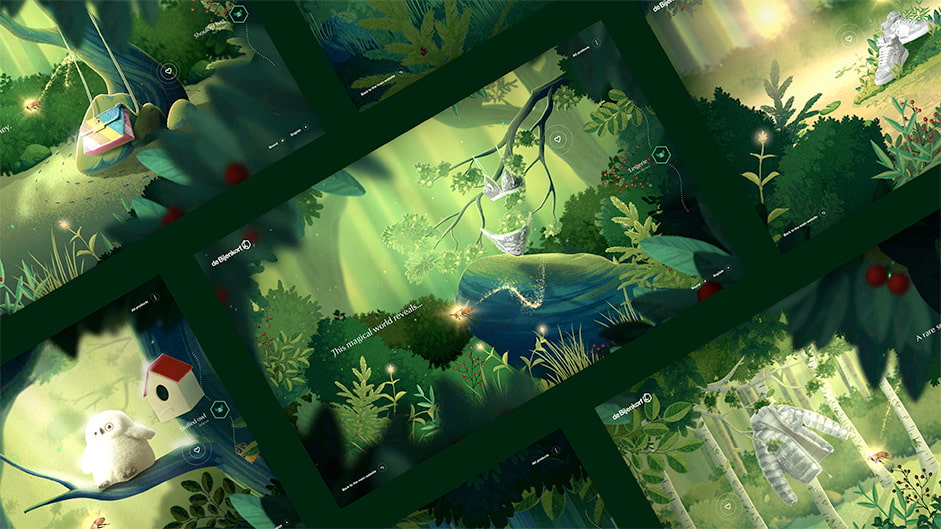 From design to immersive 3D
We came a long way thanks to the designers' taste and direction and a well-thought-out storyboard. However, much work must be done behind the scenes to translate all of this creativity into a successful experience.
Fashion in the forest
The campaign items are not haphazardly placed in the forest, but flow into it and become a part of it: from a dress worn by a bush to boots held up by butterflies.
This magical forest is not like any other, this one has a sense of style.
The products featured in the campaign were photographed in front of a green screen in the exact poses as they appear in the magical forest. To achieve the most realistic result possible, the branches and trees that connect the products were imitated in the photo studio. They were then cut out and enhanced with light and contrast before being placed in digitally painted forest scenes. By layering all of these illustrations, which are 2D assets, and employing motion, we were able to create a 3D world that scrolls in a parallax effect.
The bee was completely rendered in 3D in this setup, ensuring that it appears as realistic yet magical as possible from all angles. After loading Javascript, the 3D model was converted to code that was rendered using WebGL.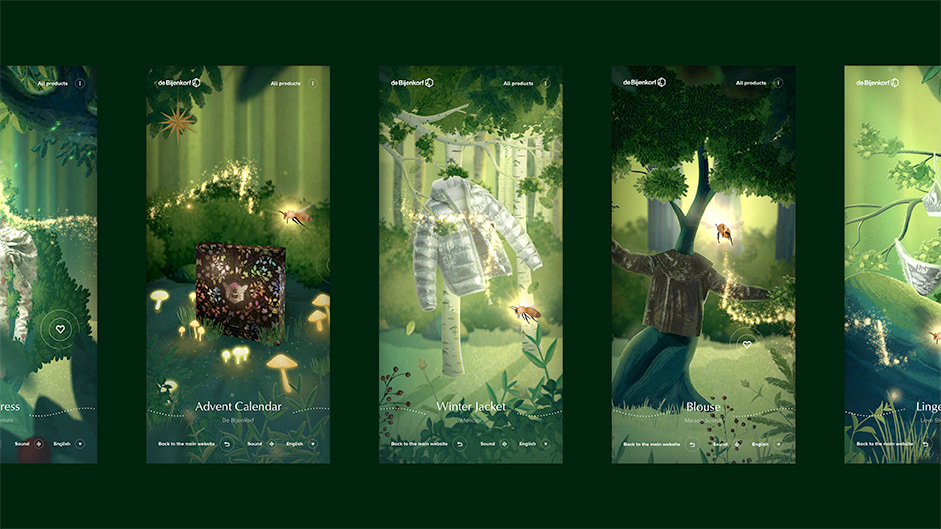 Wish list
While flying through the enchanted forest, visitors could add any of the campaign-exclusive products to their wish list. The ten products were chosen with care for their vibrant and reflective prints that stand out even in the woods due to their high-end feel. The wish list was automatically synced with their debijenkorf.nl wish list. Even if visitors were not logged in, the wish list was stored locally and anonymously, and added upon logging in or creating an account. This way, adding items to their wish list was convenient for every visitor.
People could experience this magical forest via desktop and on mobile via a subdomain. It was available in all languages in which de Bijenkorf operates, including Dutch, German, and French.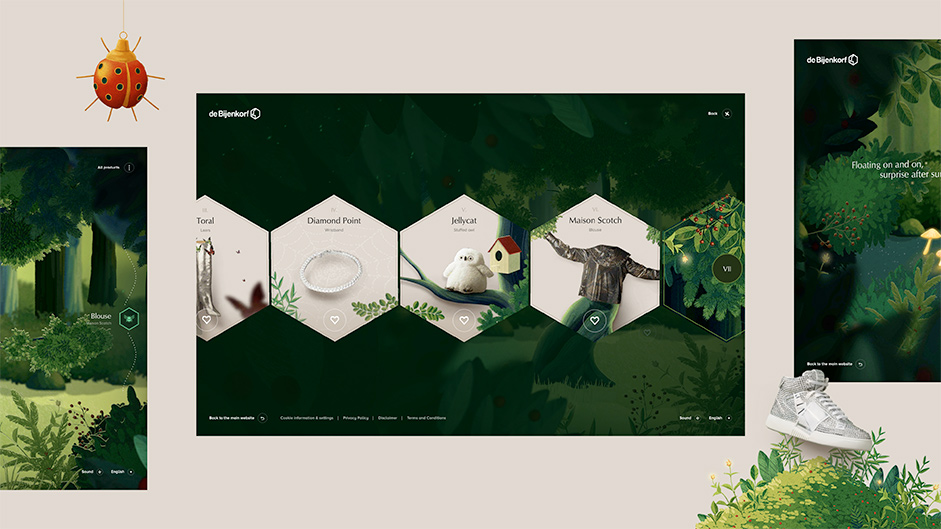 Together we came a long way
What began as an open question — "Can you create something magical for the holidays?" — evolved into an enchanting, innovative, and one-of-a-kind experience.
Together with de Bijenkorf and Dogstudio, we created the Admire & Amaze campaign: a phenomenal branded experience that elevates the brand to magical heights.
Together, de Bijenkorf, DEPT® and Dogstudio have created an amazingly branded, fairytale-like online experience.
Who is DEPT®?
We are both a technology and a marketing services company, enabling us to cover the full digital customer journey. We create integrated end-to-end digital experiences on a global scale with a boutique culture. Our team of over 2,500 digital specialists spans 30+ offices across 5 continents.