Yes that's correct Portland, Semi-Permanent is heading your way. We'll be inviting some of the worlds most talented creatives to come and showcase what they do. To bring a little extra creative love and inspiration to Portland.
Tickets for the Portland event are available to purchase now. Please check the ticketing page for more information on ticket pricing and what your ticket gets you. Please note that tickets are limited so best book sooner rather than later.
Check below for information on the talented speakers that will be presenting their work at the event. We will be updating more speakers as they are confirmed. Information on Side Events that will be running alongside the main show will be updated as soon as they are locked in.
Please sign up to our Facebook page, Twitter account or Mailing list so that you can be kept up-to-date with all the latest news.
Schedule
08:00am Registration opens 08:40am Doors open 08:50am Introduction 09:00am Holly Andres / Photography / Portland 09:45am AKQA / Advertising / New York 10:30am Instrument / Design Agency / Portland 11:15am Gmunk / Motion Graphics / San Francisco 12:00pm Lunch Break 01:00pm Creative Cloud Masterclass with Terry White and Chuck Anderson 02:00pm Gary Baseman / Artist / Los Angeles 02:45pm Neasden Control Centre / Artist / London 03:15pm Holly Wales / Illustrator / London 03:45pm Michael Muller / Photography / Los Angeles 04:30pm Closing Comments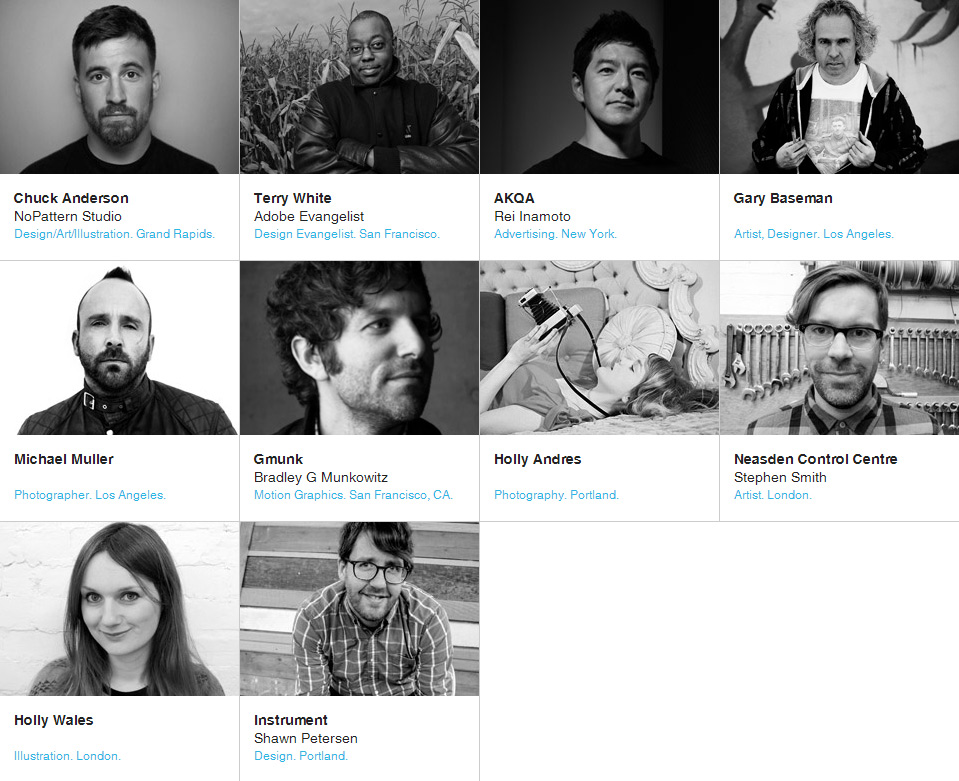 About Semi-Permanent
One of the largest events of it's type, Semi-Permanent is a creative platform spreading art and design inspiration. Starting in Sydney, Australia in 2003, the event has established itself over the last ten years as a leader in presentations and exhibitions throughout the creative world. With annual events hosted in Sydney, Melbourne, Auckland, and Brisbane, plus events in New York, London, Wellington, Perth and Hong Kong, Semi-Permanent is a truly global platform that inspires people from a variety of cultures.
11 YEARS / 36 EVENTS / 9 CITIES 5 COUNTRIES / 300+ SPEAKERS 250,000+ ATTENDEES / 40 EXHIBITIONS 36 AFTER PARTIES / 16 EVENT BOOKS
2013 will be an exciting year for the event. We have plans to expand into the United States - with the inclusion of our first events in Los Angeles and Portland - and into Europe, Asia and further afield. We will be adding new side events and other projects to the Semi-Permanent yearly lineup and have some exciting partnerships to share with you all. We hope that you'll be able to make it to an event or to interact with Semi-Permanent in some way and look forward to meeting you all.